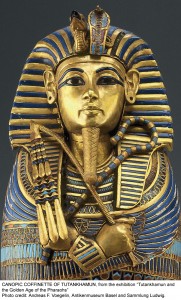 **KING TUT OPENS IN ST. PAUL, MN ON FEBRUARY 18, RUNNING THROUGH SEPTEMBER 5, 2011. FOR DISCOUNT CODES AND TICKETS TO ST. PAUL KING TUT EXHIBIT, CLICK HERE.
When I saw the King Tut exhibit in San Francisco last year, I left the kids behind, not sure if they'd make it through without getting bored.  While I enjoyed going alone, I did feel the kids were missing out on a huge piece of history  – an experience not usually readily available in museums.
When the exhibit arrived in New York City's Times Square Discovery Exhibition space, I knew I had to take them. Now they had 3-D movie as well!
The big deal about King Tut is not that he was Egypt's greatest king. He wasn't, though he did have some interesting challenges. By the time Tut's tomb was discovered, it was the only tomb that was almost completely intact on discovery. It gave researchers an understanding of the burial process.