For a state that relies heavily on tourism, it's not surprising there are a lot of factory tours to pull in the tourists. Here are a few to consider: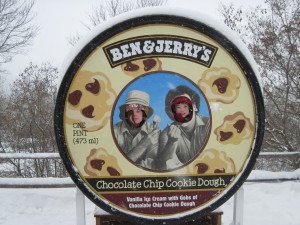 I wrote a long review of this revered mecca for this frozen, gourmet, hip treat. Read it here. Note that there's no ice cream production on weekends, and if they finish their production for the day on weekdays, you may not see the action either.
Where: 1281 Waterbury-Stowe Road, Waterbury, VT
When: daily, except for Thanksgiving, Christmas and New Year's Day. Times vary by season.
Tour length: up to 30 minutes
Tours leave: at least every 30 minutes
RSVP: for groups only
Cost: $3; kids 12 and younger are free
More info: Ben and Jerry's website or 866-BJ-TOURS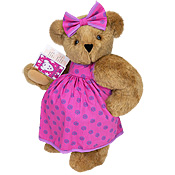 Vermont Teddy Bear Factory
We skipped this stuffed animal factory because I knew that once we were inside, we wouldn't be leaving without two new bears. And we have too many to count at home. If you go, the company says you'll get behind-the-scenes view of the working factory, from cutting to sewing and stuffing. There's no bear production on the weekends, from noon to 12:30, or after 4:30.
Where: Shelburne, VT
When: open daily except Thanksgiving, Christmas, New Year's Day and Easter. Check the website for times.
Cost: $3 adults, free for kids 12 and under
Tour length: 30 minutes.
RSVP: no
Virtual tour: here
More info: VermontTeddyBear.com or 800-829-BEAR
Cabot Cheese
This 1,200 farm dairy cooperative has been around since 1919. We ate a lot of Cabot cheese when we were staying at Smuggler's Notch. They had some promotion going on and had individual sample packets available in the registration area. Let's just say we helped ourselves. Take the tour and watch the cheese being made, then it's on to sampling! Did you know it takes 1.16 gallons of whole milk to make a pound of cheese? If you want to see the cheese being made, make sure to call ahead.
Where: 2878 Main Street, Cabot, VT
When: Open daily (except Thanksgiving, New Year's Day and Christmas). Hours vary.
Cost: $2, though kids 12 and under are free
More info: Cabot Cheese website or 800-837-4261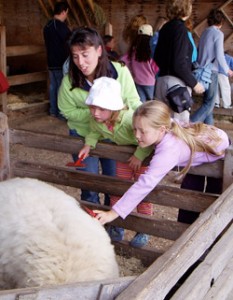 Shelburne Farms
This is actually a farm tour, but they make cheese (and animals!). Walk around on your own, visit the welcome center, or spring for a property tour. The kids will like the children's farm yard, where they can watch cows being milked twice daily, collect eggs, brush the horses and donkeys, pet rabbits, milk a goat, spin wool and do some other activities. In winter there are sleigh rides.
Where: 1611 Harbor Road, Shelburne, VT
When: Walking trails and welcome center are open year round. The general admission activities are available roughly May to October.
Cost: general admission is $8/adults, $5/kids ages 3-17. Includes walking trails, cheesemaking demo and children's farm yard. Property tour (which includes general admission) is $11/adults, $7/kids ages 3-17.
Tour length: property tour is 1.5 hours, where you'll see historic buildings and landscape while riding on truck-pulled open air wagon.
Tour times: Property tours are 9:30, 11:30, 1:30 and 3:30, approximately May to October
More info: Shelburne Farms website or  or 802-985-8686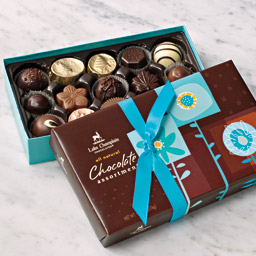 Lake Champlain Chocolate
See the scrumptious chocolates getting made and then get some samples! At their 63 Church Street location in Burlington, watch them make fudge on Saturdays.
Where: 750 Pine Street, Burlington, VT
When: Monday to Friday on the hour, 9-2
Cost: free
RSVP: Required for groups of 10+, and those tours are on the half-hour
More info: Lake Champlain Chocolates website or  800-465-5909
[ad name="Google Adsense"]
Green Mountain Coffee
This isn't actually a factory tour, but rather a self-guided tour at their visitor's center. But since Green Mountain Coffee is such a big deal in Vermont (and they sell nationally) I thought I'd list it here. At the visitor's center you can learn how coffee is grown, harvested, processed and roasted. Then you can sample (and buy). They have a virtual plant tour and an audio-visual show there too. Plus it's at a scenic train station
Where: 1 Rotarian Place, Waterbury, VT
When: daily (closed Thanksgiving, Christmas and New Year's Day). Times vary
Cost: suggested donation is $1
If you missed it, here's a review of Smuggler's Notch in winter with kids.