I've been wanting to check out Yotel for some time, and finally made it there when I went to a toy show. One of the nice women working in the information area agreed to take me to see some rooms. I didn't realize how generous she was going to be, as she took me to a lot of rooms to give me a good idea of the various types they have. My kids were in heaven and wanted to stay there.
Yotel is at 10th Avenue and 42nd Street, an easy walk from Times Square (and Port Authority). The hotel is more economical than many, with rooms starting at $149 (in winter, for the smallest room for 2) and going up from there.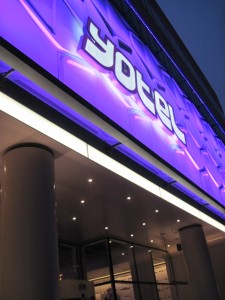 Yotel is a very funky hotel with smaller than average rooms (think cruise ship), and they actually call them cabins. The space is well designed though, and you kind of forget about the size when you realize how much else it offers. Like great design! Yotel in NYC is the only actual freestanding hotel in its group – the other three are airport hotels at London's Heathrow and Gatwick airports, and Amsterdam's airport, where you can book by the hour without worrying feeling like you're in a brothel.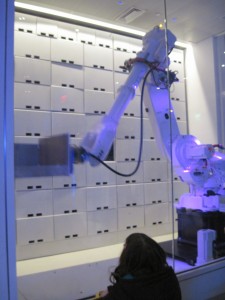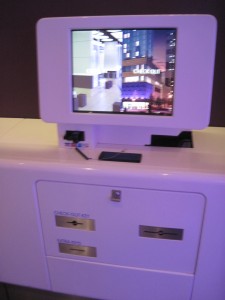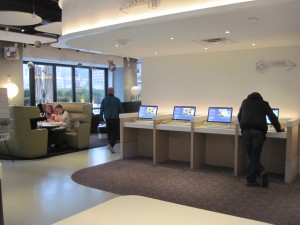 ————————————————
[ad name="Google Adsense"]
————————————————
Amenities:  The hotel offers free wi-fi and free breakfast (tea, coffee and muffins). There's a tray in the room you can use to cart your food/drinks back up. You must try their hot chocolate, which was the most delicious hot chocolate ever. While you can order food from the restaurant to take up, know that each floor has a galley kitchen (no minibar or kitchenette in the room). The galley has a full size refrigerator where you can store food/drinks, a microwave, plus purified water/ice, free hot drinks and a soda vending machine (fee for that).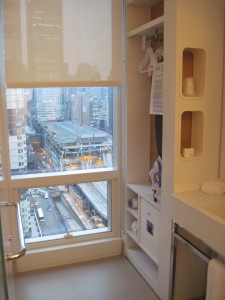 You can see from the above photo that there's a safe big enough for a laptop. Behind the hangers is an ironing board (you can see the iron). The toiletries were nice, and they have a heated tower bar. The bathroom sink on the right also has a hair dryer.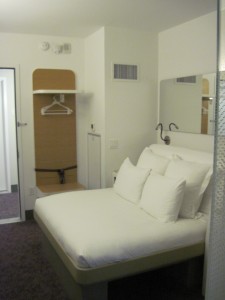 The standard rooms are called Premium Cabins. They sleep 2 and are 170 SF, with a queen bed. The bed pushes back to become a sort of sofa.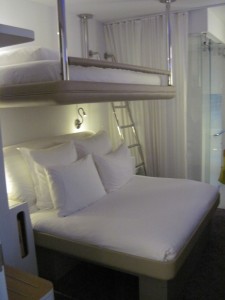 This is a Premium Cabin with overhead bunk. This room sleeps three, but you can get one with a double overhead bunk to sleep 4. These are also 170 SF.  They do not offer rollaway beds, but do have some cribs/pack 'n plays, which only fit in certain room sizes.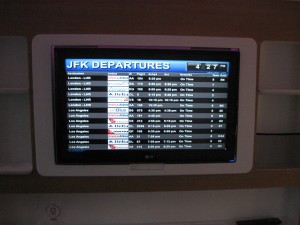 The TV (they call it a Technowall) can also stream audio and there's an iPod docking station you can use at the desk. The phones allow you free telephone calls in the USA.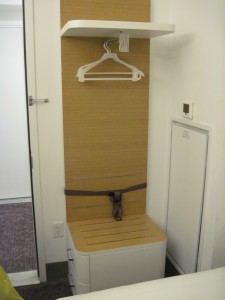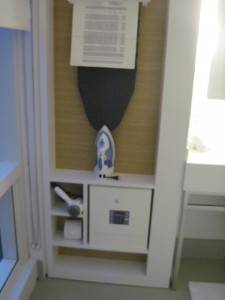 Yotel NYC has more than 600 rooms of varying sizes, and is two+ blocks from Times Square. It's on 10th Avenue and 42nd Street, which I was comfortable walking in the dark with my kids.
If you like design, you'll appreciate the signs in this modern hotel. Also, I can imagine it's helpful for foreigners who don't speak English well.
Yotel does offer more spacious rooms, and we saw several including First Cabins (320 SF – sleeps ), First Cabins with Terrace and Hot Tub (same size, but with 300 additional SF for terrace) and VIP View Suites (1100 SF).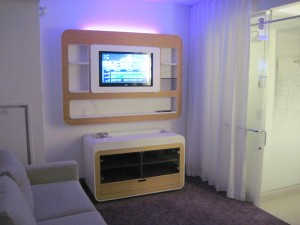 OTHER DETAILS
-The hotel is not pet-friendly.
-The hotel is non-smoking.
-The hotel has parking for $39/night
-The hotel tries to be environmentally friendly by using organic/natural fiber mattresses, hypoallergenic fiberfill pillows, low VOC paint, environmentally safe and non-toxic cleaning supplies, and offering PBA and parafin free body wash.