Before kids, I used to get lots of free airplane tickets for getting bumped. I traveled off season, which was cheaper. Now that I have kids, paying for travel for four is tough, especially since my husband doesn't like getting bumped ("I want to get home NOW!") and we travel during school breaks. Given how expensive travel is, especially to the Orlando parks, I'm excited to welcome Summer Hull to Jersey Kids today. She is launching an ebook called Frequent Flyer Toolkits, including one called Orlando for Nearly Free. She has been running MommyPoints.com, a popular blog that helps travelers navigate the frequent flyer type point programs to make travel more affordable.
Tell me a bit about you and your travel-for-free background.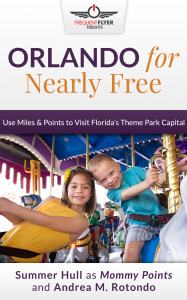 I first dabbled in the miles-and-points hobby as a cash-strapped grad student at New York University. I racked up frequent flyer miles flying back and forth to visit friends and family in Houston. Then, after graduation, while my friends could only muster up the money for a drive to the shore, I was able to use miles and points to take my boyfriend at the time to Hawaii. After that, I was hooked. I didn't have as much travel occur naturally after grad school, so I had to find ways to earn miles outside of flying.
I kept learning more about how to earn and leverage loyalty currency and eventually my husband got sick of hearing me talk about it all the time! He encouraged me to start a blog and that's how MommyPoints.com was born in 2011. Since that time I've shared tons of tips and strategies that can help just about anyone earn miles they can redeem for a nearly free flight (you still pay tax on award flights) and hotel stay.
What kind of freebies do you talk about in your ebook in terms of traveling for free?
The books teach you how to use frequent flyer miles, hotel points, and bank points. The fact is, using loyalty currency can drastically reduce your costs on all sorts of travel-related expenses. Frequent flyer miles can be redeemed for nearly free flights. All you'll pay for, in the case of a ticket to Orlando, is the tax (which is $5.60 per flight segment per person). Continue reading "Orlando for Nearly Free – find out how"