I promised an update after we went to Disney World, so here it is. I will put highlights from each park in a separate post so they don't get too long. And I put general tips in here. (For my tips on planning for DisneyWorld, click here).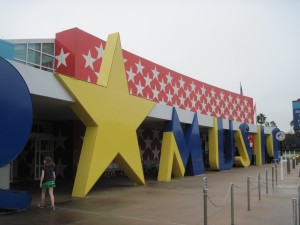 HOTEL
We stayed at All Star Music – one of the three All Star Hotels (this is in the "value" category). Disney allows you to check in online before you arrive, which we did. Theoretically that means a very short wait at the registration desk, and they basically hand you a folder with keys and maps. Of course we got behind someone who had 20 minutes worth of questions, and it took awhile for another employee (er, cast member) to come to the desk to help us. Once she was there, she handed us our folder and we were done in a minute. Fortunately there was a television playing Disney movies in the lobby, with comfy seating. The kids didn't care how long we waited in line.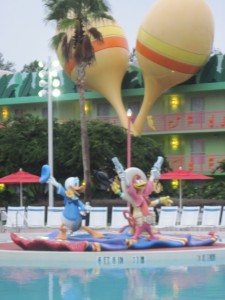 Everyone in the family got their own "key to the World" (i.e. room key) which you can also use as your park pass, and you can charge $500-600 to your room before you have to pay the bill at the desk to clear your card for more charges. The kids' keys did not have charging ability. After three full park days (we weren't on the meal plan), my "key to the World" was denied for the purchase of a $6 pair of Mickey Mouse earrings in the hotel gift shop because we hit our limit.
In spite of what we heard, the All Star hotel was not hugely spread out. Walking from our Rock Inn room, toward the back of the layout, to the front took maybe five minutes. The hotel has two pools, staffed (even in November) until midnight. The heated pool has a cute fountain in the middle and a baby pool (not open until midnight). The other pool is apparently a salt-water pool, but we didn't go in. The pool closest to the main building hosts outdoor movies at night, and the hotel has a kids' activity schedule running just about all day.
While not spacious, the room was adequate in size for the four of us, even with one child sleeping on the floor (my kids don't share a bed). A warning: Disney provided shampoo and soap – but no lotion (and we needed that). They had an in-room safe (too small for a laptop, or even a netbook), iron and ironing board and hairdryer.
We read a lot about the hotel on the many online forums, with them stating how soundproof these rooms are. They lied. Every time someone in the room above us flushed the toilet, it sounded like a tidal wave was coming through. And we heard anybody who walked by our room in the outdoor hallways.
TOURING PLANS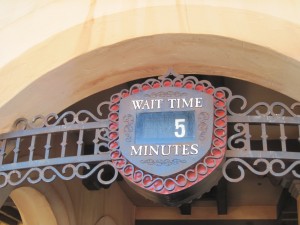 We went during Jersey Week (early November, during the teacher's convention), which we were assured by friends was really not that crowded. They were right. Still, we followed the touring plans from the Unofficial Guide to Disney World until we had hit the major things on our list. Best piece of advice is to get to the park before it opens, so you can hit the major rides first thing. We hit all the highlights in the first two hours, leaving the rest of the day much more open and free. Before we went to Florida, my husband threatened to go back to the room to rest each day (he envisioned burn-out). But he was able to make it through to closing each day, without a meltdown – all because of my planning.
By the way, I paid for the additional information offered on the Touring Plans website. I was a little disappointed because the itineraries offered on the website are basically the same ones as in the book. You cannot customize them on the website. The advantage to the website is to see the estimated park crowds on different days. We were happy with the park crowds on two out of the three days, and that third day (Epcot – see that entry) was a nightmare though it wasn't supposed to be busy, according to Touring Plans.
DINING PLAN
I was so glad we cancelled our dining plan. Like a geek, I kept track of what we spent versus what we would have spent on the dining plan. It was pretty similar ($434 for the dining plan, $406 for what we actually paid). Here were the differences, though. With the dining plan, my 9-year-old would have to order off the kiddie menu, which she did not want to do. Paying ala carte, she got what she wanted ordering off the adult menu. When dining, we rarely ordered soda or dessert (which would have come with the dining plan meals) for counter service or sit-down meals. If we ordered those, the dining plan would make more sense.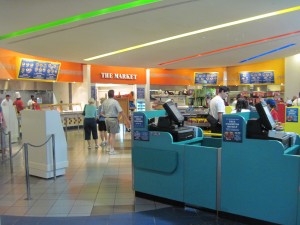 Our dining plan would have included four sit-down meals, four counter-service meals and four snacks per person for three days at the park. We ended up eating five counter-service meals and three sit-down meals, none of them character meals. If we ate a character meal, that would have leveled the playing field, as would swapping one of those counter service meals for a sit-down meal. We did buy at least one snack/person a day.
To save money, we brought our own breakfast cereals (the kids fought over those little boxes of sugar cereal we never give them otherwise) and muffins. You can buy milk in the food court – no fridges in the room. The $406 we spent on food includes the cost of food we brought (we also brought some snacks with us), plus the bananas we bought at Disney each morning.
Bottom line: the meal plan makes a lot of sense if your kids are the right ages, you'll be eating a character meal and you order drinks and desserts anyway. You still have to pay for alcoholic drinks and tips on the meal plan, so take that into consideration.
If you stay at a Disney hotel, you'll see everyone walking around mugs. You can buy a mug for $14, with free refills at the hotel as long as you stay there. It was nasty seeing how many people drink soda for breakfast. You can bring the mug into the parks, but no free refills there. We filled up on coffee before we got the on the bus each day, thanks to our friend loaning us her mug. The mug, however, is supposed to be a one-trip deal. None of the employees (er, cast members) seemed to care.
FASTPASSES
For the uninitiated (are there any?) a Fastpass is a ticket you get outside an attraction, that allows you to go in a special line during a designated time, so you basically go to the front. While the Fastpass offers a "window" of time you can go on the ride (an hour), Disney does not enforce the time – as long as you arrive AFTER the start time.
You can only get one Fastpass per person at a time. You can get another Fastpass when two hours passes, OR when you reach the start time for your other Fastpass. For example, you get a Fastpass to enter Soarin' at 9:30 a.m. You can get your next Fastpass at 9:31 a.m., even though you haven't even been in the park for two hours. Even if you haven't yet been on Soarin'. If you then get a Fastpass for Test Track (which may have no line early in the day) and that entrance time is at 10 a.m., you can get a Fastpass for another attraction (like Mission Space) at 10:01. So you've gotten three Fastpasses in the space of an hour.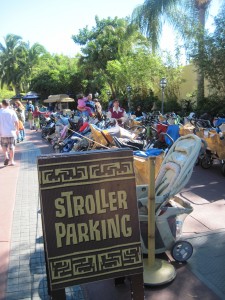 Some nice touches at the parks:
-stroller parking. Sometimes even valet. Woo hoo!
-healthier choices for some foods. For kids' meals, you can order fruit or veggies (apple slices, grapes, carrots) instead of fries, and milk instead of soda. At the hotel, you could get a customizable salad, where you tell the salad guy what you want in it, topped with freshly cooked chicken, salmon or steak. Great salad for $10.
Other Disney links:
Tips on planning a trip to Disney World with kids
15 things I learned at Disney World
Tips on seeing EPCOT with kids
Tips on seeing Hollywood Studios with Kids
Tips on seeing Animal Kingdom with Kids
Tips on seeing Magic Kingdom with Kids (coming soon)
All photos here are copyrighted to Deborah Abrams Kaplan.