If you are able to get to the Park Avenue Armory by March 30, you must go. Here's why: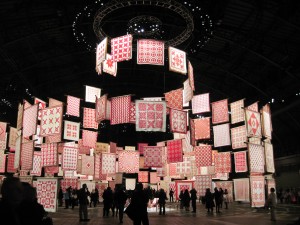 I dragged the kids and husband – who did not understand my desire to see quilts hanging from the ceiling. I tried  to explain – it would be 650 quilts – all in red and white. They still didn't get it. But once they walked into the fabulous armory (which itself is an architectural masterpiece), they were also awestruck.
"It looks like a deck of cards hanging from the ceiling," said Zachary, my 7 year old. "If you stare at them your eyes get blurry," said Dori, my 9 year old.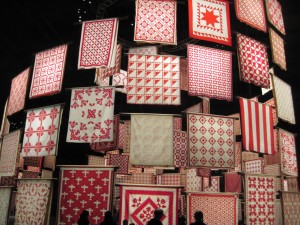 They noticed all sorts of patterns, animals, names, words, dates and and shapes. And I didn't have to prompt them at all. My husband had to drag them out of there at the end (he was hungry and tired – they weren't). The quilts span three centuries, the most represented in the exhibit is the 19th century, according to one gallery guide.
The quilts spiral up to 45 feet in the air, and the beautiful exhibit is designed by Thinc Design, the studio designing the September 11 memorial at the World Trade Center.
The story behind the quilts is fascinating. They are all owned by one woman – Joanna S. Rose, who the guide told me lives on Long Island. These 650 quilts are only part of her collection – she has more than 1,300 (the rest aren't red/white), and she stores them in a cedar room in her home. For her 80th birthday, she asked her husband to rent the Armory to show the quilts, and she wanted it to be open to the public for free. Perhaps that's why the show is only 6 days long – I'm sure it's not cheap to rent the Armory!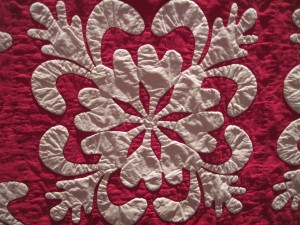 Over dinner, Dori asked me if the owner knew how many quilts she had, and I assumed Mrs. Rose did – of course she'd have them catalogued by style, maker, date of creating, date of purchase, etc. After all, she's a collector! Well in reading the brochure, Mrs. Rose apparently had no clue how many she had – she just bought them up at flea markets in the 1950s for $5-10 a piece. She didn't pay attention to whether she had duplicate patterns. These every-day quilts represent fundraisers (where financial donors would get their names stitched in), religious quilts quoting bible verses, baby quilts and more.
If you miss the show, perhaps you will see it elsewhere. Mrs. Rose has has gotten inquiries from several continents about hosting a show.
You can spend a few minutes or a few hours in there. There's a cafe where you can get something to eat or drink, and sit and enjoy the quilts while noshing. The show, Infinite Variety: Three Centuries of Red and White Quilts is through the American Folk Art Museum. They're featuring a year-long exhibit of quilts. While you're at the Armory, you can get a free cell phone audio tour by calling 212-514-0013 and entering the object number listed on the info board.
Where: Park Avenue Armory (Park Avenue @66th Street)
When: now through Wednesday, March 30. Hours are 11-5 on Sunday and Wednesday, and 11-7 Monday and Tuesday.
Cost: Free
More information: American Folk Art Museum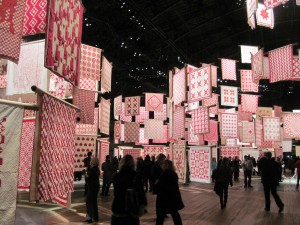 All photographs copyrighted by Deborah Abrams Kaplan