When my friends visit Manhattan, they often don't want to stay in our lovely guest room, even though it's free and comes with breakfast (and happy hour). After all, it's in New Jersey, and getting in to see the sights involves a train or bus ride. Not so convenient after an evening Broadway show or for families wanting afternoon naps.
So I compiled a list of resources of where they can look for the best family-friendly hotels in Manhattan. And I'll share them with you.

We had the treat of staying in Manhattan after seeing Billy Elliot recently with the family. The Kimberly Hotel in mid-town hosted us in a one bedroom suite. It's hard to go back to a one room hotel after staying in a suite. With kids. Read my review of the Kimberly Hotel on Travel Savvy Mom.
–Read my review of the Muse Hotel in Times Square
–Read my review of Hotel Giraffe near Madison Square Park, where we stayed in a suite.
–Read my review of Yotel near Times Square, which my kids loved.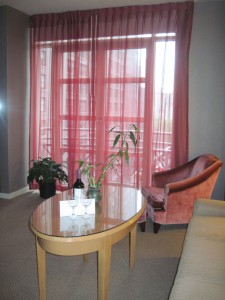 —Oyster.com has a good list of family-friendly hotels (which includes the Kimberly).
—Travel Savvy Mom, where I'm a contributor, also has some first-hand reviews of family-friendly Manhattan hotels.
–Check Ciao Bambino as well, as they have a few posted with good details about what makes them kid-friendly.
–Mommy Poppins has a list of family-friendly hotels on the Upper West Side
–Another option is to rent a timeshare apartment.  The extra space and separate bedrooms are perfect for families.
–One mom recommends the Element Hotel because it has a small kitchenette. The Element is a Westin hotel, near Times Square (39th Street, between 8th and 9th).
–One mom I know of recommends Affinia 50, on 50th and the East Side (and several other in the city, including the Affinia Gardens which has a 2 bedroom). She said "the rooms were HUGE. We had a one-bedroom with living room, large kitchen and bathroom for approx $300/night. The downside is that it is far from "fancy" and has no room service, but a really nice lounge, clean enough (not dirty, just not posh) and great location. We would stay there again." Not all the rooms are one bedrooms.
Last, let me know where YOU like to stay in Manhattan, or where you recommend.
Join Jersey Kids on Facebook!