This is part of a series about Disney World with kids.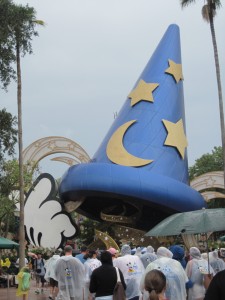 Since we initially weren't going to buy park hopper passes, and only had three days, we were trying to decide between Hollywood Studios and Animal Kingdom. Some said they spent two days in Hollywood Studios on each trip, and others said Animal Kingdom was their all-time favorite. We were stumped. In the end, we got the park hopper passes (long story) and didn't have to decide. We split the day between the two parks.
The result? While we liked many individual things about Hollywood Studios, we did not love the park. We can sum it up with this: not enough rides, too many shows. After a few hours, the kids actually said "can we stop seeing shows? We want to go on rides." But there weren't more rides for them to go on. Next time: we'll plan the whole day for Animal Kingdom and skip Hollywood Studios.
Hollywood Studios Highlights:
Toy Story. A family favorite. We went on this ride at California Adventure very soon after it opened, and we knew this was our number 1 priority at Hollywood Studios.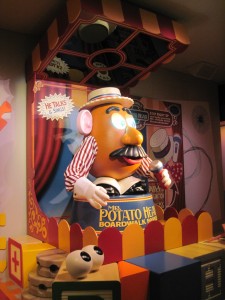 If you go in the morning, you should head straight to Toy Story to get your Fastpass. I know this sounds insane, but if you don't, you will have to wait in a very long line because Fastpasses will run out early. (For tips on maximizing your Fastpass, click here). After spending the morning at Animal Kingdom, we didn't arrive at Hollywood Studios until after lunch. Of course the Fastpasses were gone, and the line was 90 minutes. We stopped by multiple times that day. The shortest line we saw was 90 minutes, even at 8 p.m. We decided to get in line anyway, and fortunately only had to wait 50 minutes. That seems long, but we met a really nice South American woman and her son in line, and we chatted the whole time. And the things to look at inside the line were fun.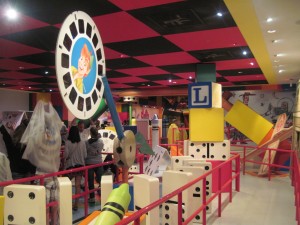 Other fun rides: Tower of Terror (which is slightly different than the Disneyland version). Since Fastpasses there were plentiful, I tried to convince our 9 year old to go with me (I didn't think the 7 year old would like it). She refused. Until 8:00 at night when she decided to go after all. And she LOVED it – even the 7 year old liked it.
Rock and Rollercoaster – only Mark was brave enough to go on it, and it made him feel like he was at a real amusement park (not a Disney one). I get motion sick and was told it would have made me puke. Glad I skipped it.
Favorite Hollywood Studios Show: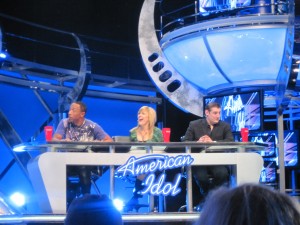 Hands down – American Idol. We don't watch the show on television, but that doesn't matter. This version has a live host and three judges. Disney guests try out in the morning, and three different guests take the stage each show, after practicing their tunes (with the help of a karaoke machine in the back), and perform. The judges critique (true to form, one black judge, one woman and one Simon Cowell-like judge). Then the audience votes via buttons on the seat rest, and the winners are all brought back for the last show of the day. The overall winner gets a golden ticket (or ultimate Fastpass) to go to the front of the line of any American Idol tryout in the country. The show was really well done, even though none of the performers we saw were good enough to make it.
–Beauty and the Beast was a lot of fun too. Even my 7 year old son (who went into the show kicking and screaming) said "it wasn't that bad after all."
Least favorite attractions:

–The Block Party Bash parade was kind of boring, especially to my 9 year old.
–The Great American Movie ride was awful. The best part was watching snippets of old movies before getting on the ride. As for the ride itself, which takes you through fake scenes of movies, it was not Disney quality and was laughable. It was dated and boring and had really bad schtick from the guide.
–Fantasmic – Unlike at Disneyland, the Fantasia show has its own amphitheater. I didn't love the Disneyland version but thought maybe it was better at Disney World. Didn't love it. Since it was a less crowded time of year, we didn't have to worry about getting tickets in advance (you can book a special lunch or dinner which includes entrance tickets to Fantasmic). On nights there are shows, there are two of them – 7 and 9. We got in a few minutes before the 9:00 show. Fantasmic features moving images on light screens, some fireworks and bangs, boats of princesses and some other characters. To be honest, I thought it was kind of boring. And then it started pouring buckets of rain, so we hightailed it out of there early, to avoid the bus lines. Our shoes were so wet they didn't dry out by the next day.
Because we only spent half a day there, we missed out on the stunt shows and the back lot tour.
Other helpful Disney World links
Tips on planning a trip to Disney World with kids
15 Things I learned at Disney World
Disney World with Kids – the Post Mortem
Tips on seeing Epcot with kids
Tips on seeing Animal Kingdom with Kids
Tips on seeing Magic Kingdom with Kids (coming soon)
From AllEars – overlooked attractions at Hollywood Studios
All photos copyrighted by Deborah Abrams Kaplan.