If you're looking to take your kid to a Broadway (or off-Broadway show), look no further. In addition to what's featured on this page, we feature long reviews here: Broadway shows appropriate for kids.
Below are some mostly family-friendly productions, but it's not a comprehensive or totally current list. And don't forget to look on our deals and discounts page for discount codes to Broadway shows or check the list of deals here. Goldstar often has deals for Broadway shows. And read all the way down at the bottom, for the Kids' Night on Broadway program and other Broadway discount ticket information.
And since many ask, Broadway shows aren't all on Broadway – the street. Rather, they're shows in the theater district (around Times Square) and Lincoln Center, that have more than 500 seats. Shows with less than that are considered off-Broadway.
Broadway

Lion King – we still haven't made it to this show, and discounted tickets are rarely to be found. If any Broadway show is made for kids, this is it. It's in Times Square. With singing, dancing, fabulous costumes and more, I've heard that adults like the show as much as kids. The show runs 2 hours, 40 minutes, with one intermission. Children under age 4 are not admitted. It's at the Minskoff Theater, 200 W. 45th Stret @ 7th.  Read some reviews here.

The Play That Goes Wrong – This comedy is a play within a play. Lots of physical gags and plays on words. Both kids and adults will be laughing out loud the whole time.
Aladdin – I haven't seen Aladdin, but if I did, I'm sure

I'd be singing aloud through the entire show (though there are some new tunes). Aladdin opened March, 2014. If Disney would like to comp me tickets, I would love to review it!

Phantom of the Opera – this is not a kid show, but some kids (especially teens) will love it, especially if they're familiar with the music. The show withstands the test of time, on Broadway for 30 years. It's still there for a reason.
Kinky Boots – while not a kid-show (its program advises 12+ crowd), a friend told me that it was a surprise family-friendly and upbeat hit in his family. Of course you need to be able to get past the issue that one of the main characters is a drag queen and that's a central focus of the show.

School of Rock is perfect for kids, though the theater recommends it for 8+. I can't say I disagree. It follows the movie closely enough, and the dozen or so kids performing not only sing and dance, but play their own music. It's a lively, uplifting show with just enough naughtiness to make it really fun. It also has some catchy tunes.
Here are all Jersey Kids reviews of Broadway and off-Broadway shows.
Off-Broadway
The Gazillion Bubbles Show – I've heard raves about this show but only saw the traveling version in New Jersey. That one was so bad (at least for the theater it was in) that they proactively gave everyone credit for a different show at that theater. I can imagine that in an intimate room, the show would be much better. Not surprisingly, the Gazillion Bubbles Show is about bubbles. Lots of them. Made with many types of wants and in many sizes. Yes, it's possible to stretch out a bubble show to last 75 minutes.

Blue Man Group – here's a show that's made for kids AND adults. Read our Blue Man Group review here. This show is about 90 minutes long, no intermission and interactive. My son is still talking about it 6 months after we saw it, and he wants to go in another city to see it again.
Fuerza Bruta – This show is totally different than what you'll see elsewhere. First of all, you're standing the whole time, and moving around the room. It's performance art, circus art and house music. Read our review of Fuerza Bruta here.
Kids' Night on Broadway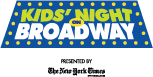 Kids' Night on Broadway –  Take the kids (ages 6-18) to a Broadway show, where they get in free with a full price paying adult. In addition to discounted shows, you can get discounted meals (kids eat free) and cheaper parking – plus some pre-theater events. Lots of great shows to choose from, including shows that aren't so appropriate for young kids!
If you're serious about which show you want, get online that second. The tickets go very quickly for the top shows. Know that some shows are only available weekdays (that means weeknights with maybe a Wednesday matinee), and the weekend shows that are listed are the first to sell out. I tried going online for a presale (if you sign up for the email list, you'll get on the presale list). I  decided not to skip my exercise class and went online an hour after the presale opened. All the tickets I wanted were gone.
No longer on Broadway, but touring the country:

Matilda the Musical – This show received rave reviews and garnered 12 Tony nominations – for good reason. Originally staged by the Royal Shakespeare Company in England, it's taken New York by storm and starting to tour. We LOVED it and I want to go back to see it again. Read our Matilda review here. Matilda ended its Broadway run January 1, 2017.

Rogers & Hammerstein's Cinderella – I've not yet seen this musical, brought to Broadway in 2013, but it got 9 Tony nominations, including best revival of a musical (Annie is a competitor). It's gotten generally good reviews, with a script that's more modern than the previous version. This show closed on Broadway January 3, 2015 and is now touring the country.

Finding Neverland is a kid-friendly show for the most part (read our reservations and review here). It's the story of how Peter Pan was created through the influence of four brothers that JM Barrie met and become close to. For those who hate Peter Pan (me!) it's a surprisingly wonderful show.

Mary Poppins – you'll sing along to your favorites like a Spoonful of Sugar and Feed the Birds during this classic musical. The kids (and I) loved the show, even though my 6 year old (at the time) usually has a hard time making it through a production in his own chair. It took a little bit to understand the British accents, but that didn't bother the kids. The magic of Mary Poppins flying isn't lost on the adults. The show has an intermission (and lots for sale!) but the show is long at 2 hours and 45 minutes. The New York Times warns it's a sanitized version with too many life lessons, but the kids will enjoy it. Here is Mary Poppins' touring website. 

Billy Elliot the Musical – the show that opened on Broadway in 2008, and won 10 Tony awards in 2009 (including best musical and best leading actor for hte three kids playing Billy at the time) is a delight for kids and adults. It's closed on Broadway now and began its national tour in 2010. With music by Sir Elton John, and dancing (from ballet to tap to improvisation) the show hits all the marks and emotions. Read the Jersey Kids review of Billy Elliot here.

Spiderman: Turn off the Dark – If you follow Broadway news, you'll know that this (at $65 million, the most expensive show ever produced on Broadway) has experienced a lot of delays and injuries. The injuries are from all the flying sequences that should be unlike anything seen on Broadway to date. The story follows the cartoon story, so if your kids are Spiderman fans, this may be a good show for them. It was initially directed (and co-written) by Julie Taymor, who did the Lion King, but the show got an overhaul making it a wider audience hit. Read our review here.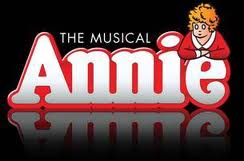 Annie –  It's a hard knock life! The classic Annie musical returned to Broadway in 2012 (Sarah Jessica Parker once had the title role).  Here's our review. It was nominated for a 2013 Best Revival of a Musical Tony award.

Pippin – I loved Pippin but wouldn't bring my kids. Here's why. Many do bring their kids, though, so judge for yourself. It's touring the country now as well.

Newsies – I'm kicking myself for not getting tickets to this show when it was at Paper Mill Playhouse. Kids and adults love this high energy musical and it's improved much since its days as a feature film. Here's our Newsies review.

Mamma Mia – This isn't really a kids' show, but I took my daughter and you can read the review of Mamma Mia on Broadway here. The show lasts 2.5 hours, with a 15 minute intermission.
Here is a full list of reviews of Broadway shows appropriate for kids.
Broadway Discount Ticket Codes
Some shows you'll only find tickets full price – or even above full price if it's really hot (resale tickets). When I'm looking into show tickets, I go first to BroadwayBox.com. If you search for discount codes online, often it brings you to this site anyway. I've ordered through them many times – never a problem.
If you're flexible in the show you see, you can go a TKTS booth in New York. The Times Square booth has same-day tickets available, and offer up to 50% off (not all are that price). They have one window dedicated to full price tickets as well. The wait can be long. Download their free app to find out what shows are available. At the downtown Brooklyn booth, you can get same day evening tickets, or matinee tickets for the next day. The South Street Seaport booth has been closed since Hurricane Sandy.
Time Out New York has some good resources for getting cheaper tickets, including getting on Playbill.com's mailing list (warning, they send A LOT of emails) and Travelzoo.com.
Restaurant.com sometimes has deals for a show and $50 restaurant.com certificate for no extra cost. They go quickly.
Students who are at least 18 can get a membership in Tix4Students and see discounted shows.
Here's how to sign up for a Broadway lottery.
Goldstar also has great theater offers at up to 50% off.
Broadway families sometimes offers special ticket deals or special events, like preshow activities or talk-back nights.