I did a post awhile back about family friendly hotels in Manhattan, so I can add this to the list.
Over Columbus Day weekend, we had the opportunity to be hosted at the Muse Hotel in Times Square, a place my parents looked into staying when they visited recently. It's a Kimpton Hotel, which is a good thing in my eyes. We've stayed at Kimpton Hotels in San Francisco and recommended them to friends who were visiting when we lived there. Kimpton Hotels have an off-beat style, with complementary wine hours and other fun amenities. Plus their decorating is awesome.
While the hotel has special kid-friendly options, it does look and feel like a sleek corporate hotel for men. The coloring is browns and tans, with lots of geometric shapes.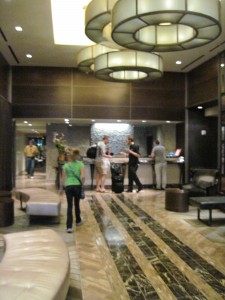 They have some specials coming up – make sure to read to the bottom.
THE STAFF
They were all very friendly, from the door men and bellhops, to the front desk staff. The check-in staff doubles as the concierge staff and wine pourers. We had a few questions about local attractions – they printed out some maps for us and gave us advice. One bit of advice they gave was wrong (the Highline starts on 30th Street, not 34th Street), which made a difference when we were walking down there.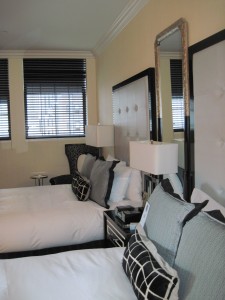 THE ROOMS
They have 181 rooms and 19 suites. We stayed in a double/double room, which we thought was quite roomy – especially for NYC. Whenever I stay in New York, I worry about the traffic noise, but it wasn't a problem – even staying one block off Times Square. They have a pull-down shade in addition to louvers to block the light. The bathroom was also nice size. The room was clean, and the beds were comfortable. They have a nice size safe, and an iPod docking station.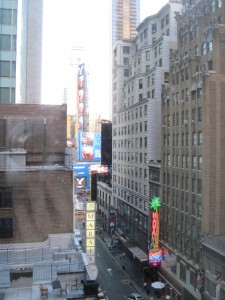 The complaints: no fan in the bathroom (it steamed up). The TV didn't work (we could have called for maintenance since they have someone available 24 hours a day, but we didn't need TV that badly), and the shower head hung almost straight down and needed some kind of adjusting. The manager told me there was a lever to adjust it behind the head, but I had already looked for that. The shower was very loud (this was my daughter's complaint).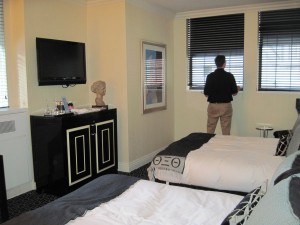 WINE HOUR
I visited their wine hour on a summer Saturday and again Sunday night of Columbus Day weekend. You get a choice of white or red wine, or beer. Unlimited. On the summer Saturday, they also had lemonade, which was great for my daughter. This past visit they only had alcoholic drinks available, which meant nothing for the kids. Not so kid-friendly in my eyes. You have a few options – the bar is just behind there and you can pay for a soda. A few doors down, closer to Times Square, is a bodega where you can buy something for the kids, or you can get a $5 soda from your minibar. There were no snacks with the wine hour, so bring your own (we got Nuts for Nuts on the street, along with a pretzel from a cart). The lobby area can get crowded (it's small) so if you want to get a seat, get there early on a weekend.
They have some video art we watched as we enjoyed wine hour.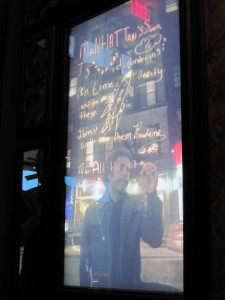 KID FRIENDLY
When you check in, each child gets a Kimpton Kids welcome gift. Our kids got bags from M&M World, with a nice-size stuffed M&M and M&M fan (things I'd never buy them myself, so they were thrilled). I'm not sure if all kids get a gift this nice, or if the hotel was just trying to impress us! My husband and I got a card for a free cocktail in their bar – equally nice! The hotel can help you find accredited babysitters and rental items (like strollers). They can give you kid-size robes to use in the room, and lists of kid-friendly activities in the area. I guess you have to ask for these things, because they weren't offered to us. They also offer free crib use, child room safety kits, and make their restaurant kid-friendly with high chairs and booster seats and child dining options. Here are their kid-friendly options.
AMENITIES
In the room you'll find funky animal print robes you can use (or buy). You can also buy Karen Newberger socks (I own some, and they're comfie).
—————————
[ad name="Google Adsense"]
—————————
Their toiletries were Etro, which smelled good to me, but the kids didn't like them. They did smell masculine. They have free wi-fi and you can borrow a free in-room exercise kit if you don't want to go to their gym. They have free coffee/tea in the morning (the kids and I didn't make it down for that, but my husband took advantage). They have a jogging map and you can get in-room spa treatments. Plus yummy chocolate with turn-down service (milk chocolate orange with valerian extract to aid sleep).
PET FRIENDLY
You know it's pet friendly when you enter because they have a dog water dish at the front door. They offer pampered pooch packages and a pet amenity package with treats, in your room, plus food and water bowls.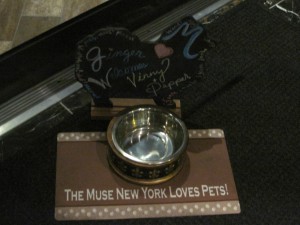 LOBBY BATHROOMS
The PR woman told me to check out the bathrooms in the lobby, and I read the same advice on TripAdvisor. They were quite a scene. Imagine walking into a room with individual bathrooms on each side (doors were floor to ceiling, so no stalls), and a shared sink in the main room (each bathroom had an individual sink too). It's co-ed, so it's fun to surprise members of the opposite sex who walk in and see you at the sink. I freaked out one guy who came in. Each bathroom has its own theme. Of course I looked at them all.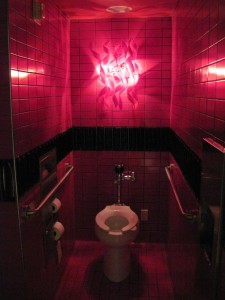 THE BAR/RESTAURANT – NIOS
We didn't eat in their restaurant, but did take advantage of the cocktails. The ones we chose were too sweet for our taste, but the vibe there is very hip.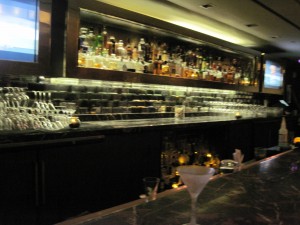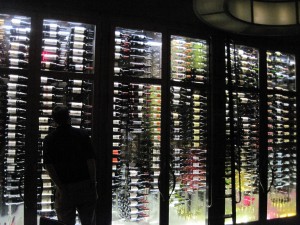 —————————————
[ad name="Google Adsense"]
—————————————
SPECIALS
Pajama-Rama Package
This package benefits the Pajama Program – a nonprofit organization that provides new, warm pajamas and books to children in need in the U.S.  The package includes:
·        $10 donation from each room night booked, donated to The Pajama Program
·        Milk and cookies at turndown
·        Cozy slipper socks upon arrival
In December, The Muse will host a Pajama Rama party for kids enrolled in the program, where they can enjoy an afternoon of gingerbread house-making, a visit from Santa, and a presentation of the total donation raised by The Muse. It's available now through 12/31/00, based on availability. Book online or call 1-877-692-6873 and mention rate code PPJR.
Operation: Give Back
In honor of Veteran's Day (11/11/11) and to kick off the holiday season, travelers can book The Muse New York's "Operation: Give Back" package, which benefits the USO of Metropolitan New York. Founded in Times Square in 1941, the USO serves as a "home away from home" for service personnel, past and present. The package includes:
·        11 percent of each room night booked donated to the USO of Metropolitan New York
·        Choice of breakfast for two OR complimentary parking
·        Two tickets to Top of the Rock, the best view of New York City
Book online or call 1-877-692-6873 and mention rate code PGIVE.  Available now through 12/30/11.
DETAILS
Where: Muse Hotel – 130 W. 46th Street
More info: http://www.themusehotel.com/