My daughter and I do a girls' trip to NYC every summer to see shows and exhibits. This is the first year we've stayed over, and we're so glad we did. We were guests of Hotel Giraffe, a boutique hotel on 26th Street and Park Avenue South, very close to Madison Square Park. Rated number four onTripAdvisor, out of 433 hotels in Manhattan, we had high expectations. And they were met.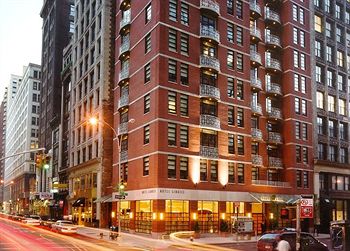 Hotel Giraffe is part of a family of hotels in the Library Hotel Collection, four unique boutique hotels in Manhattan. I reviewed Hotel Elysee last summer. Hotel Giraffe has 72 rooms in a corner building, each room with a with small balcony. Unfortunately for us it was pouring rain while we were there, but we could still keep the windows open. We stayed in a king suite, which is the type of room I like to stay in when traveling with my kids. The kids get the living room, and my husband and I get the bedroom. It was quite spacious.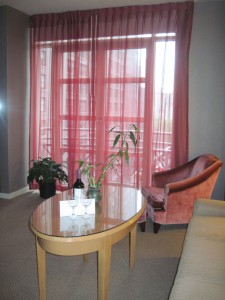 This place had more closets than
most New York City apartments. In the bedroom alone, there were two large closets – one on either side of the desk (well, there was a television in the left one, but there were also drawers). Across from the bathroom was a large closet (photo below) that held robes and a safe. The living room also had a coat closet by the door.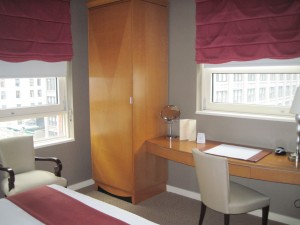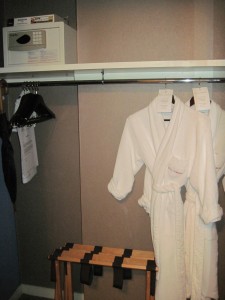 I'll cover more of the room below. But first I want to share the wine and cheese they offer each afternoon from 5-8 in the lobby.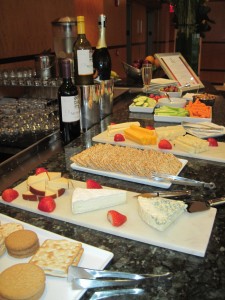 ————————————————
[ad name="Google Adsense"]
————————————————
We enjoyed our wine and cheese on the earlier side, and the lobby was empty when we arrived. By the time we left at 6:45, the room was full. They offered red and white wine, sparkling wine, cheese/crackers and some crudites. Aside from water, they did not have beverages out for kids. I asked the server what they had that was nonalcoholic for my daughter, and she offered orange juice or hot chocolate. They also have a gourmet coffee machine (pictured below) available 24 hours a day – self service (you just push the button for what you want). On weekdays, a pianist plays starting around 6:00.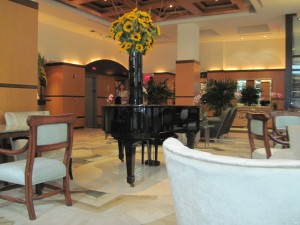 Breakfast is available from 7-10:30 in the morning, served in the same place. They had complementary copies of the Wall Street Journal and New York Times down there as well. They offered pastries, bagels and toast, hard boiled eggs, cereals, yogurt, fruit salad, whole fruit and juices.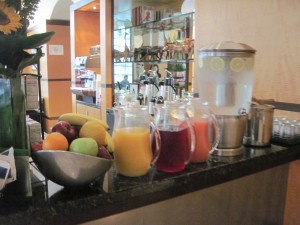 If you don't want to come down for breakfast, they'll deliver a selection to your room for $5. Or you can get one of your companions to do it for you – like I did for my daughter who wanted breakfast in bed. While we didn't see it, they offer snacks and beverages all day in the lobby.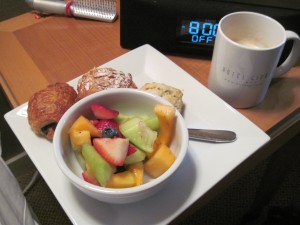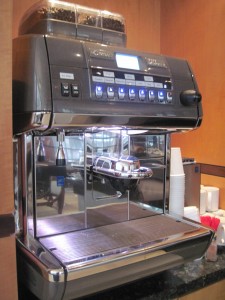 Okay, back to the room. The bathroom had a nice shower with good water pressure. The mirror went around two walls and included a close-up make-up mirror. You can see the scale on the floor. Toiletries included body wash, shampoo, conditioner and lotion.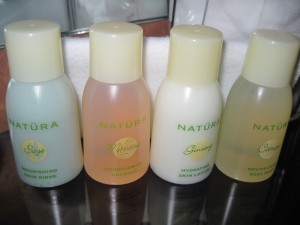 The pros:
There were many pros to Hotel Giraffe. The staff was lovely, from the reception desk to the women serving the wine and cheese in the evening and breakfast in the morning. I love that each room has a balcony. The traffic noise at night was not bad – partly because it's less busy than mid-town, and partly because the windows are thick. They hotel does offer free ear plugs you can request. Especially when traveling with the kids, I like having breakfast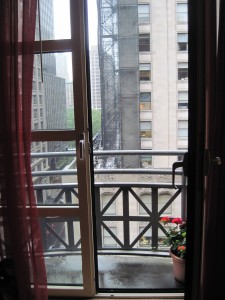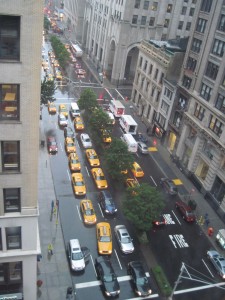 Amenities
The bathrooms include a scale (it was accurate). The bedrooms have a clock radio with iPod dock and several choices in white noise. In addition to an honor bar (topped with books to read), there's a DVD and CD player with the television.
Hotel Giraffe has a number of items available at no cost, including pack-n-plays, empty refrigerators, cribs, ear plugs, additional toiletries, mattress foam tops, slippers/robes, and more. My daughter loved the toilet paper tied with a ribbon.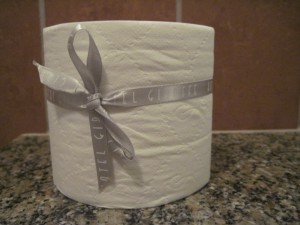 Location
The hotel is within two blocks of the 6 subway line. When we exited the subway, we unknowingly exited through an office building (Met Life) and ended up literally across the street from the hotel on Park. That entrance was closed over the weekend, but it's a short walk back to the 28th street entrance. You can walk to the opposite side of Madison Square Park to get to the N/R/W lines, which was a few blocks.
In terms of eats, Madison Square Park has a Shake Shake that's less crowded than the mid-town ones. If the weather is good, it's a perfect place to eat. Eataly is across from Madison Square Park as well. Just a block up from Hotel Giraffe is Sarabeths, which just opened in this location February 2013. Hotel Giraffe runs the Italian restaurant Bread and Tulips in the building, and has a rooftop lounge as well.
The cons:
These are very minor. I didn't like the soap scents – too flowery. The bathroom door also wouldn't stay open – it kept slowly closing (and would hit me) while I stood there to brush my teeth. I finally had to keep the door closed. The bathroom door was textured glass, which a number of TripAdvisor reviewers didn't like. The glass didn't bother me, but it decreased the privacy which can be an issue depending on who is in the room with you. Like in many NYC hotels, the bathroom had no fan or vent. The turndown service included pulling down vinyl window covers, which did help block out the lights outside, but they did not cover the whole window, so light still seeped in from the sides.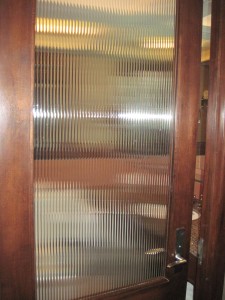 We were guests of Hotel Giraffe, but all opinions are my own.