When we found out the kids had President's Day Week off, we started looking into vacations. The kids hadn't yet learned to ski properly (a two hour lesson three years ago didn't count). We figured they should learn to ski at a place specializing in teaching kids. And after a lot of research, we booked our vacation at Smuggler's Notch in Vermont. We don't know the East Coast resorts very well, but this one was highly rated as both a family resort and a great place to learn to ski. I'll cover all that!
Bottom line – we had a great time and the kids learned to ski. There was plenty to do off the slope, and on. The best way to sum up the resort is that it's like a cruise on land. Or a quasi all-inclusive (lots of free activities, pay for your own food and lessons).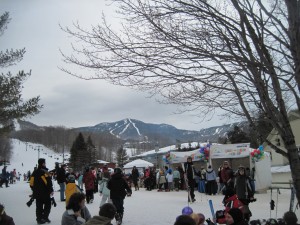 SKI CAMP/LESSONS
The first two days we signed the kids up for ski camp, which meant 9:15-2:15 skiing (with lunch), and optional post-ski camp until 4:00. The day runs $100-135/day, depending if you're staying on site with a package. You can pick up your kids from the end of ski class, or they'll keep them til 4, with some activities (like the friendly pirate show, which they didn't like). They wanted to ski with us after lessons, so we picked them up the next day at 2:15. Unfortunately for Smuggler's Notch, they lost a blogger's kid. My son's class was so large, they lost him at the end of the lesson and didn't realize it. Yet another reason I was glad I showed up at 2:15 to get him. The instructor didn't realize he was missing until we asked him where Zack was.
GPS: Starting this season, kids and instructors in the ski camp use a GPS system, strapped on their calf (they scan the lift ticket bar code). While billed as a way for parents to track their kids' progress up the mountain by the end of the week (they'll give you a website and tracking number), the safety use became clear when our son was missing. The instructor had the supervisor radio his name to the office, and within minutes, they said he was at the base of the Mogul Mouse's Magic Lift. Which is the same area as the Magic Carpet (the very beginner slope). The instructor had told the kids to ski back to the lesson area, but Zack didn't hear him. We found Zack in the area they told us, looking lost and confused. The instructor looked (appropriately) horrified, and was very apologetic. To be honest, I wasn't that worried. It's a very family-friendly place, and as a beginner, he's not skiing through trees.
The 1.5 hour lessons don't use the GPS technology. Which was unfortunate because a few days later, my daughter's class was an hour late returning from their lesson. Again, I wasn't worried. If there was an injury, the supervisor would have heard about it. But they couldn't track the instructor because she didn't have a radio or GPS. They sent out a snowmobile and 2 ski patrol on the lift to find them. It turns out they took an icy trail that was too hard for the 11 kids in the group, and just it took a long time to get down.
That said, I don't mean to bash the instructors or the lessons. My kids learned a lot, had fun, and the instructors were attentive and helpful. Saintly, one could say. I don't blame the instructors – I think there were too many kids in a group most days.
Pros: the kids had concentrated time to learn to ski. They were evaluated each morning and switched into a different group if necessary. The instructors gave us evaluations of the kids after each lesson, telling us where they should be placed the next day. The ski camp lunch was great, with a buffet choice of foods (hamburgers, grilled cheese, jello, pudding, fruit, salad, lemonade, hot chocolate etc.). They had no snacks in the morning or afternoon (aside from hot chocolate after skiing).
Cons: the lessons were crowded overall, with up to 12 kids to an instructor. It's hard for any instructor to keep track of that many kids. After skiing in camp, the kids were brought to the Morse Mountain Lodge, basically a large dark room. They had drinks for the kids and a show (Friendly Pirate, magic show) until the parents showed up. The good news was that you needed a ticket to take your kid out of the room, and they had the kids' ski items separated into groups (shockingly we found all their gear within minutes).
SKIING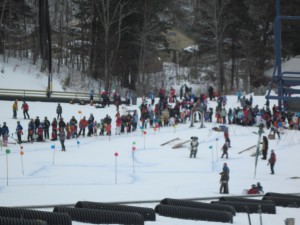 The resort has 3 mountains, including the beginner mountain (Morse), and intermediate/advanced mountains (Madonna and Sterling). The beginner mountain has tons of long green runs, and you can exit mid-mountain if you want (which is great for beginners not ready for the top). The lift operators were perfect with beginners – friendly, and they really looked out for the kids and helped them get on and off as necessary. They offered several types of ski races, including what looked like the really cute Cookie Race (6 and under, I think).
The other two mountains don't have green runs, but also allow you to exit mid-mountain. There were terrain park areas on each of those mountains. Those peaks also had warming huts with food at the top. The lifts were all doubles and relatively slow. They took about 15 minutes to the top. Even on a holiday week, though, we didn't wait more than 10 minutes in line.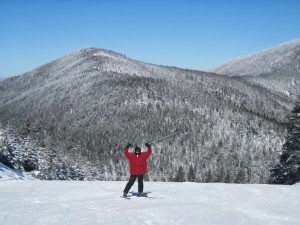 FOOD
We ate most of our meals in our condo, and the days Mark and I skiied alone, we stuffed sandwiches in our jackets. We did have pizza one night (Riga-Bello's) – it was fine. We ate a fabulous meal at the Hearth and Candle (not owned my Smugg's, but on property). They have family dining and a 21-and-older-room. The food was delicious. The bar only seated 5, though there is separate bar in another building. And of course we had to visit the Ben & Jerry's ice cream shop. Remember, you can get a kids' cone even if you're not a kid. It's plenty big enough!
LODGING
We rented what turned out to be an individually-owned condo (versus a time-share). We rented through Smugg's – it's much more expensive to go President's Day week, so I don't recommend that! We rented a one bedroom in the Riverside building (#56, if you're reading this, Smuggler's), though they fortunately left the second bedroom unlocked, so we had full use. Woo hoo! The size was perfect, and the décor was ski cabin chic (as in not chic at all, but charmingly rustic).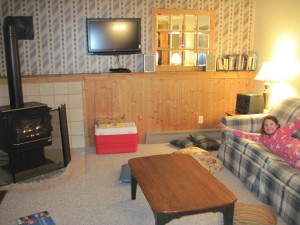 Pros: The best part of the condo was the location – it was a very short walk to the mountain. And they have an "on-demand" shuttle service – you call them and they come within a few minutes to take you where you want to go. We only had to park once and never needed to drive our car while we were there. The days the kids weren't in camp, we brought them to the condo for lunch. Everything in the condo was clean.
Cons: We were on the bottom floor (of three) and we could hear every step above us – unfortunate since the family above us had 4 kids under the age of 6. They ran around a lot. The kitchen was stocked with the basics, all fine except the toaster that didn't work well, a salt and pepper shaker with no salt and pepper in them and a sugar bowl with no sugar. The shower head wasn't great (not a big deal) and they don't provide shampoo (but they do give you 10 bars of soap). The sofabed needed replacement – it sagged and the cushions didn't cover the rim of the couch.
APRES SKI ACTIVITIES
Smuggler's Notch really excelled here. Activities almost every evening – some free, some you pay for.
-Bingo one night (we missed it), a welcome hot chocolate/bonfire/people dressed up in character on the slope one afternoon, some kid-friendly entertainment meals and more.
-Indoor pool: In addition, they have an indoor pool (with toys), along with two Jacuzzis (one for families, one for adults). Bring a quarter for the locker (or your own lock) or just leave your things in there unlocked. They have showers there with a soap dispenser.
-Skating – go skating outdoors on their rink for free (optional skate rentals are $5).
-Go tubing a few nights a week (specific nights) for free. Though it was REALLY crowded when we went, so we only made one run. That was a bummer. While they caught the kids coming down, they didn't catch the adults. We saw 2 adults go so fast, they went over the snowbank, and under the netting – onto the road. Not sure why the adults didn't dig their feet in (they told us to at the top), but that was scary to watch.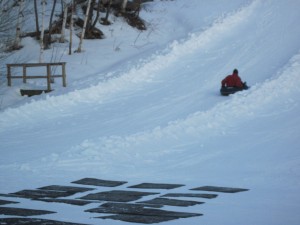 -Calendar events – the week we were there they had a torchlight parade down the mountain, featuring the ski instructors, followed by fireworks. They also had a cute slope-side carnival sponsored by FamilyFun Magazine. Zack had fun doing the activities while taking a break from skiing.
-Family Fun Zone – our favorite was the Family Fun Zone – an indoor area with a bunch of bounce houses, inflatable slides, indoor mini golf, and an arcade. The arcade cost, but the rest was free. You can also get your kids' hair braided there (fee) so they look like they just came from the Caribbean instead of Vermont. They do offer some other fee-based fun, including dog-sledding, snowmobiling, zip-lining, cross-country skiing and snow-shoeing.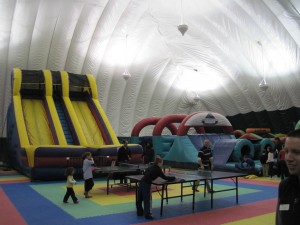 FACILITIES
The village area has registration area, a nice "country store," a ski shop (clothing), a grill, pizza place, Ben & Jerry's ice cream shop and bar. But no open area to hang out by the fireplace and have a cup of cocoa. That was totally lacking. On our last day there, after ski lessons, Zack was really cold and wet and we had already checked out of our condo. We just wanted to sit somewhere nice and have something warm to drink. We ended up sitting in the registration area.
TREASURES
Treasures is Smugg's day care facility. They take kids as young as 6 months, and I'm not sure how old on the other end. We didn't send the kids there during the day, but they offer a "Kids Night Out" with pizza, an activity, ice cream sundaes and a movie. The kids had a great time and I got a chance to poke around. They can accommodate 75 kids there, in several rooms.
It's right on the slope, and they have an outdoor play area. They do take some of the kids out for individual skiing – check out these tiny skis and boots!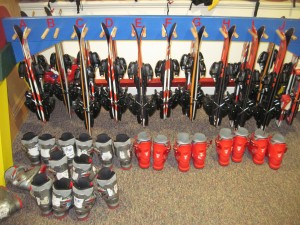 The floor has radiant heat, so the kids don't need their shoes. Several aquariums kept Dori intrigued. It was a really nice place.
COST
Smuggler's Notch is not cheap, especially over peak season. A one bedroom condo, with five days of 1.5 hour ski lessons for the kids, plus 5 days of lift tickets for the family, the bill (before taxes) came to $3,800. Then ski rentals, ski camp (5 hours of lessons), taxes, service fees (VT tourist tax) and the bill stopped just short of $5,000. However if you go during a nonpeak week – much more reasonable. And you do get a lot of value for what you're paying – with all the activities and discounted ski lessons (with a package).
TIMESHARE
They offer "vacation ownership" if you're interested in a timeshare. We got an invitation while there, to sit through a 90 minute "no pressure" presentation, and choose from an array of incentive gifts. We agreed to do it, while the kids were in ski lessons, doubting that it would be a good experience. We had an awful experience in Mexico with a timeshare presentation.
Well, they made good on their word – we were out of there in less than 90 minutes and there was NO pressure. We didn't buy, but we could see why it would be an attractive offer to some. And buying in the winter is apparently cheaper than buying in the summer – which is even a more popular season for them! And we got a free dinner at the Hearth and Candle, and "Kids Night Out" for the kids at Treasures (see above).
SPA
We didn't use the spa, but the reports were that the facilities were dated, but the service was excellent.
BOTTOM LINE
While we had some complaints, we were really impressed overall with how hard the resort tried to make the experience a good one. The staff was great – and it was clear their goal was for the guests to have a ball. They took care of any issues that arose. It was not a snobby place at all, and they really emphasized low-key fun. I was impressed how much they had going on, and how it managed to go off without a hitch. We'd be happy to go back any time (now I want to try the summer!).
BEN & JERRY'S
While you're in the area, check out the Ben & Jerry's Factory Tour. Here's my review. For other Vermont factory tours, click here.
This post is courtesy of Club Med All Inclusive Vacations, which also has family winter skiing programs.
All photos here were taken by Deborah Abrams Kaplan and are copyrighted. No copying or reprinting without written permission.