When we told people we were going to Vermont, they all asked "are you going to Ben & Jerry's?" And given how much I love factory tours, we went.
The tour was really short. After watching a sanitized (but cute) several minute video, we went into a viewing area above the production floor. Though they're supposed to be producing ice cream on the weekdays (we were there on a Friday at 2 p.m.), unfortunately they had already finished the batch for that day, so we got to see them cleaning the equipment. Sigh.
The kids didn't understand much about the ice cream making process, and didn't really like the actual viewing part. But then again, that part took only about 10 minutes.
"I liked the eating part the best," said Zachary.
The Ice Cream Making Process
The milk comes from the St. Albans Cooperative Creamery, which includes 500 or so local family farms in Vermont. Here are the steps the milk goes through to become ice cream:
1. The milk goes into the blend tank, 1,000 gallon stainless steel blenders, along with the liquefied cane sugar, egg yolks and stabilizers. If it's a chocolate ice cream, they add 300 pounds of Dutch Cocoa powder. The base is homogenized and pasteurized.
2. The mix goes into the tank room for at least 2 hours, until it's needed, and stays at 36 degrees F. The tanks (all six of them) hold 5,000 gallons. You can see the tank room where you buy your tour tickets – it's next to the desk.
3. The mix is pumped into the Flavor Vats on the factory floor. Here they add flavor, like extracts and purees, or powdered flavoring. It's at a milkshake consistency, so it's then pumped over to the…
4. Hoyer freezers, where the mixture is cooled to 22 degrees F (it only takes an hour to cool 720 gallons).
5. Now they can add the chunks in the customized Chunk Feeder. Chunks like chocolate, cookies, nuts, etc.
6. Now the mixture goes to the contherms, which swirls things like caramel or fudge into the ice cream. The swirled item has to be cooled before being added to the ice cream, so it doesn't melt it.
7. Now the ice cream is added into the pint containers, using a swirling motion to prevent air pockets. The B&J chunks were too big to use conventional fillers, so they had to create their own. After the pints are capped, the pints are flipped over, to be stamped later. Plus, the pints are top-heavy, so they put them on the lids so they don't fall over.
8. They head to the Spiral Hardener – a corkscrew shaped conveyor belt which goes up 2.5 stories, cooling the ice cream to 40 degrees below zero, though with wind chill it gets even colder. The journey takes 2 hours, then they're packaged in groups of 8 pints (one flavor only), called a sleeve. That's the minimum amount a retailer can order.
This Waterbury factory makes 250,000 pints a day (two flavors).
Tasting Room
After the factory viewing, we went into the tasting room, where they serve up the sample of the day. It's the same room Ben and Jerry used as a test kitchen from 1985-95, developing Chocolate Chip Cookie Dough ice cream and Chocolate Fudge Brownie ice cream there. I didn't know that they were the first ice cream maker ever to develop cookie dough ice cream, and it took them five years to do it!
They serve one sample flavor, and they were prescooped – about the size of an ice cream scoop – not stingy! We had time to ask questions before heading into the factory's store and scoop shop. Unfortunately they listed the calorie counts on the menu at the scoop shop.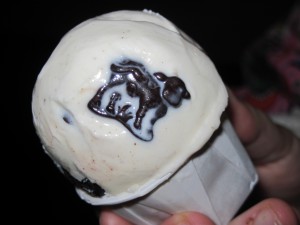 Scroll down to the bottom for some Fun Facts, and for details about planning your trip.
Documentary Film
The best part of the tour was actually not even part of the tour – it was the documentary film playing inside the eating area (not the test kitchen, but outside the scoop shop). While we didn't see the whole video, we did stay for about 45 minutes. It told more of the back story behind the creation of Ben & Jerry's ice cream – and it wasn't sanitized.
It also answered one question I had – how did two Jewish guys (Ben Cohen and Jerry Greenfield) end up selling ice cream in Vermont? Well, it turns out they're from Long Island, and were friends since 7th grade. Both were chubby, and not great athletes. They went to different colleges but stayed friends. After graduating, they each tried out different jobs, and Jerry applied for med school twice (and was rejected twice), and they couldn't figure out what they wanted to do with their lives. They decided to team up and start their own business, settling on food, since they both liked to eat. Bagel equipment was too expensive, so they learned how to make ice cream through a $5 college correspondence course (though apparently Ben had already played around making ice cream before this).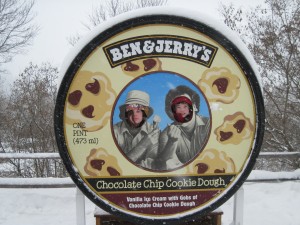 And how did they end up in Vermont? They looked for a college town with no ice cream competition. Burlington, VT was it. The renovated a gas station and made an ice cream parlor in 1978, accidently intensifying the ice cream flavors because of Ben's sinus condition (he couldn't taste the milder flavors). They sold 12 flavors, and were so successful they sold out nine days into the venture and had to close to make more.
Business was booming, but making money was tough, so they celebrated their first anniversary with a free cone day. That tradition continues (in fact, this year, it's Tuesday, April 12th, 2011).
They began distributing pints for sale in nearby mom and pop stores, Ben doing the deliveries. They struggled to go beyond breaking even. Eventually Jerry burned out of the business, sold his share to Ben and moved to Arizona.
Ben struggled to figure out the company's direction, and wanted it to reflect his progressive personal values. Over time that meant starting the Ben & Jerry's Foundation (set up with funds from the later stock sale, and it was getting 7.5% of the company's pre-tax profit. Unilever now contributes based on sales, and in 2009 contributed $2 million). And using milk from Vermont farmers, giving a premium to them for not feeding the cows rGBH, using fair trade products (chocolate, coffee…) and having employee community action teams to do community service.
In 1984 the company expanded distribution within the Northeast, but needed money for another factory. Ben was against accepting venture capital and decided on a state-wide public stock offering, so only Vermont residents would own shares (since they made the company successful). An estimated 1% of all Vermont families owned Ben & Jerry's stock after that, and Ben sold 17.5% of the company, getting enough capital to build a manufacturing plant. By then, sales were more than $4 million a year.
At some point after this, a store told Ben that the Haagen-Dazs distributor was threatening to pull Haagen-Dazs sales if they didn't stop selling Ben & Jerry's. Though it was illegal to do this, a lawsuit would be expensive. Jerry was dispatched to Pillsbury headquarters (Pillsbury owned Haagen-Dazs) to begin the now-famous public relations campaign, "what's the Doughboy afraid of?" It was successful and the distributor backed off.
Jerry kept coming in to help with the business when in town during the summer, and he eventually moved back and became part of the company again. In 2000, Unilever bought Ben & Jerry's, though the founders fought against selling it. But they didn't have enough shares to halt the sale. As part of the 10 year agreement (which ended last year), Unilever agreed to retain Ben & Jerry's corporate culture (including the volunteer work and fair trade products), and the founders apparently retain some control over the brand identity.
Unilever bought Ben & Jerry's for $326 million – Ben reportedly got $40 million of that, and Jerry got $8 million.
Ben and Jerry still live in Vermont. Though they might still do some PR for the company, Ben is spends his time working with TrueMajority, a liberal advocacy group. Jerry comes around the factory frequently, according to the tour guide, and does a lot of work with the Ben & Jerry Foundation (he's president of it).
Fun facts:
–Ben & Jerry's ice cream is only sold in pints and quarts. They once tried selling them in half gallon containers, including at Costco and other warehouse stores, but they didn't do well.
–The Favor Gurus come up with ice cream flavors, 140 or so to start, and whittle those down to 20. After making batches of them and narrowing it down to maybe four flavors, they send them out for consumer testing (in Chicago). They now develop the flavors in a South Burlington lab.
The most popular pint flavors in order are:
–Cherry Garcia
–Chocolate Chip Cookie Dough
–Chunky Monkey
–Chocolate Fudge Brownie
–Half Baked
–New York Super Fudge Chunk
–Phish Food
–Coffee Heath Bar Crunch
–Peanut Butter Cup
–Vanilla
–Some flavors are only sold in scoop shops.
–They maintain 55 flavors, introducing 5-10 a year. They retire the same number yearly. Retired flavors can be found at the Flavor Graveyard ("our deadly depinted" – click on the pint on the bottom of the link, between the ghost and the pumpkin to see all the flavors – the commentary is hilarious).
–Some deceased flavors includes Peanut Butter & Jelly, White Russian (apparently the ice cream flavor caused Kahlua to become too costly), Wild Maine Blueberry, Rainforest Crunch, Economic Crunch, Bovinity Divinity, Sugar Plum, Ethan Almond, Apple Crumble, Concession Obsession, Holy Cannoli, Lemon Peppermint Carob Chip, Pulp Addiction, Peppermint Schtick, the Full VerMonty and Wavy Gravy.
–One of their new flavors is CLUSTERFLUFF. Don't say it too quickly.
–Other Ben & Jerry factories are in St. Albans, VT (produces 500,000 pints/day);  Hellendorn, Holland (produces 250,000 pints/day); Henderson, NV; Yavne, Israel; and Simco, Ontario.
If You Go:
For information the Ben & Jerry's factory tour, click here.
Cost: $3/adults, $2/seniors, free for kids 12 and younger
RSVP: Tickets are first come, first served (unless you're part of a group – you can make group reservations). 40 people per tour.
Hours: vary depending on the season
More information: (866) BJ-TOURS
Tour time: the tour is 30 minutes (or less)
In good weather, there's lots of room outside to picnic and eat ice cream while you wait. Plus they have a Flavor Graveyard with headstones (not just on the website!) and a playground. We saw none of that given that we went in February, in the midst of a snowstorm. Though at least we had no wait!
More Factory Tours: If you want info on more Vermont factory tours, click here.
Smuggler's Notch: We stayed at Smuggler's Notch – read a review here.
All photos by Deborah Abrams Kaplan (copyrighted). Do not use without written permission.