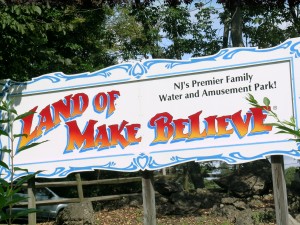 If you're looking for some clean, family fun, and your kids are on the younger side, head to the Land of Make Believe in Hope, New Jersey. They have lots of kiddie rides and a fun water park good for both younger older kids.
The park is quite manageable for families with young kids. It's not too big (but not so small that you'll get bored). The rides are geared toward kids age 6 and younger (preschoolers will be quite happy).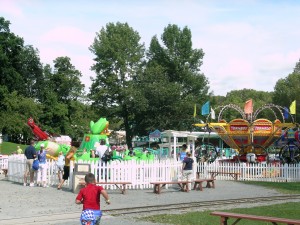 My 8 year old was bored with most rides, and I was surprised that my 6 year old was happy to ride them.
The Rides: Expect everything from a carousel to a small tilt-a-whirl. The mini roller coaster was fun for us – it goes in a loop and is good for the younger set. There probably 15 rides.
Attractions: We didn't check out the arcade, Haunted Halloween House, jump houses or Dog Pound (games). There's also a train circling the park and a hay ride.
The Show (Middle Earth Theater): The park put on a very cute interactive show featuring any kid and adult who wants in. Dori and I were part of it, and we could choose our part. The skit was funny and the kids had a great time dressing up and acting in it. Zack had fun watching. They said they want to do it again next time we go.