The Metropolitan Museum of Art is so big, you won't see it in one trip. So don't try. Here are 4 ways to explore the Met with your kids.
THROW A DART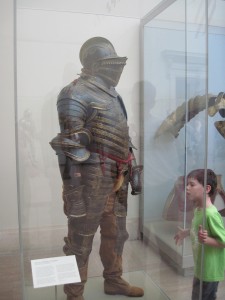 On our first visit, we gave the kids the regular map and told them to pick two things they each wanted to see. And then we had them lead the way. The kids picked the Temple of Dendur and the Egyptian wing, the instrument room, the swords and armor, and I can't even remember the fourth. We had a fabulous time exploring…until Zachary had a melt-down at the end, in the instrument room. He was tired. He was hungry. It was time to go. We were there almost two hours, and considered that visit highly successful.
FAMILY PROGRAMS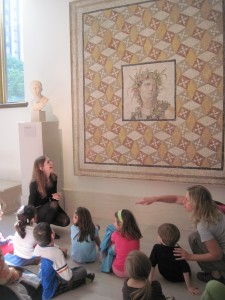 The next trip was with Alison Lowenstein, author of City Kid New York: the Ultimate Guide for NYC Parents with Kids ages 4-12 (plus she's the author of City Weekends: Greatest Escapes and Weekend Getaways in and Around New York). She's a pro at visiting the Met with kids. For this visit, Alison led us to the lower level, where the (free with admission) tours and programs for kids are held. We did an Art Trek, where the Met guide took us to several works of art, and discussed them a kid's level. At the end, they got to draw one of the pieces. The program lasts an hour, and is for kids ages 5-12 (they divide them into age-appropriate groups). The kids liked the program, though that guide didn't leave enough drawing time for them at the end.
The Met offers hundreds of family programs each year, including drop-in drawing sessions, festivals, the "Discoveries" program for learning-disabled and developmentally disabled kids, holiday programs (including select Mondays), story times and more.
Continue reading "4 Ways to Explore the Metropolitan Museum of Art with Kids"