If you pay attention to Broadway shows, perhaps even if you don't, you've heard about Spiderman – the most expensive show to produce on Broadway, the injuries from flying during previews, criticism of the script and Bono/The Edge music, firing of director Julie Taymor, etc. Reviews of the new production are mediocre, claiming this version of the show is bland, family entertainment (versus Taymor's artistic version which was darker and didn't work). And only one person I talked to who had actually seen, it liked it. In fact, she loved it, and said it was the best show she'd ever seen on Broadway. I assumed she didn't get out much. So this was my mindset going in. I figured my 8 year old son would like it, and my critical 11 year old daughter and I would say, "meh."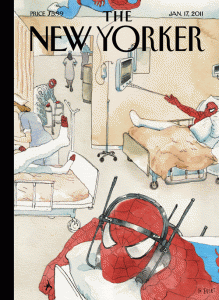 Bottom line: We all loved it.
Entering the theater there was a palpable buzz, energy and excitement I haven't felt before a Broadway show for a long time. Plus it's a big theater with almost 2,000 seats.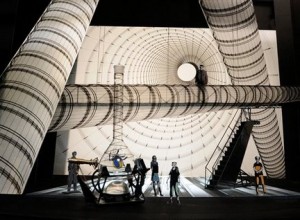 The plot: Dorky Peter Parker gets picked on during his senior year of high school. He has a crush on Mary Jane, who seems to like him back. He wins a competition and the prize is for the class to visit Dr. Norman Osborn's futuristic lab. Peter gets bitten by an escaped/genetically enhanced spider, and gains spider powers. He graduates, and becomes a Daily Globe photographer after he's the only one to get shots of Spiderman (plot question – does he use an auto timer? How does he got the shots while Spidey is doing his thing? Even my 11 year old came up with that one). Peter gets the girl, though his alter-ego makes it difficult to maintain the relationship. Dr. Osborn uses his lab equipment to turn himself from basically good, into the evil Green Goblin, and six of his former lab workers into the Sinister Six. Can Spiderman save New York City from these seven creatures, especially the Green Goblin? Will his relationship with Mary Jane work out?
—————————————-
[ad name="Google Adsense"]
—————————————-
The Sets: The sets are one of the best things about the show. Reminiscent of a comic book, the furniture looks like it comes from a Roy Lichtenstein pop art painting. Even the watering can and potted plant looked like it came from a comic strip. Fabric strips move around the stage, acting as video screens. Buildings come at you from all angles, simulating the view from the top of the Chrysler building, with cars and lights on the street level below (which is really the back screen). The Brooklyn Bridge extends toward the audience, its roadway made up of much of the stage floor which elevates. It's truly spectacular. Violence was even depicted in a cartoon way – you'd see a punch and then in the background would be "BAM" in writing. Read more about the sets here. 125,000 pounds of scenery, being moved around frequently.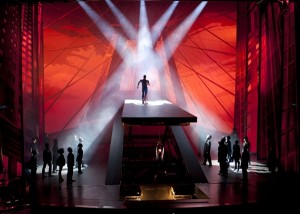 The Costumes: The costume designers did a great job with the costumes, especially for the Sinister Six, who were larger than life in their shiny, colorful and fierce looking costumes. As for the rest of the company, they were often dressed in matching shades, unifying them into a group. And even some of the bad guys had funky costumes with big soft faces and exaggerated bodies.
Music: I heard that Bono/The Edge's music was not memorable. I disagree. Several of the songs were very catchy and they moved the plot along. While we could not see the orchestra (I'm still not sure where they were), you could see the (female!) conductor on a screen hanging from the balcony. That was fun to watch, and see her singing along. She looked like she was having fun. My one complaint was that at times, the music was way too loud. Fortunately I could always hear the singer clearly, but they could have lowered the level of the music and it would have been just as good. Am I showing my age?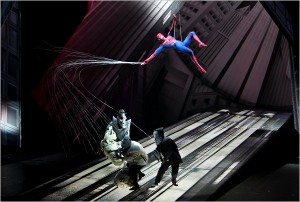 Choreography: Dance numbers were enjoyable. I loved seeing the typing pool ladies slide down the ramp into their newspaper office. My one complaint was the scenes were the Sinister Six were terrorizing New York City residents. It looked more like they were just playing a game of chase rather than doing something sinister. It was almost laughable.
Characters: While Reeve Carney (Peter Parker) and Rebecca Faulkenberry (Mary Jane) did a great job in the leads, Patrick Page (Norman Osborn/Green Goblin) was fantastic. He got better as the show went on – mainly because the Green Goblin character was fabulous. His voice was low and nuanced. His swagger and attitude infectious. And so funny too. Like a stand-up comedy hour. After the intermission, GG went over to  a woman who walked in late and started razzing her. I'm guessing he finds someone like that in every show, but it was hilarious. He sparkled much more than the other characters during the second half.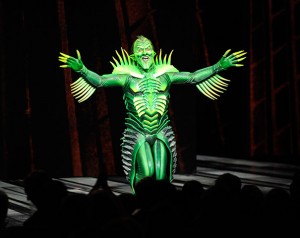 Read on if you want more on the set, flying, costumes etc. There may be spoilers, so you've been warned.
Aerials:
The aerials started early, with a group of women swinging dramatically from scarves in the ceiling on stage. As they swung, other scarves were lifted from the bottom, forming a weaving pattern that was beautiful and surprising.
Arachne, the spider muse, had a strong and beautiful voice, and it was always a pleasure to see her lowered from the ceiling, hanging from her web with spider legs gracefully moving behind her. The dream sequence where Peter worried about his Spiderman role and Arachne talked with him, was beautiful. She lowered down to the bed, and he went up horizontally with her. I didn't see him get hooked in, so that was a surprise, and it was a quite a dance in the air between them (I kept waiting for someone's wire to get hooked on the other but it never happened).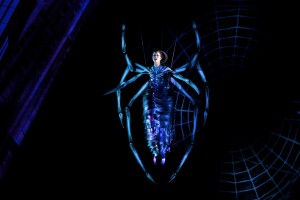 They made good use of wires hanging from the ceiling, having Peter and Mary Jane descend, as if sitting on a NYC apartment balcony.
Spiderman Aerials: And what you've been waiting for: Spiderman. It was thrilling to see him fly across the audience. We were in the center of the orchestra (row N), so we had a good view from below. Those in the balconies did as well, since he landed in two spots on both the 2nd and 3rd balconies (called the Flying Circle or Upper Flying Circle) several times each. There were several Spiderman flyers – which you realize after seeing him land on the balcony, only to have him fly from the stage seconds later. Most of the time it was not Reeve Carney (Peter Parker) flying, though he did some flying at the end. There are apparently 9 men playing Spiderman (and they all look good in their tight costumes).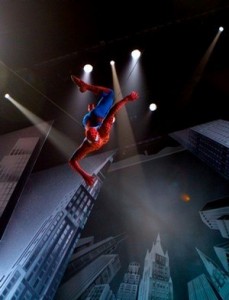 Green Goblin Aerials: This was a wonderful surprise. The Green Goblin flew across the orchestra section, almost dive bombing us, and Spiderman then jumped on top of him in the air, and fought him from below. Very exciting stuff.
Seat locations: The balcony is NOT a bad place to be in this show. Spiderman actually lands in two different spots on both the 2nd and 3rd balcony (called the Flying Circle or Upper Flying Circle). I'm sure people sitting right there were thrilled to have him swing over in front of them, but then again, they probably paid premium ticket prices to sit there. It looked like the landing pad was between the center and middle sections, in the aisle. That is a guess, though, since I didn't go up and look.
Kid Appropriate? Yes. There are no bad words, no sexual scenes. There is a little kissing, but nothing uncomfortable.
Age restrictions: the show is recommended for ages 6+ (they discourage kids 4 and under from attending). Any person entering the theater needs a ticket – no lap kids.
If you go:
Theater: Spiderman is at the Foxwoods Theater, on 42nd Street (and 43rd Street) between 7th and 8th. if you have tickets ahead of time, use the 43rd street entrance. The 42nd entrance is where the box office is, and there was a huge line for the box office, with half the people already holding tickets and not realizing they could just walk in the front door. Message to the Foxwood staff: have an employee outside walking along the line to tell ticketholders to get out of line.
Inside:
–You can get your picture taken with Spiderman – get there early enough to do so (fee).
–Look for seat cushion risers to bring into the theater for you if your little one needs a boost.
–No outside food allowed, but you can bring their food/drink to your seats
How long does Spiderman last: 2 hours and 30 minutes, including a 15 minute intermission
Tickets: full price tickets range from $67.50 to $147.50 plus fees. Premium tickets cost much more. AmEx card holders can get preferred seating. You can get a VIP ticket including back stage tour on some Fridays, Saturdays and Wednesdays. For AmEx card holders with promo codes, the cost is $157.50 plus fees, and for others it's $297-$399 (orchestra/1st balcony) or $97-135 (upper balcony) plus fees.
Discount Spiderman Tickets: Use code SMBX85 to save $20-50 per ticket. Expires July 29, 2012. Purchase online, call (877) 250-2929 and mention code SMBX85, or bring the printout with code to the box office.
Rush Tickets: You can sometimes get Spiderman rush tickets when the box office opens, for $39 (cash only, 2 per person).
TKTS: TKTS booths sometimes carry Spiderman tickets at 30% off. Download the free TKTS app and you can find out what shows are available that day.