Annie seems like a rite of passage for kids. I know all the lyrics from the soundtrack, and I know I'm not alone. I remember seeing Annie in middle school in a San Francisco theater, while visiting there as part of a performing arts summer camp. No, I had no illusions I would be a performer, but it was fun anyway. We had dinner in Chinatown and then saw Annie.
So it was exciting to take my kids to see Annie on Broadway, with Jane Lynch (through July 14, 2013) in the role of Miss Hannigan. I told my kids I'd be singing through the whole show, which I sort of was – I lip synced.
After seeing Matilda (review coming soon) and Billy Elliot, it never ceases to amaze me how
these young performers who are my kids' ages – and sometimes younger – get up on that Broadway stage, belting out songs in their great voices and dancing, all with such stage presence. The girls from Annie were no exception.
Annie is played by Lilla Crawford, a talented 12 year old (which puts thing in perspective, because that's my daughter's age). She was in Billy Elliot before it closed, so this is her second Broadway show.
————————————————
[ad name="Google Adsense"]
————————————————
The show has its share of great sets and little surprises, favorites being the drawer that Molly (Emily Rosenfeld) sleeps in, the staging of the movie theater scene, and especially Daddy Warbuck's mansion. In addition to the grand staircase that slides around into place and the chandelier that stretches floor to ceiling, each room in the mansion opens literally like an enormous book, with doors that the actors walk through from room to room (page to page).
As for Jane Lynch? A delight. She is quite tall and she had no trouble belting out her songs with style (not that the first part of the sentence has anything to do with the second).
One thing that stuck out were the orphan accents – which I guess were very strong New York accents from ages past. Definitely a working class type of sound, but they sounded odd (at least they were understandable). Hearing Tomorrow sung that way was different than what I expected – very clipped and less musical (but still a great voice from Crawford).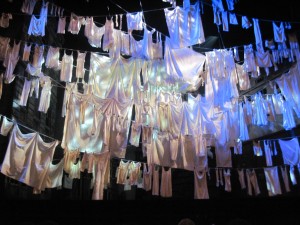 Before going I was concerned that my 10 year old son wouldn't like it or would get bored, as I was warned by a friend, since the orphans were all girls. That was not the case (nor was it with Billy Elliot). He enjoyed it.
All in all, a great evening. It's a classic show that won't startle or surprise you, but it will leave you singing the lyrics for weeks. And though there are some heavy themes (uh, leaving your child at an orphanage? Two people trying to claim they're your parents so they can get $50,000 and then killing you? The Great Depression?) overall it's family-friendly fun.
Speaking of fun, I did some googling and will share these broadway.com videos with my daughter – it's a three part series that Annie star Lilla Crawford made. It's fun seeing a 12 year old Broadway star just be a kid – even if she's off to some work-related events.
Tickets: You can get Annie tickets online, or discounted Annie tickets on Broadwaybox.com ($39-129). The theater had a sign that kids younger than 4 were not allowed in the theater.
Annie gave us 2 tickets for review purposes, and we purchased 2 tickets at full price.