***Pole Position is now RPM Raceway**
We won a Jersey City Pole Position birthday party at a silent auction (we were the high bidder!), and told our son that was his party the next year. It was the best birthday party ever. Fortunately only one of the kids had gone before, so it was a new experience for almost everyone.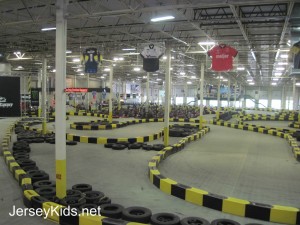 The carts are electric. While the room is loud, it's apparently quieter than if they use gas (and it smells better too).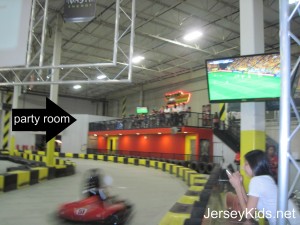 Unfortunately we arrived late to our own party.
Road work (oh so common) on Route 78 heading into the Bayonne Bridge (3 lanes moving into 1) tied things up for miles, so the 20 minutes we would have arrived early with no traffic, turned into us arriving 20 minutes late. Given that we only had one hour in the party room plus a racing slot that wasn't guaranteed if we were late, I was quite nervous. We did call to give them a heads up from the road.
Turned out the staff (thank you Crystal!) was quite lovely about it. They shifted things around for us (we had to use a different racing time slot) so we still had time for everything and we finished the eating and racing portion of our party in an hour, still leaving us time (when the party officially ended) to use the arcade tokens. Our party room was located above the track, and the kids loved watching the racers below them.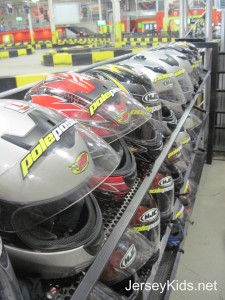 Participants first watch a safety video which tells them how to operate the kart, and also what the different flags mean that the Pole Position people will be waiving. Then they get a "head sock" (lice protector?) that gets washed after each use, and then get fitted for helmets. They wear their own clothing, but must have closed toe shoes. They get into their carts which are lined up in a column – each column races on their own (10 maximum on a track). The karts have seat belts and can be slowed down by employees if needed.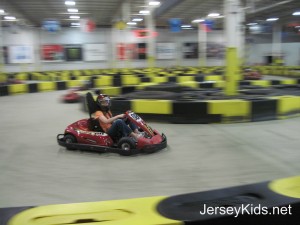 Karts go maximum of 20 mph if kids are driving, 45 mph for adults. If there's a crash, the employees will turn off everyone's cars to clear it. If the driver is going too fast, the employees can slow them down from behind the scenes. The barriers move, so if you hit one, it will shift positions.
In our round, which lasted around 10 minutes (including time for each to start separately), the kids had time to do 8 laps. Though they start at different times, the drivers get individually timed.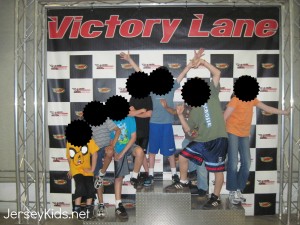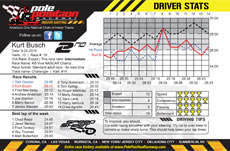 The speed sheet shows the individual's time per lap and the ranking compared to the others in the group. The time is also displayed on a large screen racers (and nonparticipants) can see while racing. A friend gave us the good advice to consider not giving kids their driver stats if we thought there might be any hurt feelings. We didn't want the kid who placed last to feel bad, so we asked our coordinator to give us the stat sheets to hand out later. After leaving the track and eating cake, they didn't even care or talk about who was in first place.We handed out some of the speed sheets when dropping the kids off at home. The kids had no clue what they were and didn't care about their position.
WHERE
Pole Position is at 99 Caven Point Road, which my GPS could not find (turns out I added an extra letter to Caven, which was incorrect – see comments below). Basically it's exit 14B on Route 78, very close to the Liberty Science Center in Jersey City.
ONLY PARTIES?
You do not have to go to Pole Position only for parties. You can drive on your own ("arrive and drive") for $22-25, though I don't know how many races that includes. Adult drivers must be at least 58″. They also have events you can sign up for like the endurance team race (3-5 players take turns driving for 90 minutes) or the Ironman race (how many laps can you do in 45 minutes?). They offer a youth summer camp as well – 5 days for kids ages 13-17 for $400, including lunch. If we lived closer, I'd sign my kids up.
PARTIES
Pole Position has a variety of parties, from birthday to bachelor parties, plus corporate events. In addition to the party room we had, they also have other rooms available. Birthday parties start at $320 ($40/kid – minimum 8 kids), including invitations, one hour in the party room, two slices of pizza, soda, $5 in arcade tokens, and one go kart race each. Add on another race for $10/person ($400/minimum)- so it would be $50/kid for the party. You'll have a party person who runs things (ours was very good and wouldn't let us lift a finger). You can bring in your own cake, but all other food must be ordered from their caterer (they can sell you cake  too, plus many other upgrades and food platters).
Note that these prices are for the Jersey City location only. Each site has their own pricing (St. Louis, for example, is MUCH cheaper!).
The $5 in tokens lasted about 30 minutes, which was better than I thought it would be. Each token costs a quarter, and the games generally were 2-4 tokens each (air hockey was 4 tokens, as were the driving games). The kids had a great time and want to go back again. My husband and I would love have loved to race too, especially given that we had been sitting in traffic for so long – it would have been great to just zoom by!
The birthday party location was close to New York City, so it's an option for those traveling from there. It would be a fun place to rent out for a Bar/Bat Mitzvah party too.