When we read about Duke Farms opening to the public a year ago (May 2012), we put it on our list to do. We finally went, albeit without kids (they're at camp) but can't wait to take them there.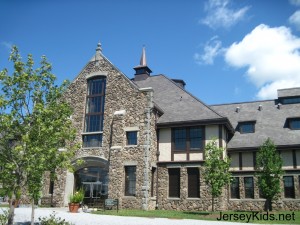 Duke Farms is one of the largest undeveloped parcels of land in New Jersey, made up of more than 2,700 acres. Doris Duke's father, tobacco farmer J.B. Duke, bought the land as a luxury homestead, endowing it with formal gardens, water features and grand buildings like the one you see above. Of note, the family home is not available for touring (and we couldn't even see where it was while there).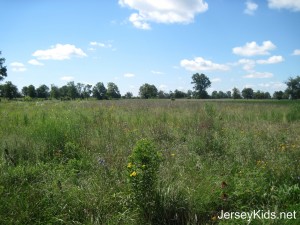 Doris Duke, as the sole heir, inherited the land, where she spent part of her childhood. She put it in her foundation, for land preservation and land stewardship. What a gift!
It's gorgeous there, and the foundation is working to return the land to its original diversity. The buildings, like the Farm Barn above, is LEED certified, and solar panels provide 100% of the energy required for the property.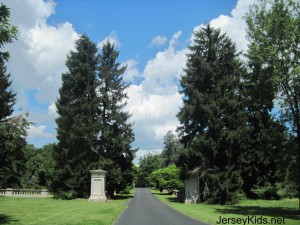 The best way to get around is by bike. Bring your own or borrow one (if available) there. On busy days, they ask you to bring it back in 1.5 to 2 hours, which is plenty of time to explore the property. On busy days, bikes may be rented out by 11 a.m., so expect to wait. Lots of people walk around there as well, and there's a free tram too. There are 12 miles of bike trails and 18 miles of hiking/walking trails.
————————————————
[ad name="Google Adsense"]
————————————————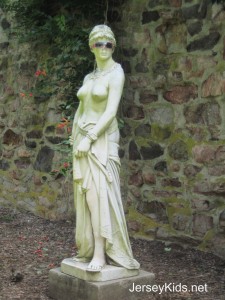 We started off with a destination in mind, but kept getting side tracked, like at this sculpture garden above. We realized it's not hard to tool around and see most of the trails without getting tired out. It's mostly flat.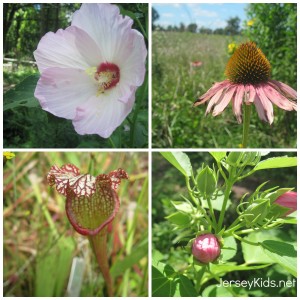 We loved seeing so many wild flowers, which the ones above all are, except for the pitcher plant in the bottom left corner. That one was grown below, in the Orchid Range. One destination was the wildflower meadow, though I guess early August isn't the right time for the wildflowers, though we saw plenty scattered throughout the property.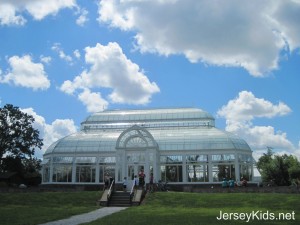 Prior to building the Orchid Range (above), the Dukes had another flower conservatory, built in 1917, still standing today. It looks like a larger version of the one above, but it was not as energy friendly. It grew all the plants that were later transported outside, and also some were sold to the landscape designers. The conservatory has a big fountain and Athena statue in front of it, and closed in 2008 so the more energy efficient  Orchid Range could take over.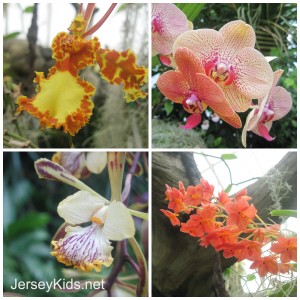 In addition to growing these amazing orchids, the range (there are a bunch of greenhouses behind the pretty one) collects native seeds to help regenerate the local plants. While the diversity of orchids displayed for the public was amazing, the range grows more than 6,000 varieties on site.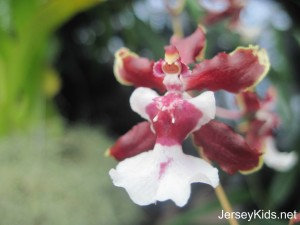 Doris Duke was a self-taught orchid expert, and grew and made hybrid orchids, with one particular one, the Phalaenopsis Doris hybrid registered in 1940. They say there are 26,000 registered orchids in the Phalaenopsis genus from this hybrid. You can see what I think is her orchid, below.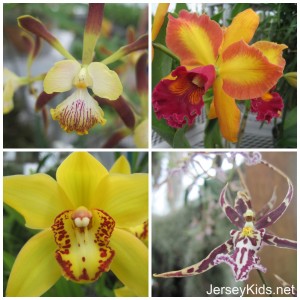 As you might imagine, we spent a lot of time looking at the orchids. They have Venus Flytraps there too, as well as some non-orchid bromiliads and other plants.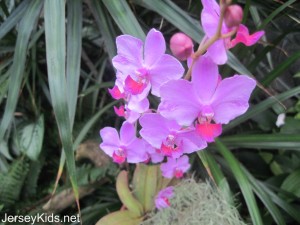 We made our way by accident to the Great Falls, a man-made waterfall that apparently goes off for 10 minutes a day. We didn't see anything written about the timing on the map, but we were there at 12:30 and realized something was going to happen, so we stayed.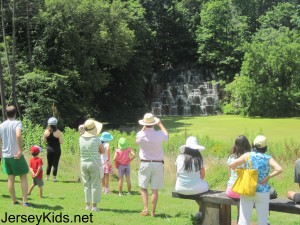 From here we biked around some more, on beautiful trails like the one below.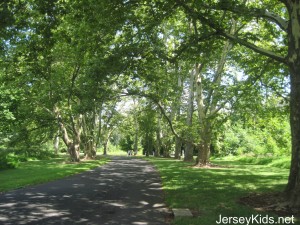 While biking around, we came across the footprint of the huge estate J.B. Duke planned to build. He got as far as the bottom level before he called off the plans, without saying why.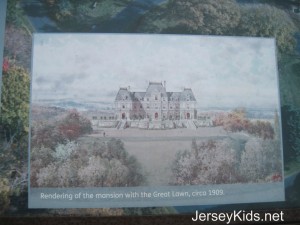 At some point, we headed back to our car. When the parking lot is full, they don't let anyone else in, and we figured we might free up a spot in case anyone needed. Well, that and we had evening plans and wanted to hang out at home first.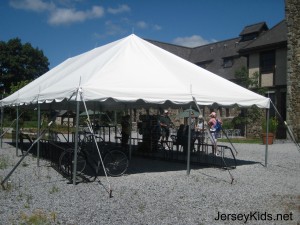 If you go:
Activities: Tons of self-guided activities including biking, roller blading, hiking/walking, looking for birds, dragonflies and butterflies and geocaching and orienteering. They offer educational programs. Check at the orientation  desk. They also have tram tours leaving every 30 minutes. You can hop on and off the tram at designated spots. On weekends, they have a farm tent in front of the orientation center where you can buy produce. In winter, you can cross country ski or snow shoe. More on activities here.
Where: 1112 Duke Parkway West, Hillsborough
When: Daily, except for Wednesday, Thanksgiving and Christmas.
Cost: free
Food: Bring your own (and pack out all garbage). They also have  a cafe at the orientation center.
Pets: Leave them at home. They're not allowed.