—Jersey Kids review of Six Flags new Wild Safari Park is here – 2013 review)
This New Jersey park claims to be the largest drive-through safari outside Africa. It's 350 acres, and it does take awhile to drive through. You'll see something different each time you go through, but at least early in the day, it's cooler for the animals and you may see more of the 1,100 that live there.
(Of note: on August 30, 2012 Six Flags announced that Wild Safari would close to individual cars starting in the 2013 season. Instead, the park will become a regular Six Flags theme park attraction – Camp Aventura – where guests will ride in open air vehicles driven by park employees. Guests may be able to hand-feed or pet some of the animals. For an extra fee, guests can zip line over the camp. Read the review of the newly opened attraction here.)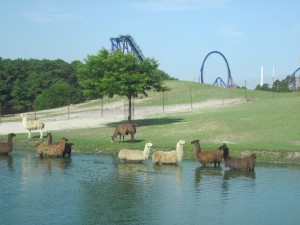 Admittedly it was a bit odd in the beginning and end, because you can see Great Adventure rides in the background. It's hard to picture these animals in the wild, with the Kingda Ka coaster doing its thing. But once you journey a little further inside, you forget about the amusement park (you can't see it anymore) and just focus on the animals.
It's a nice park – with signs in each area telling you what animals you're seeing. They apparently have a CD/DVD you can buy (CD to listen to in the car, DVD to watch at home) – but I didn't see anything about this on the website. Continue reading "Review: Six Flags Wild Safari in New Jersey"