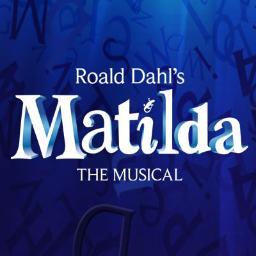 I've read the book and seen the movie. But when I heard Matilda was coming to Broadway I did not get tickets fast enough. Which is how we ended up in the second to last row of the balcony with scalped (er, tickets from the secondary market. Ours were originally $34, but we bought them for $85 plus a ton of fees).
No worries. We got some exercise going up the stairs, and bonus! There was a bathroom very close by for a quick dash at intermission.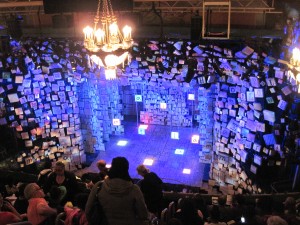 That said, it's better to have
a lower seat – one with a view of the entire stage (ours was slightly cut off at the front edge), because there are a few times you'll want to see the action there. Plus, the actors sometimes exit into the audience. I don't think it mattered greatly, but we noticed.
In any case, Matilda was stunning, and I would go back again in a heartbeat.
Matilda won three Tony's but should have won more (according to a NY Post article, it didn't because the Royal Shakespeare Company that brought it over from England alienated some Broadway bigwigs).
————————————————
[ad name="Google Adsense"]
————————————————
Four actresses take turns playing Matilda – we saw Bailey Ryon, who was not only adorable, but excellent. Instead of traditional dancing choreography, the kids had an exaggerated stomping type of dance which was interesting and effective. 
The staging was excellent and surprising. I'll have some spoilers below, so don't read on if you want to be surprised. In the school scene, the chairs and desks rise out of the floor – and these are traditional looking wooden school desks. When the scene is over, the disappear back down.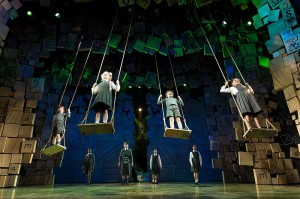 Another favorite was the school gate scene, with the kids plugging various size boxes with letters on them into the gate, while dancing up and down the gate. It was fast paced and clever.
If you know the story, you'll know there's a lot of magic involved – Matilda has some extraordinary powers. These were not as common in the musical, but there were a few impressive tricks, my favorite being the chalk writing on the chalk board by itself.
As for the adult characters, the one who has gotten the most notice is Miss Trunchbull, played by Bertie Carvel – a male. He was awesome. The costume fit him perfectly, and he was just the right mixture of man and woman. He had the most fun role, and perfectly executed one of the scenes I didn't expect to see in the musical – spinning one of the kids in the classroom around by her braids and letting her fly. I'll leave it at that. And to say that's one of the moments I wish I had a seat lower down.
Matilda's parents were duly horrific, with the self-centered mother vainly focused on her ballroom dancing, and her father an idiot (which made them hilarious). I have never seen a man move his legs the way her father (Gabriel Ebert) did. They were like rubber. And he won a Tony.
The book takes some liberties, with Matilda telling fantastical stories to the librarian who hangs on every word. These are beautiful and freaky scenes, which have greater meaning later. The music was great and left us humming at the end. I'll probably end up buying the music.
The one downside to the show was that the accents were so strong it was sometimes difficult to understand their songs – especially in the beginning, where we strained to hear to make sure we could get the gist of what they were saying.
That said, Matilda was clever, fun and well done. I hope to see it again. I think it's spoiled me for kids' theater for awhile.
One more comment – some have said that Matilda is not for the very young. That's probably right. There were some scary moments with Miss Trunchbull and some jarring light and sound effects. The themes are a little harsh. That said, the show's minimum age allowed is 6.
Discount Matilda Tickets: I will post here when I find any discounted Matilda Broadway tickets. Until then, go through their website, or a website like BroadwayBox.com (that's who I used – I didn't have a problem getting the tickets in time).  Stubhub has some as low as $50 for the side balcony, which is where we sat (we were on the inside aisle). Playbill says they have them starting at $32. Maybe I'll see the show again sooner than I thought I would!