If you perk up when you hear about divers finding sunken wrecks full of precious metals, Shipwreck: Pirates and Treasure exhibit at Discovery Times Square would be a good one for you.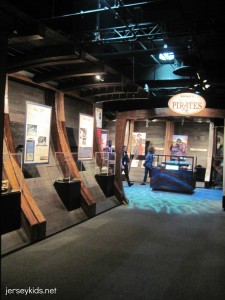 Groupon has discounted tickets as I post this, but act quickly. If you're new to Groupon, get the tickets here. If you're already a Groupon user, get the tickets here. Search under Long Island, NY in the search bar on top for "Shipwreck." Tickets on Groupon are $12-15 (kid/adult), which is a savings. Read the Groupon fine print before buying.
As you might imagine, treasure seeking is a high tech affair. The exhibit focuses on finds from Odyssey Marine Exploration, a deep ocean exploration public company (NasdaqCM: OMEX) that salvages items from shipwrecks and does mineral exploration. They choose from the 6,500 shipwrecks in their database, evaluating them based on archeological importance, claims to the property, and other factors.
WHAT YOU'LL SEE
The exhibition displays more than 500 found items from various shipwrecks. That includes coins and gold bars from the 1622 Torguas shipwreck, 1500 feet deep. From this wreck, Odyssey explorers found 17,000 artifacts including 80 unbroken olive jars, containing the remains of hazelnuts, olive pits and almonds.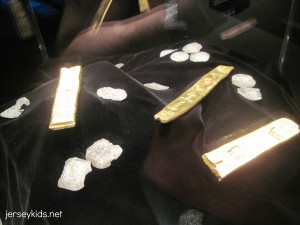 Worth more, however, was the $41 million in silver recovered in 2012 on the SS Gairsoppa. You'll see a short Discovery video of them pulling some of the silver up with their Zeus apparatus, and the operators celebrating. This ship was sunk by torpedo and was found three miles deep, with 48 tons of silver. This was the largest precious metal recovery in history, and you'll see a few bars of it.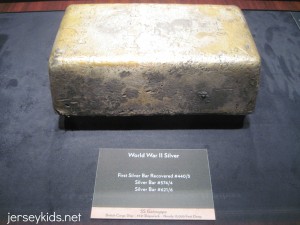 ————————————————
[ad name="Google Adsense"]
————————————————
Other items you'll see from various shipwrecks: children's games from the 1600s, Venetian glass beads used as currency, clay bowls and pipes, china dishes, religious figures, glass bottles, tin spoons decayed into one piece (photo below), portholes, silver ingots, gold, coins, medicine bottles, and more.
The items from the 1865 passenger/merchant ship, the SS Republic, also included inkwells (one of the items featured in an interactive computer game) and slates, for now-freed slave kids, to use in school in New Orleans.
IS THE SHIPWRECKED EXHIBIT GOOD FOR KIDS?
The exhibit has a fair number of interactive displays to keep people interested, ranging from computer games to knot tying (good for those Cub/Boy Scouts). My daughter loved the hurricane wind closet, where you stood in a glass booth, withstanding wind gusts from 0 to 78 mph. That section talked about how hurricanes can cause a shipwreck, including the SS Republic which sunk on its way from New York to New Orleans.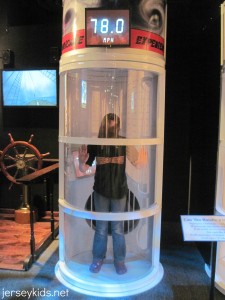 A computer game in the beginning let you use the motorized ROV (remotely operated vehicle) arm on a computer game to find objects in the sea bed, blow air at them, and then pick them up to bring out. You guess what they are (multiple choice) and later see the actual items on display. That was fun.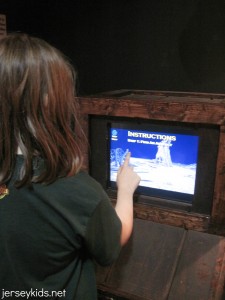 Another display (which wasn't working while we were there) is supposed to let you operate the ROV arm to pick up coins.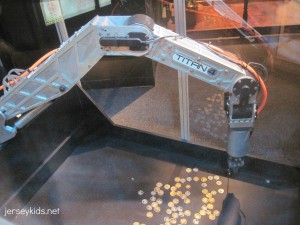 If your kids like pirates, they'll like the first  display, where they had several cages pirate skeletons. Corpses of prominent pirates would be tarred and bound in chains, hung in an iron cage and left to rot at port entries as a warning.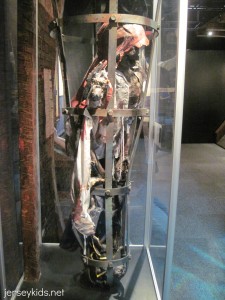 Some of the description panels had kid-friendly language, talking about what it takes to be a good shipwreck researcher, what it takes to operate the ZEUS ROV, what it takes to put the photo mosaic (info below) together. If you explore with your child, it might be more interesting for them.
HOW THEY RESEARCH THE WRECKS
Odyssey takes a measured approach when investigating a possible recovery, because it's expensive to send the equipment and manpower if the search area isn't well defined. They send out an ROV to take pictures of the sea bed, later pieced together on the computer to form a photo mosaic. They do a sonar scan looking for changes in the sea floor.
Each item found is put through a conservation process and documented. They put pictures and descriptions of found items on the website Odyssey's Virtual Museum.
ZEUS
Zeus is Odyssey's robot that's dropped into the sea by crane, and it is operated (and "driven") by a team of 4 people at a time – using 31 people over 24 hours including crane operators. Zeus has cameras, motors, baskets, a sediment filtration system, mechanical arm and more. Read more about Zeus and how it's used here.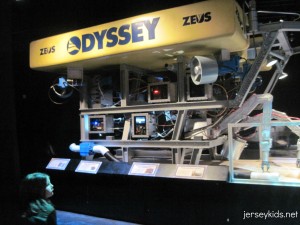 HOW DO THEY MAKE THEIR MONEY?
While going through the exhibit, I kept wondering how Odyssey made its money, because it's expensive to develop, run and maintain so much high tech equipment, let alone pay salaries for the experts involved. So I asked them. They recovered about $41 million in silver bullion from the SS Gairsoppa in 2012, and had an agreement with the British government where they were awarded 80% of the net value of the silver recovered. This year, they received $15 million for a small percentage of a mineral project they helped develop, and they reinvest profits from these type of operations in new projects. While they keep a permanent collection of artifacts that aren't for sale, they do sell  some duplicate items like coins, to collectors, after properly documenting and photographing them. They contract out their  deep-ocean experience to other entities, like deep ocean mineral exploration companies including Chatham Rock Phosphate, Neptune Minerals (they own minority stake in these companies) and Oceanica (they own a majority stake). Last, they make money from leasing out this exhibit.
DO THEY GET TO KEEP THE TREASURE?
This was another question not answered in the exhibit, so I went back to Odyssey to find out. They said that maritime ownership law is complex and each project is different. Generally, those who recover shipwrecked goods can keep 80% or more of the cargo value if discovered in international waters. For the SS Gairsoppa (remember the $41 million in silver?) they had an agreement with the UK government, and they were awarded 80% of the net value of the silver recovered.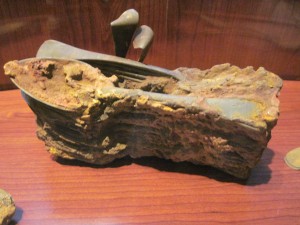 For the merchant ship SS Republic (featured in the exhibition), which sank after the Civil War, they reached an agreement with the insurance company that insured them for its last voyage, where the insurance company received a set amount, and Odyssey kept all the coins and artifacts excavated. Coins at that time were often transported in burlap bags put into barrels, making them easier to transport and more secure. It was estimated at the time of finding them that all the coins from the SS Republic could be worth $120-180 million. Read more about it here on National Geographic. They were able to pick up about 1,000 coins per day with the ROV's suction apparatus.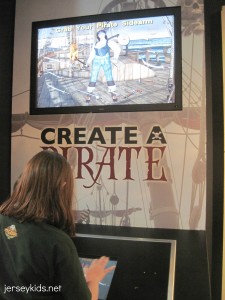 FUN FACTS
Once a storm becomes 39 mph winds, it gets a name. The system of alternating male/female names began in 1978.
They only recover materials that can be properly conserved and can be useful for historic and archeologic information.
They must remove the salt from the found item or it will continue to disintegrate. Gold, however, will not corrode or break down, even if left in the sea for hundreds of years.
IF YOU GO:
Exhibit dates: now through January 5, 2014
Also at Discovery Times square: Body Works: Pulse and LEGO: The Art of the Brick.
Where: Discovery Times Square (226 West 44th Street)
When: Open Sunday through Thursday (10 a.m. to 8 p.m.), Friday and Saturday (10 a.m. to 9 p.m.). Last allowed entry is 60 minutes prior to closing.
Tickets: $19.50/adult, $16.50/senior, $14.50/kids (ages 4-12). Combined ticket with Body Worlds is $37/adult, $33.50/senior, $29.50/kids (ages 4-12).  Buy by phone at (866) 987-9692, or at the box office. Buy online here. 
Shipwreck Discount Tickets/Specials: Groupon has discounted tickets as I post this, but act quickly (through Sunday 6/23). If you're new to Groupon, get the tickets here. If you're already a Groupon user, get the tickets here. Tickets on Groupon are $12-15. Read the Groupon fine print before buying.
Logistics: You'll need to check your bags there – they have a free coat check. They have a cupcake stand at the exit (you can go there first if you need) – get a treat after the show. No food/drinks allowed inside. We spent about an hour at the exhibition. No photos allowed inside.
Shipwreck provided me tickets to review the show. All opinions are my own.