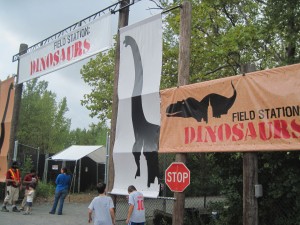 Field Station: Dinoaurs opened in Secaucus this past Memorial Day, and I'd been dying to take the kids. It was a busy summer, however, and we finally made it there! I brought two boys, both age 9, and I wasn't sure if they'd be too old. They weren't, though some of the activities were a little young for them.
THE PARK
The Field Station is just off the turnpike in Secaucus (though you can't see the freeway from the grounds). It was lush and looks like you'd expect a field station to look (think Jurassic Park), with tents set up, and exotic looking signs. "There are a lot of weeds here," my son said. I didn't think of them as weeds, but rather a lot of brush, which made for a natural setting, along with hills and rocks. The field station look even carried over to the bathrooms, which were in trailers (note – I saw no water fountains, so bring enough water or be prepared to buy it).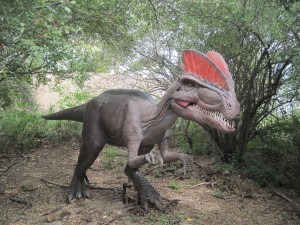 The trails takes you along to see the 31 different animatronic, life-size dinosaurs. "This is much cooler than I expected," said my son. He and his friend were keen on finding the motion sensors and speakers in every exhibit.
The dinosaurs looked like one would expect them to look in real life, and are made with foam rubber on top of steel skeletons. Their eyes moved, their heads moved, their arms and tails moved. Their bodies, however did not. And they made roaring noises too.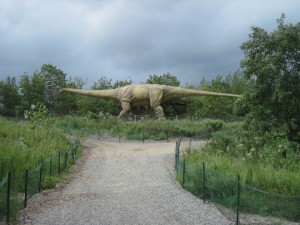 At each dinosaur there was a board up with interesting facts about that dinosaur, with information from the New Jersey State Museum.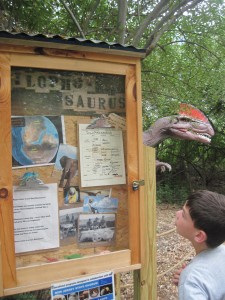 SHOWS
I wondered how we'd spend more than the 45 minutes that it took to walk through and see the dinosaurs. The Field Station has an answer for that. They have some kind of show running every half hour. We made it to the Raptor Feud (like Family Feud, only with dino facts), the T-Rex Feeding Frenzy (live show where someone dressed in a dino suit came out and there was a storyline), and the Fossil Dig Site (not a show, but you can dig in the sand). Plus they have a coloring station and a LEGO station.
————————————————
[ad name="Google Adsense"]
————————————————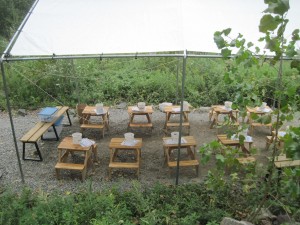 For the avid LEGO fans I brought, this stop took up a good 45 minutes, as they built a dino station of their own.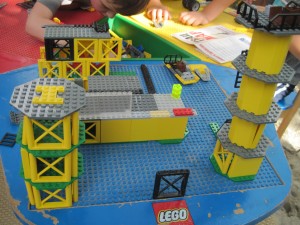 For the Raptor Feud, an employee led the game, where we learned the top 8 U.S. states where dinosaurs were found, and things a paleontologist uses on a dig. The Fossil Dig site has those tools, and the kids can muck around the sand for 45 minutes while the parents sit in the shade checking their phones.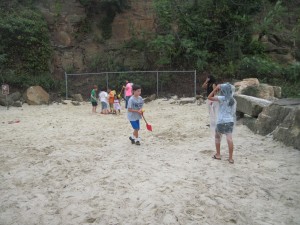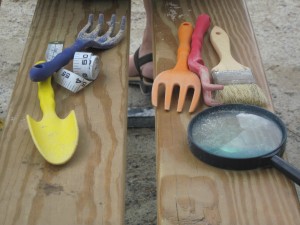 The T-Rex Feeding Frenzy was lame according to my son, but I thought it was a cute show. Joseph, the MC, was very funny and the dinosaur that came out looked pretty real. So real a lot of the little ones cried when the dino came near them.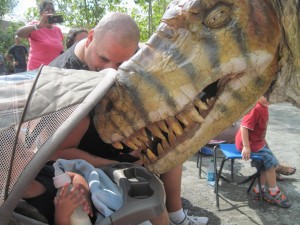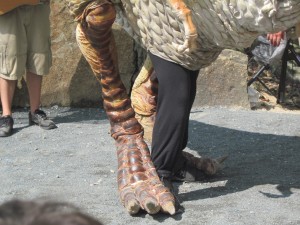 RAIN
The Field Station is open in the rain, and it did rain while we were there. They hand out free ponchos to wear, and there are covered areas you can duck into.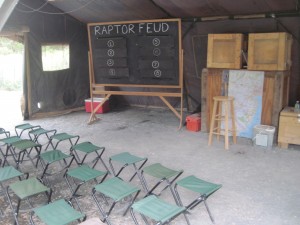 PHOTOS/PASSPORTS
When you enter, you can get your photo taken. I have to say the backgrounds they use (which you won't see when you get the photo snapped) are very cute.  The price tags, of course, are not. It's $30 for a photo.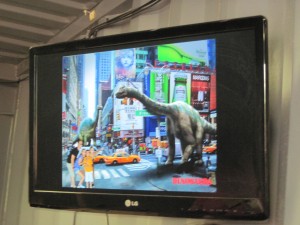 When you enter, you'll get a passport to get stamped. The stamps come from the activities (LEGO, coloring, shows, fossil dig), not from the dinos. They serve as your admission tickets and you can take them home.
THE VERDICT?
We thought it was a fun place. They did a great job putting the dinosaurs in a natural environment, and it was interesting to see them moving and hear them roar. The setting was great and there was enough to do to keep us interested for a few hours. I could see getting a season pass if my kids were younger and we lived closer.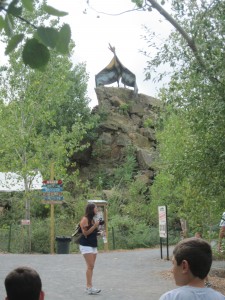 Fun facts:
–The dinosaurs' brains are about the size of a walnut
–Putting together a dinosaur skeleton is like a puzzle. Sometimes the paleontologists put the head on the tail, instead of where it's supposed to be.
–Dinosaurs have been found on all 7 continents, even Antartica
–Some dinosaurs had nests, where they laid eggs and possibly lived.
 IF YOU GO
Admission: Field Station: Dinosaurs is open weekends through November 11, 2012 plus it's open on September 17 and 26 (Jewish holidays), October 8 (Columbus Day) and November 6 (Election Day), 8-9 (Teacher Convention). It will close for the winter and reopen in April. They're open weekdays for school groups by reservation only, and open more days in summer.
How Long: We spent 3 hours there, though would have spent less time without the shows or LEGOs. If we watched more shows, we could have been there longer.
Special Events: They have Scout Days on October 6, with games, and workshops and learning stations featuring merit badge topics (bird study, energy, geology, nature, orienteering, plant science and more). Come with your troop (20 people or more) and get a group discount. If you come without your troop, have your scout wear the uniform and you'll save 10% on his/her admission.
Costs: If you are buying tickets online, you'll save $5 on adult tickets, and $2.50 on kid and senior tickets. At the box office, tickets are $25/adult, $20/kid (ages 3-12), $17.50/senior and free for kids 2 and under. You can buy a season pass ($48-$54). Or go at night for Dinosaurs After Dark (flashlight activities, haunted trails, campfire) on Friday and Saturday nights, September 21-November 10. Those tickets are $39 ($36 for groups, $25 for season pass holders). They offer discounted rates for group admissions and class trips. Goldstar offers special deals sometimes.
Parking: $10/car. To get there, use 1000 New County Road, Secaucus in your GPS.
Public Transportation: The Secaucus train station is close and you can walk from there (they have a free shuttle in the summer). You can also take a bus from Port Authority.
Food: available. They had burgers, hot dogs, popcorn, pretzels, Italian ices, and drinks. You can bring your own and picnic there.