We'd been hearing about tubing down the Delaware River for awhile, and seeing the Groupon deals (search for "tubing" in New Jersey). So last summer when we had friends in town, we gathered up a group and headed to Frenchtown, NJ.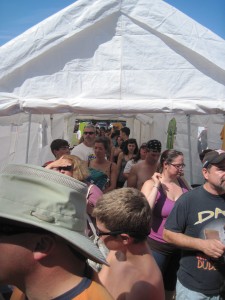 You'll tube down five to six miles of river. We went in late August, and the water was lovely. Once we got there, it seemed to take awhile to get going, mainly because the line was so long to get tickets. My advice: bring cash or get your tickets online. The line to pay with credit card was huge and they made no efforts to move it along (and they didn't seem to care when we complained about the lack of organization). After you've gotten tickets, checked in your keys (free key check), and gotten your life jackets, you'll get your raft and get on the shuttle bus.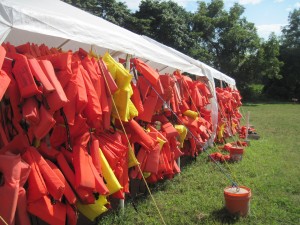 From there it's a quick jump into the river for easy sailing – or tubing. Don't forget your hat, sunglasses and sunblock (and maybe a strap for those glasses). It was a fun time down the river, looking for the signs for our free lunch at the mid-river hot dog stand. (You can get food at the stand even if you're not with Delaware River Tubing – just bring money).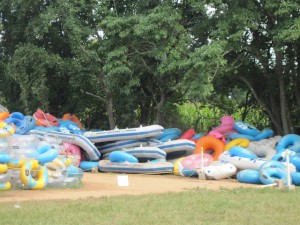 Yes, it's hokey, but it was still fun. There are some picnic tables in the water, or you can go on land – we called it Bee Island. Maybe you can guess why.
————————————————
[ad name="Google Adsense"]
————————————————
It was a relaxing float the rest of the way, aside from trying to keep track of our kids, who kept floating away from us. Fortunately we were a big group and so there was always an adult nearby, but we learned our lesson. Next time we get the straps or bring rope to keep them closer. It's amazing how far ahead one raft can get from another. If you have little kids, most definitely keep them strapped on, or get there early enough to request a double raft.
The trip takes 2-4 hours, depending on how fast the river is flowing. When you pull out there's a shuttle bus there to take you back to the lot. There are bathrooms and a changing area. We'd consider going again, though it's really expensive and a bit of a cattle call. Still, we had a fun day. 
Frenchtown is home to Elizabeth Gilbert's (Eat Pray Love) store called Two Buttons, which we stopped in on the way home. And then we went off to Maria's in town for ice cream.
Tips:
-If you can manage to go on a weekday, do so. The lines to check in will be shorter and it will be less crowded (and cheaper).
-Get a strap to tie your rafts together if you want to stay together. I thought it would be easy to stay in a group, but it wasn't. That meant the kids went floating away (though usually near an adult in our group). Straps are $2 each (or bring some rope). Like them on Facebook and you get a free strap.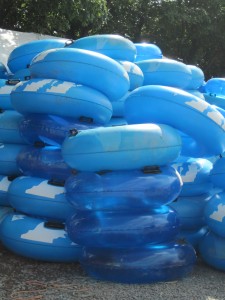 If you go:
When:  See their hours here.
Where: 778 Frenchtown Road, Milford, Frenchtown, NJ
How much: weekends are approximately $44/person, weekdays are $37/person for tubing. Make sure if you look at the website that you look at whether it's a group or individual rate. They list group first, so it looks cheaper. They rent boats too.
Discounts: Looking for discounts and codes for Delaware River Tubing? They sometimes have a deal on Groupon.  If you're new to Groupon, use this link and search for "tubing" in New Jersey. If you're already a Groupon member, use this link and search for "tubing" in New Jersey.
They also do birthday parties and give free admission to the birthday child (not sure how much their rates are for the party – not listed on the website). I'll include other discounts as I find them.
What about my car keys?: They have a free key check. Hide your wallet in your car.
What about money: If you want to bring money to buy extra food from the hot dog stand, wear a fanny pack with something water proof inside for your money – even a Ziploc type bag. They accept credit cards.
Have you been tubing?