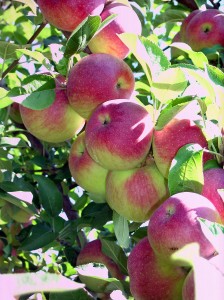 Fall air brings apple picking. Did you know:
– it takes 36 apples to make a gallon of cider
– it takes 8-10 years for an apple tree to begin producing fruit
– the science of apple growing is called pomology
– a bushel of apples weighs 42 pounds
Thank you Hillview Farms for the apple facts.
Too many apples? Learn how to make caramel apples here.
Here's a list of some great apple picking farms and orchards in New Jersey.
Peaceful Valley Orchards in Pittstown
In addition to apples you'll find fall decorations, baked goods, and an observation bee hive.
150 Pittstown Road, Pittstown, NJ
(908) 730-7748 Continue reading "Apple Picking in New Jersey"