I did a lot of reading before heading to Disneyland and California Adventure (and even more for our Disney World trip). Some might say too much reading. But since it was going to be crowded (spring break) and I wanted to maximize our time there (and minimize lines), it was totally worthwhile. Here are some tips you likely won't read in other Disney guides. This is part of a Disney/Disneyland series.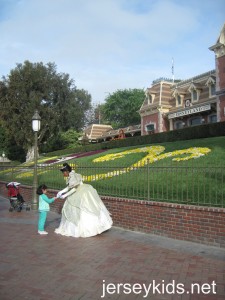 FYI – this is part of a Disneyland/California Adventure series. See the bottom for links to other posts in the series.
Being nice pays off
Twice, being nice to the Disney cast member during a problem (a ticket purchase snafu, and a ride breakdown) caused the cast member to give us an extra "readmission pass" which is like a FastPass for almost any ride for up to 6 people – with no time constraints that day. With our readmission pass, we avoided a 90 minute wait at Space Mountain and a 60 minute wait at Toy Story – a ride that has no FastPass system (in California).
————————————————
[ad name="Google Adsense"]
————————————————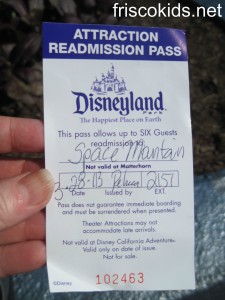 What to do if you have to go to the bathroom while in line
Okay, so ideally you and your kids use the bathroom facilities before getting in line for your next ride. If you fail to do so and it becomes an emergency, you may be able to get out of line and back in, without having to shove your way through the line (I hate when people do that – "my group is up ahead" shove, shove, shove).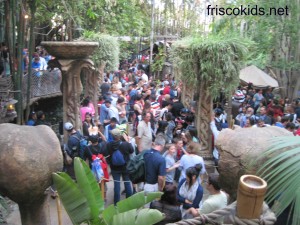 We learned our lesson at Radiator Springs Racers (unfortunately not yet at Disney World, but very much like the Test Track ride at Epcot), after waiting 30 minutes in the single rider line. My 9 year old really had to go, and I was reluctant to get out of line (see above). We contemplated trying to block all views so he could do his thing on the rocky side next to the line, but I feared the Disney police showing up and kicking us out. Plus, have you even seen anyone pee in public at a Disney park? It's just not done.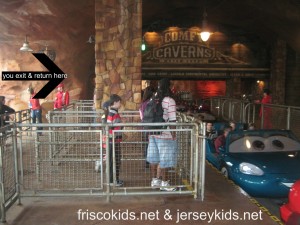 We made it up to the cut-off where the employee was directing traffic very close to the entrance. We explained our situation and she let us go out through the exit, leaving the rest of our group to the side. We reentered through the exit line, getting back in line about 10 minutes later. Phew! We all enjoyed the ride.
Follow a Plan
Going to the park way after opening bell or without a plan during a busy time period is stupid. You'll just wait in long lines. I'm a big fan of the TouringPlans.com system. But even if you don't follow it (we did it faithfully and with much success at Disney World, but ditched it at Disneyland/California Adventure), the concept is important. Get there early. If you're not getting an early admission pass (by staying at a Disney hotel), don't go to the parks offering early admission that day (the park will be crowded at opening). Be ready to criss-cross the park to hit the rides you want (and get FastPasses) immediately after entering the park. Using the Touringplans.com free app helps a lot – it gives you relatively accurate line times so you can dash across the park when the ride you want has a shorter line.
Especially if you're new to the park, you'll want to consider following the Touring Plan itinerary. You can get it in the most current book, or by paying for the app online (7 day access is only .99). At the very least, use the free waiting times app. It was a lifesaver. When we returned from spring break, we talked to several who went to Orlando parks (both Disney and Universal Studios) and it sounded like a nightmare. Magic Kingdom closed at 11 a.m. because it was full. Harry Potter world filled at 9:30 a.m. Ride lines of 2.5-3 hours. Ugh. You need a plan (and maybe that plan is not to visit Orlando during spring break!). Fortunately Disneyland and California Adventure, while quite full, were not quite this bad.
Identify your kids
With throngs of people, it's sometimes hard to pick your party out of the crowd – both kids and adults. We were total geeks and wore matching shirts both days. Yes, we looked like dorks, but it was very easy to find each other, and if one of the kids was lost, we could point to our shirt as an indicator as well. You can also take a cell phone or camera photo of your child that day, so you have a very recent photo and know what they're wearing.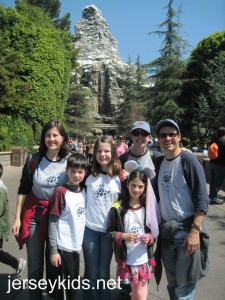 Another precaution we took is having the kids wear Call Me Cuff bands. These are the paper/plastic amusement park bracelets, but they're preprinted with your phone number. You can order them online and they're about $1 each. The company sent us some to try, and I let the kids choose the color/pattern. Even though my kids know my cell phone number by heart, they didn't argue against wearing them (though I put them on too tight the first day and we had to put new ones on the next day). That certainly was better than what other people did – writing their cell phone number in big letters on the kids' arms with a Sharpie.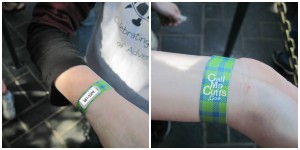 Consider single rider lines
If your kids are old enough to ride alone, consider the single rider line for attractions with longer waits. We went with kids who were 9 and 11, and already spent a day riding rides together. When we got to California Adventure at opening (8 a.m.), the line just to get FastPasses for the hottest ride there (Radiator Springs) was an HOUR long. Just to get the FastPass. We checked the TouringPlans line app and saw the standby line was 65 minutes and the single rider line was 22 minutes. Bingo. We dashed over there and got on the ride within 30 minutes. Of the six of us, four of us managed to ride with someone in our group, though not in the same row. The other two people weren't far behind. Obviously this doesn't work if the rider is below is a certain height/age and needs to ride with their adult. And it won't work for nervous kids. But if the kids are old enough, it was a huge time saver and they didn't mind trading in the shorter wait in line to ride with nice strangers.
The one downside is if the ride breaks down. Our group of six was on Grizzly River Run with a single rider. The ride broke down just in front of us. The girl in the raft with us (who looked to be in high school) was with a larger family group. We were stuck there about 30 minutes. Finally she agreed to use our phone to call her family to touch base. While she wasn't upset, it did cause a bit of problem to meet up since the rest of the family made it through before the breakdown.
You should make plans before you get on the ride where to meet up when it's over. Usually there's an obvious place (like just at the ride exit where you can still see the ride vehicles), but maybe you want to meet at the photo area so you can catch your pictures on the screen before they change. Note that not everyone exits in the same spot. While we were on Radiator Springs Racers, my sister and son exited at the wheelchair area, which is a different exit, and they skipped the regular photo area (they had their own screens at exit). They had to come back and find us since we were waiting at a different spot. Either ask the the attendant where a good meet-up spot is, or consider meeting at the exit line, where everyone has to pass through before leaving.
Get Discounts
On the bottom of some Disney receipts (it might just be on food receipts), you'll see a 20% discount if you purchase things at specified shops before 1 p.m. When we were talking about it in front of one Disney cashier in a nonparticipating shop, she said she would honor it because we were leaving the next day and wouldn't be able to use it otherwise (we were making a purchase around 4 p.m.). She said other stores would honor this too, and indeed they did. We asked at another store that evening and they gave us the 20% discount as well. It may not work everywhere. We asked the day before (it was before 1 p.m.) at one of the stores and they would not honor it because they weren't listed as a participating store. Lesson learned: save your receipts and ask if they honor the discount.
Star Tours
The new Star Tours ride is now 3-D and features different combinations of story lines (hence different movies) on each ride. At the beginning of the ride (spoiler alert!) they really briefly show pictures of the various guests on the ride, saying there's a Rebel Spy aboard. Then they stop at one photo saying that this is the Rebel Spy. Imagine my kids' surprise (okay, and my surprise) to have my photo flash up there. It made the kids' day. Thankfully I was not picking my nose (which is my tip to you – don't do anything embarrassing while you sit there!). Note to Disney: you'd make a killing in your gift shop if you not only sell "I am the Rebel Spy" shirts (which they sell), but include the photo of the actual spy on the shirt.
Coming soon in the Disney series:
What happens when your Disney ride breaks down
A Cars Land review