I grew up in Arizona and later moved to California. Disneyland has always been my park. After moving to New Jersey I felt I had to check out Disney World – after all, it's in the same time zone and everyone in New Jersey has been to Disney World! Yet, most of my East Coast friends have NOT been to Disneyland and always ask me what that park is like.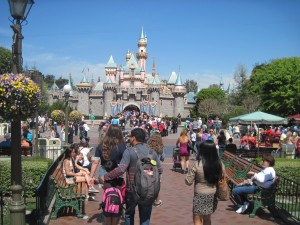 So here's a primer. (This is part of a Disney series – most posts to come)
PARKS
Disneyland and Disney California Adventure (aka DCA or California Adventure) are the two parks in Anaheim, which is south of Los Angeles. There's no water park, there's no Hollywood Studios (there's the real Hollywood, though), no Epcot, no Animal Kingdom.
Disneyland is the original Walt Disney park, opened in 1955. It's very similar in rides and layout to Magic Kingdom. Though the rides are mostly the same, it has a few different ones, like the beloved Matterhorn bobsled ride, the first tubular steel continuous track roller coaster ever constructed, and for a long time, the only E ticket roller coaster. It's a great coaster, but not the thrill coaster ride of other types of parks. Unfortunately there's no FastPass for it, and the lines are always about an hour.
The other main ride that's different is the Indiana Jones Adventure Ride, roughly the equivalent (though much better than) the Dinosaur ride at Animal Kingdom. It's not quite roller coaster, and not quite a simulator, but something in between. It's awesome, and even the waiting areas are great.
————————————————
[ad name="Google Adsense"]
————————————————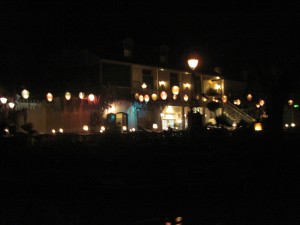 Another special thing about Disneyland is the Blue Bayou restaurant, which is inside the Pirates of the Caribbean ride. While not known for spectacular food, the romantic setting is beautiful. You watch out over the water as the boats go by and the fake fireflies flicker. There's also the famous Disneyland 33 Club, an exclusive dining club that apparently costs $10,000 to join and has a waiting list of years. It's also the only place in Disneyland that serves liquor. You won't get in unless you know someone with a membership.
Some similarities: Disneyland has amazing fireworks every night, just like Magic Kingdom, and Fantasmic (shown at in Florida at Hollywood Studios). Fantasmic does not have its own theater, but runs on the Rivers of America, where you'll find the Pirate's Lair Island (formerly Tom Sawyer Island) and several boat rides. While both Florida and California parks have castles and haunted mansions, they look different.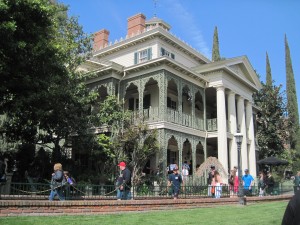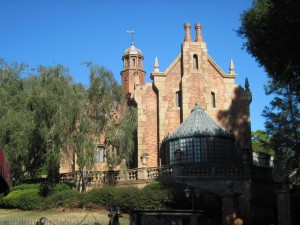 Disney California Adventure was opened in 2001, built over one of the parking lots. It just underwent an overhaul, because the park wasn't gelling well. Disneyland and DCA The two parks actually share the entrance plaza and ticket booths. You do not need to take buses in between them – you walk maybe 2 minutes.
California Adventure uses the California theme (duh!) and its lands are like versions of what you'd find in California (but not really). There's a boardwalk/pier area, an outdoor rock/adventure area, a wine country area (with real grape trellises), a movie theme area, a random Bug's Life Pixar area, and the new, very popular Cars Land (again, nothing to do with California – the scenery is more Arizona). The Toy Story ride is in this park (but with no FastPass, unlike at Hollywood Studios – the waiting line isn't scenic either, though Hollywood Studios is). Soarin' over California (just known as "Soarin'" at Epcot) is here too, as well as the Hollywood Tower of Terror.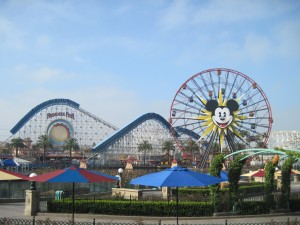 California Adventure has an evening World of Color program different than Fantasmic, but also using projections on water. You can buy beer and wine at this park.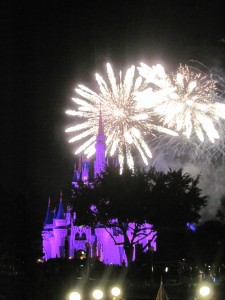 HOTELS
Unlike Disney World, the California parks do not have as much land. There are three official Disney hotels in short walking distance, and then "good neighbor" hotels outside the park that you can easily get cheaper rates, pools and free parking, with a short walk to the parks. But no early admission passes or other Disney perks come with these hotels.
PLANS
While you can buy a package plan with hotel, tickets and meals for Disneyland, I've never done so mainly because this is a place that many come to for a day or two, not a week-long trip. My sister lives in Los Angeles, so at most, we get a hotel for the night in between the two parks and we're on our own for meals. Downtown Disney, just outside the two parks, is another dining option if you don't want to eat inside the park. There are restaurants outside the park as well, adjacent to it.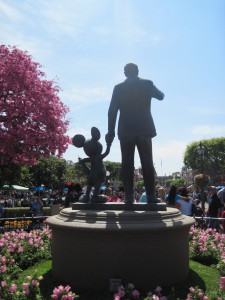 WHICH IS BETTER?
Which Disney park system is better? It all depends on your perspective. I prefer Disneyland partly because it's what I'm used to. But I also find it more manageable, and have heard that from others as well. Disney World is a zoo to navigate and it took me longer to plan that trip than many overseas trips! It was like learning a new language and system. If you're in California for vacation, you could easily combine a few days at Disneyland with other Los Angeles area attractions, and Legoland is an hour or so south.
Have you been to both? What do you like better and what differences do you see?
Other Disney posts
How to maximize your FastPasses
Tips for Disney you won't hear elsewhere
A Cars Land review
The best Disney park apps and where to charge your cell phone