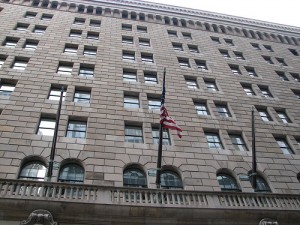 There's something sexy about descending 50 feet to Manhattan bedrock to see the largest stash of foreign gold in the world. The reality, however is slightly underwhelming.
We started in the numismatic room (yes, that's the coin room), with cases explaining the history of money. You'll see lots of coins, including the famed 1933 Double Eagle. I'll spare you the long (but interesting) story of theft and intrigue). But an anonymous purchaser got it for a cool $7.59 million at auction, and agreed to display it in the case that you're not allowed to touch or lean on.
(Even if you don't get into the gold tour, you can still get free access to the numismatic room during business hours).
From there you'll learn about the Federal Reserve in a video. The New York branch is one of 12 regional reserve banks that act as the U.S. government's bank. The Federal Reserve sets U.S. monetary policy, stores cash, shreds old bills, and is last resort for banks needing loans.
Continue reading "Gold Vault: Touring the NY Federal Reserve"