Locals tend to avoid Times Square – for good reason. It's crowded and touristy. However, if you're a tourist, or plan to see any of the sites around there, a guide is helpful.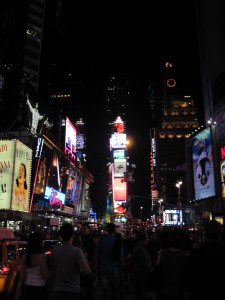 TO DO:
Discovery Times Square usually has interesting exhibitions going on. They've had CSI: the Experience (reviewed here), the Dead Sea Scrolls,  King Tut, Pompeii, Spy Exhibition, The Art of the Brick – Nathan Sawaya, Shipwreck: Pirates and Treasures, Body Works: Pulse, the Harry Potter Exhibition, Terracotta Warriors and others.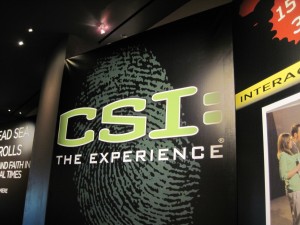 Broadway: There are usually a handful of family-friendly Broadway shows, like Billy Elliot (review here), Mamma Mia (review here), Newsies (review here), Spiderman the Musical (review here), Mathilda the Musical (review here),  the Lion King and others. Don't forget about off-Broadway shows, which also have some family value.
You can find Broadway ticket discount codes here. Get the TKTS app for free here – it tells you what's on sale at the booth without you having to go there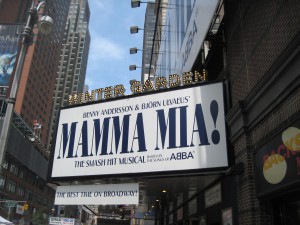 Hang out: There is seating in the median of Times Square, as well as by the TKTS booth, and on Sundays I think, one of the streets is closed to traffic so it's easier to walk around. Look for street artists and weird people you can pay to take photos with. This includes both the giant Elmo and the naked-top woman with saggy boobs and stars painted on her nipples, holding a guitar.
Bowlmor: This hip and trendy bowling alley opened in Times Square and looks fab!
Shopping: You'll find a lot of chain stores and electronics stores – not the most exciting shopping as far as I'm concerned. But the kids may want to wander into a few of them, like:
Toys R Us has a flagship store in Times Square – here are 5 things not to miss at Toys R Us.
——————————————
[ad name="Google Adsense"]
——————————————
I find M&M World to be overcrowded, overpriced and overhyped, but apparently I'm in the minority. Plus their stuffed toys rip easily (this is after having the toy for 2 hours):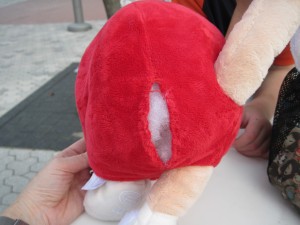 That said, the store is colorful.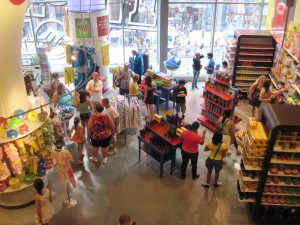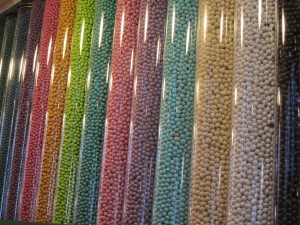 Hershey's World: I've been in there and was not impressed. It's across from M&M World, and is like the very poor cousin.
HOTELS
There are tons of hotels in Times Square, many of them household names. We recently stayed at the boutique Muse Hotel on 46th Street, and enjoyed it. Read the review here. Here's a list of other family-friendly hotels in Manhattan.
DINING
Yes, there are big chain restaurants – we avoid those. My vote is to look for the out-of-the way places, by searching Open Table and looking under "theater district," or on Urban Spoon. Restaurant Row (46th Street between 8th and 9th) is touristy, but has many options (we like Smyrna). Or just walk north on 9th Avenue – tons of restaurants and more local.
For quicker meals, my kids like the NYC chain Shake Shack (which does have locations now outside NYC), and there's one on 44th Street and 8th Avenue. The problem is seating – it's always very crowded and the seating is usually full. Their burgers are great, and you can create your own shake. And they do serve wine and beer (a bonus, especially to those of us coming from NJ). But I find it stressful. If it's nice out, bring your food to the seating by the TKTS booth at Times Square.
What are your favorite things to do, see and eat in Times Square???