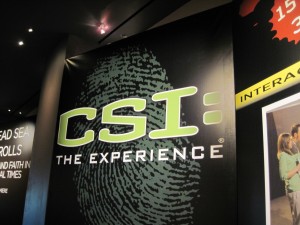 You've seen CSI the show (or maybe you haven't). Now try it for yourself. CSI: the Experience is making its way around the country, and is in Discovery Times Square (I'm not sure of the ending date, though it is a limited engagement).
The exhibition has three scenarios (crime scenes). While we were able to go through all three (we had to complete one circuit and then go back to the entrance again), my understanding is that this is not the case any longer, and that you have to pay an additional fee to go through a second scenario.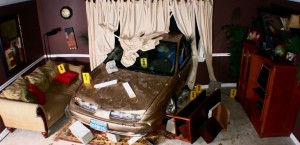 CRIME SCENES
When you enter, they'll give you a CSI vest and a clipboard, and they'll tell you what crime scene you'll be investigating. You'll get your "agent identification" photo taken (which they'll try to sell back to you later). They were very clever at taking photos at this exhibition!
As for crime scenarios: #1 is A House Collided, where a car crashed into a house and the driver is dead. #2 is Who Got Served? It's about a waitress who is found dead by a dumpster, with tire marks over her. #3 is No Bones About It – and it shows a skeleton in the desert with a gunshot wound in the skull.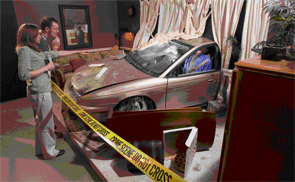 The PR person warned me that one of the scenes may be a little gruesome for my kids, ages 8 and 10 (the exhibition is recommended for 12+). She might have meant the car crash scene – I'm not sure. There was some fake blood there. After going through all three of them, the one that made me least comfortable was # 2, with the dead waitress. No blood, but in investigating we found there were drugs involved, which is the part that made ME uncomfortable. The kids didn't seem phased by this, though, and we did have a discussion after about the use of recreational drugs.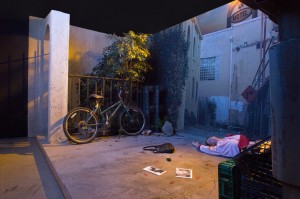 SKETCHING THE CRIME SCENE
After an introductory "briefing" video, which explains more about forensic science (where science meets the law), you'll be taken to your crime scene in a group. We spent a lot of time examining the crime scene the first time through. I was frustrated that the lighting wasn't better and that there were too many people there so that we couldn't get different angle views. I thought I was going to miss something (especially since they tell you at the beginning that you can't go back to the crime scene).
Turns out – your investigation of the crime scene doesn't really matter. You can make a drawing on your clipboard sheet, but they go through all the clues with you at the lab, and your drawing and observation count for nothing. So don't worry if you miss something at the crime scene. There are a lot of clues you WON'T see there.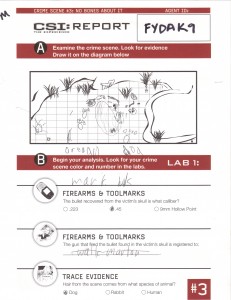 LAB
You'll go into the lab section next, visiting up to 15 lab stations. Look for panels with your crime scene number. There you'll find photos, computers, exhibits, videos, and more. The computers had information in eight languages. Depending on the crime scene, you'll go to these labs: firearm and tool, forensics, botany, blood spatter analysis, trace and impression evidence, latent fingerprints, shoe prints, entymology, toxicology, biology/DNA, digital evidence.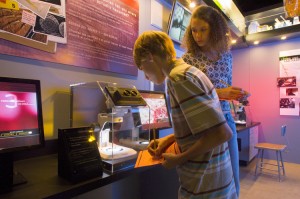 You'll use microscopes, computers, watch videos, use reagents. You'll compare bullet sizes, striations and shapes, compare hair structure, DNA, blood splatter, time marks, determine bug lifecycles, dental records, read text messages and phone records, test for drug and alcohol content.
WHAT YOU'LL LEARN
Crime scenes are puzzles. Keep an open mind. Notice everything and document everything. Listen to the evidence. If it isn't in the report, it didn't happen. (And that was just from the introductory video). Seeds and pollen can tell you what season the crime occurred, and can match it to the location of the crime. You'll learn how long blow fly lifecycles are, and how you can tell how long the person has been dead. You'll learn about different methods of finger print analysis and acquisition. You'll learn about how ultraviolet light can show hidden clues. You'll learn about DNA databases in the U.S. and how reagents can turn chemicals different colors.
PHOTO
After you finish with the crime lab, you'll go into Supervisor Grissom's office. This is a ruse to get your photo so they can sell it to you later. We were suckers. They sell a $25 packet which has your CSI information, certificate of completion, a 3D photo (the ID photo), and your photo in Grissom's office. Or you can buy two of the Grissom office photos for $20, or one of the 3D photos for $20. You order these at the photo booth after solving the crime (next step) and pick them up in the gift shop.
SOLVING THE CRIME
After getting your photo taken at Grissom's office, you'll then head to a bank of computers, where you'll use your fingerprint (or the pencil tip) to access the computer. Then you'll enter information about your investigation (answering multiple choice questions) and then Supervisor Grissom will congratulate you on the screen (even if you got the answers wrong) and tell you about what happened, using a video recreation. We liked hearing the story of what actually happened, but it was not entirely satisfying. For example, some of the multiple choice questions introduced things into evidence that we didn't know about, and made conclusions that we actually hadn't come to. The kids were frustrated by that. It was good to hear the back story of each crime, even if we didn't feel we really solved it. You have the option of sending yourself an email with your CSI certificate.
HOW LONG WILL YOU BE THERE
The first time we went through it took about 50 minutes to an hour. Each scenario after was shorter, because we didn't watch the introductory video, and we knew where everything was. If we only got to do one scenario, I'd be upset because you don't want to spend $20-25 each and then only be there for 50 minutes.
WHAT AGE IS APPROPRIATE?
They recommend the exhibition for kids 12+, and adults. We did see a lot of adults there without kids, and they seemed to enjoy it. We also some young kids, who also enjoyed it. My kids are 8 and 10, and I felt they were a good age for it.
KIDS' REACTIONS
Zack (age 8) loved the CSI clipboards and vests, proclaiming them "cool" and "awesome." He was engaged the entire 2.5 hours we were there, not once using his usual phrase, "I'm bored." Dori (age 10)  enjoyed it too, but felt that too much of the information was spoon-fed to us and simplified, and that she didn't really solve anything. And this sentiment was echoed by forensic experts queried by exhibition organizers, according to the Star Ledger.
DETAILS
No food or drinks allowed in the exhibition. They have a coat/bag check for no charge (no tips allowed either). In the gift shop area, you'll find a Cake Boss stand with desserts. Cupcakes were $4, and the other desserts were $10+. There was no other food in the building.
Discovery Times Square is on 44th Street, between 7th and 8th. Call (866) 987-9692 for tickets.
EXHIBIT RUNS: Just extended through April 1, 2012
PRICES
$25 for adults, $19.50 for kids 12 and under, $21.50 for seniors plus tax and $1 building charge.
Get a 15% discount for family packs (4-8 tickets with at least 2 adults).
Tickets are $20.50/adult for the group rate.
You can get VIP tickets which put you at the front of the line for $49.
See section above for purchase links.
CSI TICKET DISCOUNTS
Here are some discount codes for CSI: the Experience at Discovery Times Square. I will add more as I get them.
–Order online through the Discovery Times Square box office and save 20% over buying at the actual box office. No code needed, but no other promotional discounts will be applied online.
–Costco sells tickets in-store for $19.99 (good through 3/2/12). Not sold at Costco online. Tickets seen in Union, NJ store.
–Theater Mania offers $5 off tickets using code MANIA SI on the phone, on the web and in person (you're supposed to bring in a printout of the coupon) through 12/31/11.
–Save up to 20% ($2-5) at TicketNews.com using code TNEWS (good for phone and in-person as well).
–Broadway Box offers 10% off tickets through December 16, 2011 in Las Vegas.
–MTA Getaways offers you discounted tickets ($4.50) and discounted train fare through their Getaways program. I couldn't figure out how you actually purchase it though!
–American Express  card members can get a free CSI logbook – details here.
Looking for a hotel in Times Square? Read a review of the Muse here.