We were kicking ourselves for not seeing Newsies the musical, when it made its pre-Broadway debut at the Paper Mill Playhouse. And it was the one Broadway show my son wanted to see (not sure why – he doesn't know the story). I heard good things about it – from adults who went sans children – and was excited to take the kids to a show where boys were the lead. Last time we went to a show, we saw Annie, with all girls. And Billy Elliot – which was mostly girls.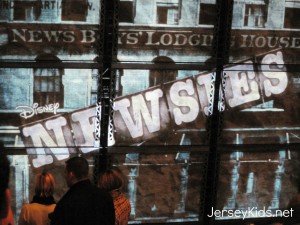 Bottom line: We enjoyed the show, but it didn't blow us away. The show is high energy with some great dancing and good musical numbers (it won 2012 Tony awards for choreography and musical score).
The story line is a good one for kids.
The "newsies" are street kids making a meager living by selling newspapers. It's hard to remember the power that the printing presses had in those days, with no internet or copy machines. Publisher Joseph Pulitzer isn't selling enough papers (sound familiar?) and his remedy is to sell the same number of papers to the newsies at a higher cost, so they have to sell more to earn the same. They go on strike, and this is the story of David and Goliath, the underdog fighting the powerful. Guess who wins?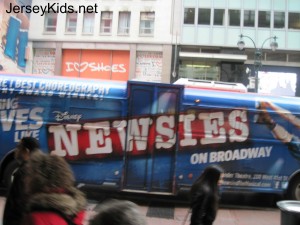 Of course there's a love interest, who is a heroine for the girls and a lesson for the boys that girls are capable too. That's the girl reporter who breaks the story of the strike and wants to be a real reporter, not just one reporting on society. By the way, there are only three women in the entire cast. And probably 25 men. It's a very male-heavy show. And what do you know, she's (spoiler!) Pulitzer's daughter. The love story between rich, educated girl and poor street boy makes a nice story, but reality? Not so much.
As in big Broadway shows, the sets are high tech and much of Newsies incorporates movable tall metal staircases that the actors run up and down – and in between.
Is Newsies appropriate for kids? Definitely yes. You may have to explain to them what's going on (it wasn't obvious in the beginning to my son), but I don't recall any bad words or sexual innuendo (other than very slight suggestiveness of the Medda Larkin performer character, and that was tame. And maybe two kissing scenes which was short and non-offensive to the younger set. All children must have a ticket to the show.
Discounted Newsies tickets: Newsies has been around for awhile and you can now get discounted Newsie tickets on sites like BroadwayBox.com. Order by 12/24/13 on Ticketmaster, and it's buy one get one free. It's good for shows January 6, 2014 – March 5, 2014.  Use code WDIS. Ticketmaster fees are extra.  We got our tickets through Restaurant.com specials, where we got the show for a discounted price and also got a $50 restaurant.com credit for each ticket. As of this posting, they still have that deal for select shows including Newsies. If you want to go day-of, TKTS often has Newsies tickets at 40% off. If you want to chance it, they have a lottery 2.5 hours before showtime, where you might be able to snag two $30 tickets. If you don't, you may be able to get $30 standing room only tickets.
Newsies Show Time: The show runs 2 hours and 30 minutes, including intermission.