We visited the High Line Park recently and happened upon the Melt Bakery cart on 23rd Street at the lawn. For the record, Melt Bakery to me sounds like a grilled cheese sandwich place. But it's not. It's an ice cream sandwich place. And it was yummy.
The kids got a full size "Cinnamax" – two snickerdoodle cookies surrounding cinnamon ice cream for $4.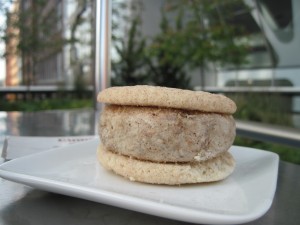 I got a smaller "Belle" which is peach ice cream between two brown butter bourbon shortbread cookies. The small ($2.50) was just enough for me.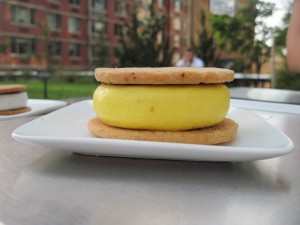 I believe the cart is there Friday through Sundays (and holidays). You can also find them at other locations, including their store at 132 Orchard Street, the Hester Street Fair on Saturdays, and some other places sell the sandwiches as well.
I was drooling at some of their past flavors:
-black mint ice cream with chocolate brownie cookies
-chocolate chili ice cream with curried coconut cookies
-eggnog ice cream with nutmeg cookies
-cream cheese ice cream with red velvet whoopie pie cookies
-butter cream ice cream with crackly chocolate cookies
-earl grey tea ice cream with lemon madelienes
And see all the Jersey Kids Treats of the Day!