We were recently at the International Spy Museum in Washington DC. There are more spies in DC than anywhere else. But apparently there are a fair amount in the NYC area as well (not that that's a surprise). We weren't sure how it would compare to the recently opened Spy: the Secret World of Espionage at Discovery Times Square.
What is spying? Basically it's trying to gain the upper hand and know what your adversary is going to do before they do it. It's attaining information you're not supposed to have, to ensure your security. And it's widespread. It doesn't have to be obtained illegally – spies get their information from internet sites and blogs (my kids laughed at that one), as well as classified documents.
While spying may be bigger in the nation's capital, New York has its fair share too. Remember Anna Chapman, the beautiful Russian spy that was caught two years ago? The exhibit has undercover information and recently declassified surveillance videos of these Russian spies in the Big Apple, along with their personal belongings and tools.
In the exhibit we saw exploding pencils, exploding coal paint kits, codes hidden in walnut shells, codes hidden in makeup compacts, assassination umbrellas, a poison pellet cane, a cigarette concealing film, a fake soap case concealing film, and a suicide poison pin (and more).
—————————————-
[ad name="Google Adsense"]
—————————————-
Interactive Elements: The exhibit had a fair number of interactive elements, such as the touch screen videos of spies, called "Myth or Reality" where spies debunked myths. There was a computer cryptic messaging program where you had to come up with passwords for security systems. Did you know that 290,000 people use 123456 as their password? If that's you, you should change it! Two of the kids' favorites stations were about creating disguises and altering your voice. At one, you photographed yourself before and after creating disguises, and the other one let you record a message which was then altered several different ways.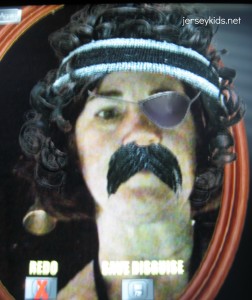 Can you tell it's really me????Our favorite interactive element was the laser maze. While spies need to learn to detect invisible lasers (you can spray some kind of gas to see them), this maze had visible laser lines. You have 20 seconds to make your way through the laser lines without cutting them off. We did this maze several times each. I am proud to say that by the third time, I made it through without setting off the alarm. Of course wearing a dress was not helpful, since I had to jump over some of the lines. But it was dark in there, and no one, except the female guard, could really get a view of me hitching it up.
Still interesting but less titillating were reconnaissance images taken from the Corona satellite in 1960 (like Egyptian pyramid photos). The first spy satellites had film cameras, and they'd drop the film in a drum-like container into orbit, via parachute. An Air Force plane would get the bucket mid-air. Aircraft enthusiasts will love seeing models and descriptions of the various spy aircraft and flight suits developed through the years.
The kids loved looking for which surveillance camera was working at this particular time.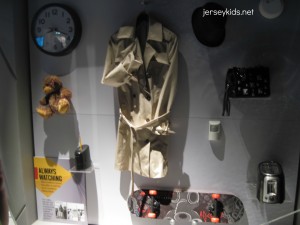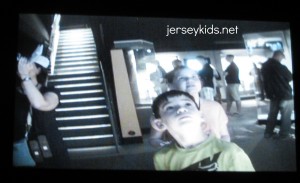 The exhibit has a big section on the Ghost Stories operation, the Russian spy ring cracked in 2010 involving 10 people (mostly couples) living regular American lives. While the Anna Chapman drew a lot of attention, the exhibit noted that the couples posed more serious threats. The couples posed as families, even having children to blend in. They showed videos of the spies swapping bags in the train station and coffee shop, and doing a "brush pass" of information on a stair case. They were not arrested for spying, but rather for money laundering and for conspiring to act as unregistered agents of a foreign government.
In addition to seeing personal items like their fake U.S. passports and real Costco cards, there was a video of one of them leaving money and another picking it up from a dead drop spot. The money was in a bottle, wrapped in condoms and duct tape to keep it waterproof. Glamorous!
Like at the Spy Museum, the exhibit had sections on American traitors Robert Hannsen and Aldrich Ames. They had footage of Hannsen's FBI arrest, as well as his original apology letter and handcuffs used on both men. Both were spared the death penalty because of a plea bargain/cooperation.
One display showed how spying was used to find out the identity of the 1988 Pan Am bombers. The investigation ran 11 years, with investigators combing over debris from 845 square miles.
And they had some translation sheets that soldiers use in Arab countries.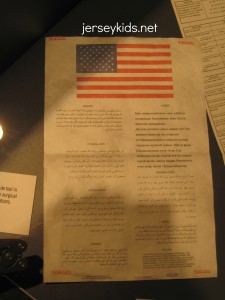 Some fun facts:
-17 intelligence agencies contribute to the "presidential daily brief" each morning.
-George Washington's use of spy John Honeyman to cross the Delaware to get information from troops in Delaware and to spread misinformation. This helped Washington's troops attack an unprepared foe.
-the American pilot Gary Powers, who flew the U-2 spy aircraft, had an optional CIA suicide pin, coated with shellfish poison (saxitoxin) that he could use after getting captured for flying over the Soviet Union. The pin was placed in a hollow silver dollar. He didn't use it, and fortunately was released after the U.S. traded him for Soviet spy Rudolph Abel.
-Pigeons were used starting in the early 1900s , to photograph enemy territory. They were used as message couriers even earlier, 1870, by the French.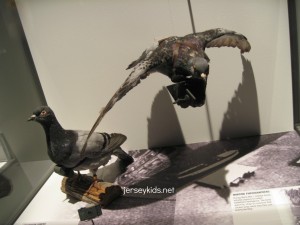 -this dead drop mouse was used to hold money and film. Hot pepper sauce sprayed on it kept the cats away, and the mouse could be thrown from the window to its drop location.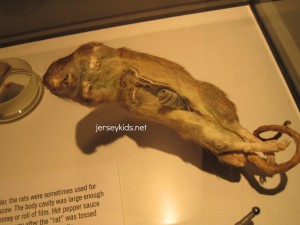 -Soviet-produced maps were deliberately inaccurate, so the CIA had to make their own starting in 1953.
-the U.S. developed a SCUBA type apparatus that did not release bubbles, so the spies cold swim up to 90 minutes under water without detection.
-93% of spies are caught are men. Often women are working with them.
-Spies are more likely to be caught passing information (covert communication) than collecting it.
WHAT THE KIDS THOUGHT: They really liked the exhibit, though my 8 year old got a little bored at times. The interactive elements helped a lot, and they liked the James Bond type displays showing where hidden items were kept. My 11 year old daughter liked it more that the International Spy Museum. I'm not sure I agree, however I was impressed with the quality and quantity of items on display, and the historical perspective of spying using planes. The exhibit put spying in an understandable context, balancing the sensational with the practical.
AUDIO: We got the audio (extra fee) and it did give additional information. I'm not sure it's a must-buy item, but it did enhance the experience. That said, with kids I'm always conscious that they could get bored and make my life miserable at any minute, so the limited time I have in an exhibit isn't always worth the extra information to be gained from audio.
IF YOU GO:
Exhibit dates: May 18, 2012 –March 31, 2013
Where: Discovery Times Square (226 West 44th Street)
When: Open Sunday through Thursday (10 a.m. to 8 p.m.), Friday and Saturday (10 a.m. to 9 p.m.). Last allowed entry is 45 minutes prior to closing.
Tickets: $27/adult, $23.50/senior, $19.50/kids (ages 4-12). Same prices for Terracotta Warriors individual tickets. Get a combination ticket with the Terracotta Warriors and it costs $42/adult, $39.50/senior, $33.50/kid (ages 4-12). Buy by phone at (866) 987-9692, or at the box office. Buy online here – $1 facility fee.
Discount Tickets/Specials:
–Groupon has a deal through 1/27/13 where you can get tickets for the Spy Exhibition for $16-19 each, or $27 for a combo ticket with the Harry Potter Exhibition.
-Use code BBOXSPY or MANIASPY, for the same savings. Purchase at the same website/phone/box office.
-Groups of 10 or more can get discounted tickets ($20.50/adult, $17.50/senior, $15/student (ages 5-21).
–American Express card holders can get a free audio tour per order if using the card to purchase tickets. Higher level AmEx holders can access reserved tickets for weekend peak times.