Touch and Go. Trend Spotter. That's Justice. The Pokester. Tricky Jakeskyscape. Get Jazzed. Marjorly Bad. Dinner Guest. Nathan Feelsgood. Ol' Man River. He Rocks It. Get it Now. Golden Receiver. Betterthanlynx. Bullet Bob. Boiler Bob the QB. Bakin on the Beach. Fiftyshadesdarker. Fiveknuckleshuffle. Fool of Ideas. Fresh Dream. Midas Blue Chip. Musselsfrmbrussels. Mysterious Moment. Western Tsunami. Versado. Voice of Truth. Sonic Dancer. Sheer Desire. Sea Me Now. Saywhatuneedtosay.
Do you know where I'm going with this? Roller derby? Nope. Horse racing. We went. Should you?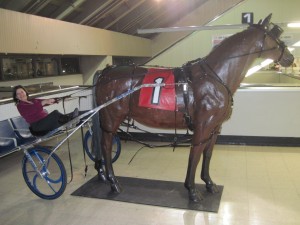 I didn't really think that New Jersey would have horse racing – in JANUARY – at night, no less. But they do, at the Meadlowlands Race Track. We went a Harness Meet. Those of us not "in the know" called chariot racing or cart racing. Why?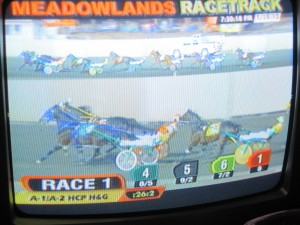 The jockeys sat in a two-wheeled contraption harnessed to the horse. They totally looked like Roman gladiator carts. The little seat swiveled with them as they leaned back and sat up during the race. Where were their feet, you might ask (we all asked)? In a stirrup, much like when you women go for your annual physical.
————————————————
[ad name="Google Adsense"]
————————————————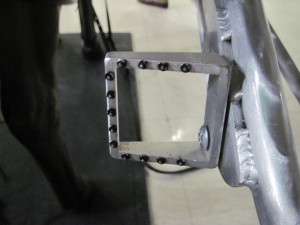 When you arrive, you can pay your $2 and sit outside, or hang out inside watching it on the television.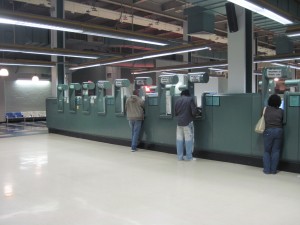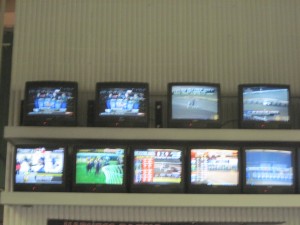 We were with a group and opted for one of several restaurants where you can watch the action from the large windows, as well as from the television screen at your table. This is Terraces, a $30/person buffet full of mostly treyf food (the cheese platter was delicious). The company, however, was excellent.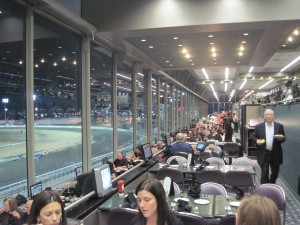 My friend Adrienne had a system down for betting, where she looked at the horses' placement in the last race and its placement in this race. I'm sure there's more to it than that, but I couldn't follow it.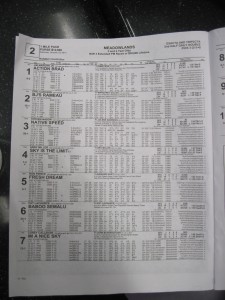 She didn't do so well. Mark and I picked our favorite name or two and bet that way. We came out ahead – not by much, but enough to cover our $2/person entry.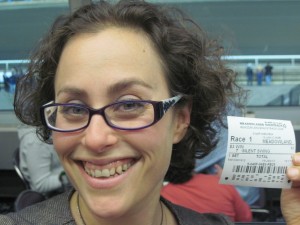 You could place your bet at one of the booths, or from the person wandering around in a loud yellow shirt.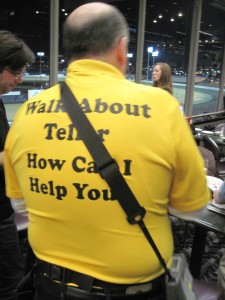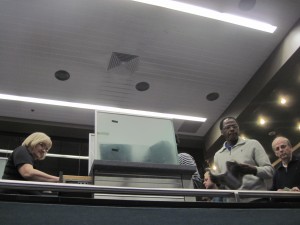 Though we left the kiddies at home, we saw plenty of kids there, both in the restaurant and in the interior. I think it would be fun for them.
Would we go back? Of course. Next year. It was a cultural experience to be sure.