It's been almost 2 years since the kids learned to ski at Vermont's Smuggler's Notch. We were worried they would forget everything. So we planned a day trip over the MLK holiday weekend to Shawnee Mountain in Pennsylvania, which was close enough for a day trip and offered plenty of beginner-friendly hills.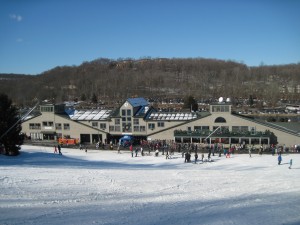 We were surprised how much the kids improved in that one day, and we were impressed with Shawnee.
We used Shawnee's Quick Rental program to book the kids' rental/lift ticket package online. It didn't save us money, but it saved us time (and it was easier on the staff as well). It was a little confusing, but here's what you do. Bring your booking form (print it out when you order) to the Guest Services office. They'll give you the lift tickets (but only for those who are part of the package. My husband and I had our own skis and paid for tickets ahead of time – we had to get those at the ticket window).
Then you go to the rental pavilion and go to the left "lane" where they'll look at your ticket and find your boots. If the boots fit, you move on to the ski area, and they have those already adjusted for you. Then you head out the door – stopping to grab poles (if you want them) – each color is a different size. They have lockers you can rent for your shoes, or you can leave them on top of the lockers (they caution against leaving anything other than shoes there, and of course you leave them at your own risk). Outside you pick up your helmet if you reserved one. Unfortunately helmets are an extra $12 to rent, which I think is INSANE – the cost, and that they don't come with the rental package. You pay for those rentals at the ticket window.
————————————————
[ad name="Google Adsense"]
————————————————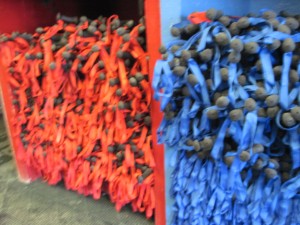 The lodge has several size lockers you can rent, and you rent by the day. Bonus! You have in/out privileges. Our mid-size locker, plenty big enough for our snacks and extra clothes, was $5 (the machine takes cash and credit cards). The area has free wi-fi, and the lodge has the requisite large fire place. It also has a video game area and several cafeterias and a restaurant. Food was standard (I brought my own, but the rest of the family bought food).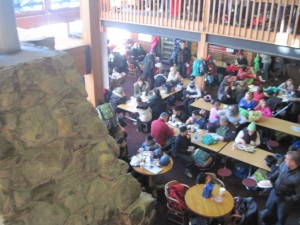 We started out at the bunny slope, which has a magic carpet and a small lift that takes you just above where the magic carpet lets out. Don't fall off that carpet, because it would be painful. I've fallen off these things before and was glad I stayed on this time!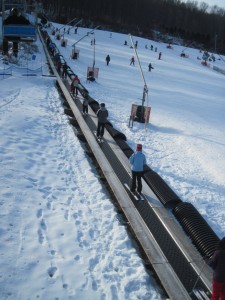 The lesson area for the kiddies was adorable, and they have a separate magic carpet, and each meeting area is marked with a stuffed animal or cute flag.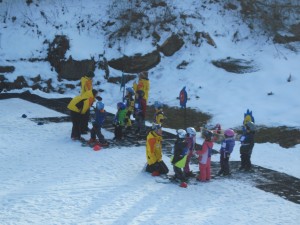 Fortunately we didn't stay too long on the bunny slope, and we progressed to the other hills. With 700 feet in mountain elevation, we did take a lot of lifts, but the snow was nice.
I'll say this: the black diamond trails are not the same as black diamond trails at other resorts (okay, I'm used to skiing in Tahoe, Utah and Colorado). My kids could make it down the black diamonds by the end of the day. That's not saying much – consider them blues.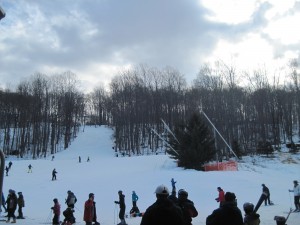 The Mountain:
Shawnee has 23 trails/hills, 5 lifts, 2 terrain parks, and the longest trail is 5,100 feet long. See a trail map here. There's also a tubing hill. They make their own snow. Unlike many ski places, their runs don't close until 5, or on days where they're night skiing, until 9. Night skiing is included, and we took a few runs. I was surprised how well we could see at night, though I couldn't decide whether to leave my goggles on or off. When on, it was harder to see, but when off my eyes watered too much.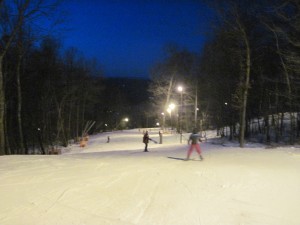 We went over one of the terrain parks on the lift, and my son really wanted to ski down it. It's labeled a black diamond, but you can ski to one side (easy) or go slowly over the ramps without having to do jumps.
What we loved:
-the online equipment rental worked really well and saved us time/hassle
-the lodge locker's were one price – in/out privileges all day. Three locker sizes available, and the middle ($5) was enough room for our snack bags and extra clothing.
-the staff was really helpful and friendly
-plenty of runs for beginners
-the bra tree!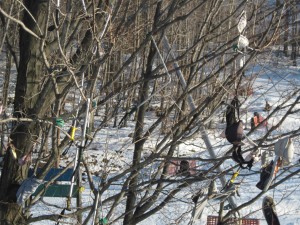 What we didn't love:
-the kids' rental package did NOT come with a helmet, and helmet rentals were $12. I think that's pretty steep and not so smart of the resort to exclude helmets in the rental package.
-the mountain probably isn't so great for more advanced skiers. We skiied most of the runs in one day, and they weren't very challenging. Not a problem for us, since the kids are still in the early stages and I gave up black diamond runs some time ago, but better skiers might be bored.
If you go:
Shawnee is in the Pocono's, on I-80.
Here is Shawnee's Deals and Discounts page. Check with your town to see if they offer discounts as well. Ours did – we saved $10 a ticket for the adults.