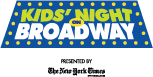 Kids' Night on Broadway is coming up soon, February 25- March 3, 2013. That means you can take the kids (ages 6-18) to a Broadway show for free, when you buy a ticket at full price. In addition to discounted shows, you can get discounted meals (kids eat free) and cheaper parking – plus some pre-theater events. Lots of great shows to choose from, including Annie, the Lion King, Wicked, Mary Poppins, Newsies and Mamma Mia.
HOW IT WORKS
You buy a ticket for one of the participating shows (see the list here) and your kid gets in free. Fine print – you buy tickets in pairs of two – one adult, one kid. If you have an extra kid (1 adult 2 kids, or 2 adults 5 kids, etc.) you pay full price for the extra kid's ticket. All the tickets (in pairs) will print out at 50% off, and you have to pay the fees (ticketmaster, etc.) for each ticket. Make sure to use the link on the Kids' Night Out website or use the discount code they provide. That's it!
Tickets go on sale Wednesday, January 9 at 10 a.m. at the KNOB site. If you're serious about which show you want, get online that second. The tickets go very quickly for the top shows. Know that some shows are only available Monday through Friday night, maybe with a Wednesday matinee – tough if you live further away and you don't want your child staying up late on a school night. And the weekend shows are the first to sell out. I tried going online for a presale on Friday (if you sign up for the email list, you'll get on the presale list). I decided not to skip my exercise class and went online an hour after the presale opened. All the tickets I wanted were gone (don't worry, they open up a new set of tickets for the regular KNOB sale).
The participating shows are not all appropriate for all ages. Avenue Q, for example, I LOVE. But I would not take my kids to see it (they're 9 and 11). I have no desire to explain drunken hook-ups and puppet sex to them. But you should get a babysitter and go on your own, outside of Kids' Night on Broadway. Jersey Boys is the same thing. Not appropriate for my kids (I saw it in Vegas) but a fabulous show. They'll have to wait until they're older. While my kids have heard the soundtrack for Chicago (over and over and over) – do I want them watching the show? Uh, probably not. So use your own judgment!