As I posted earlier this week, we went ziplining at Mountain Creek Resort in Vernon, New Jersey. As part of the package, we also went tubing at Mountain Creek. Last time we went tubing was probably 3 years ago, so we were quite excited to go.
Mountain Creek apparently has the largest tubing space in the United States, if all 30 lanes are open. They weren't all open when we were there (I think I counted 15 open, but don't hold me to that).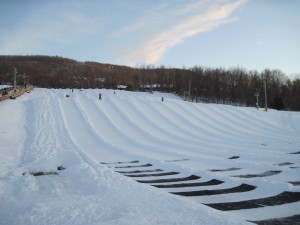 You book a 2 hour window for tubing. Reservations are highly recommended because apparently they sell out. But if you make a reservation and show up late, you still only get your reserved 2 hours. Just so you know.
Unfortunately we missed tubing with Juicy Joe and Teresa Guidice and family, who were there about a week before us. Bummer! I would have LOVED that photo op.
We did a late afternoon tubing session (4:30-6:30) and by the end we were tubing in the dark. Well, not literally in the dark because they have so many lights. But the sky was dark. The shuttle driver said the hill was less crowded at night, which I can believe (it's COLD!), but it was plenty crowded when we were there.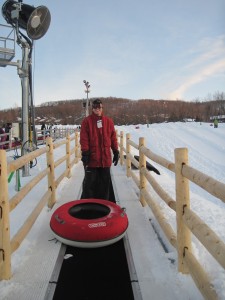 You get your tube at the bottom and take a magic carpet ride to the top (there are 2 carpets – take the one for the hill you want – they're the same, but the left side didn't have as many lanes open). Be careful on that magic carpet! My hubby almost fell off because it was going faster than he thought. There are railings, though, and you can always fall into your tube (as my daughter did).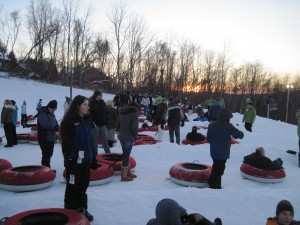 At the top, it's a big mess of people – pick a lane and wait in it.
They don't care if you tie your tubes together with the leash. Not sure how many you're allowed to tie together – we stuck with two.
Then you wait. Forever. The policy is to have all the tubers go down at the same time, and then they clear the track at the bottom before letting the next set go. It all makes sense, but it took so damn long each time. We fit in one 39 second ride every 20 minutes. There was a lot of down time, and I think they could have organized it better, so people could tube down more frequently.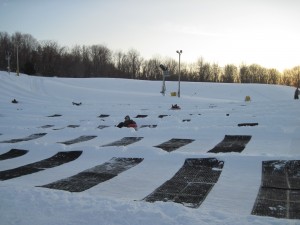 They have pushers at the top, that pull your tube to the slope's edge and give you a good shove. They also have pushers part way down, in case you don't have enough momentum and you need another push. I wouldn't want that job.
The ride itself was not as scary as I thought it would be. Here's a video of what it looks like from the tube. Take some Dramamine before clicking. And it doesn't start for a few seconds – so don't worry that you missed something. It was the first video I ever edited and I have a lot to learn! My daughter was the videographer. For some reason, it wouldn't embed here.
Each lane has a different configuration of stoppers at the bottom to slow you down. It seemed like the second lane would be the fastest, letting your ride further and faster at the bottom. (see photo above)
At the base, they have a little bonfire going. And a food cart. Very nice portable restrooms to use as well.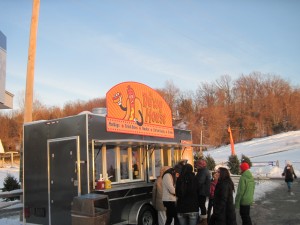 WHO CAN TUBE
You must be at least five years old AND 42 inches.
WHEN IS TUBING
Thursday and Fridays, 4-9 p.m. and Saturdays, Sundays and holidays, 10 a.m. to 9 p.m. Session times start every 30 minutes. .
PRICES
$20-25 a person per two hour session. You can purchase in advance (reservations not taken for same day tubing) or at the booth on site. They do have cancellation/rescheduling policies on the website if you purchase in advance.
They have a Friday night family tubing night on certain Fridays – $60 for a 2 hour session for a family with 4-6 people
Get discount Mountain Creek tubing coupons at McDonalds, QuickChek and Dunkin Donuts. You also get one free Soaring Eagle ride ($6 value) with each purchase. We didn't have a chance to use ours.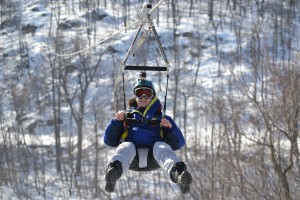 If you want to do ziplining with tubing, reserve together – the tubing portion only costs an extra $5.
Disclosure: We were guests of Mountain Creek for purposes of review. All opinions are my own.