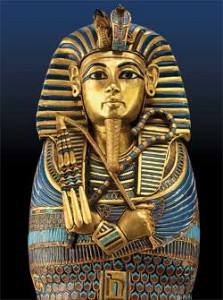 The King Tut exhibit opened in Manhattan last month, with 11 galleries and 130+ artifacts. The exhibit features items from King Tut's tomb, as well as items from his ancestors. I saw the King Tut exhibit in its last location, San Francisco and again in NYC. You can read my review of NYC's Tut with Kids here on Jersey Kids.
If you're thinking of taking kids with you, it's a great learning opportunity, and there are several items of interest to kids there, including weapons and lots of gold! Of course they'll be interested to know that the king was all of 9 years old when he ascended the throne. They'll love the gross knowledge that King Tut's brain was removed with a hook through his nose before embalming! Plan to spend around 90 minutes there.
The NYC King Tut exhibit is in the Times Square area. One benefit – you don't have all the additional museum traffic. The downside – there's no museum to visit after!
KING TUT DISCOUNT CODES FOR ST. PAUL
Tickets are $30 for the King Tut exhibit on weekends and $25 on weekdays (for adults), and this includes the science museum admission/exhibits. Kids 4-12 pay $16 on weekdays, and $18 on weekends. Audio tour and film are extra.
Science Museum of Minnesota members save up to 60% on King Tut ticket prices. Plus, members save an additional $5 a ticket in March.
Go with a group. Group discounts are available for 15 or more ticketholders. Here are ticket prices for groups.
While there were no discounts at Goldstar at posting, check back frequently, because Goldstar often offers discounts, as much as half off, for select time slots of various events.
Check back here – I'll be adding discounts are they become available. Pickings are slim as the show opens!
Tickets and discounts for NYC
Tickets run $27.50 for adults, $25.50 for seniors, $17.50 for kids 4-12, and free for kids under 4. They offer a 3-D movie, Secrets of the Pharaohs, for an additional $5. In the film, you'll travel into the royal tombs, learning about ancient Egyptian society and rituals as told by the mummies themselves. Kids 4 and under still have to pay for the movie, even though they get in free to the exhibit. Reviews of the movie are positive. Audio commentary is $7, and worth it to learn more.
Now through Friday, December 24th, buy a voucher for 2 adult and 2 child admissions ($98 value) for $59 at Mamapedia. You must redeem the voucher all at once. You can buy two vouchers, but only redeem one per visit.