Last weekend my teen daughter and I went to do a review of Vitaly off Broadway. I hadn't heard of the illusionist Vitaly Beckman before, and was intrigued seeing some videos online. He's been lauded by Penn and Teller, who got their start in New York at the same theater as this show is playing.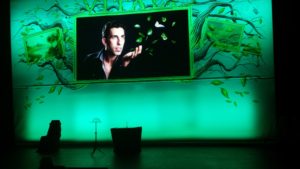 Vitaly is a Russian-born Israeli who now lives in Canada (easier immigration rules than the US, he told me after the show).
The Vitaly an Evening of Wonders show is interactive, but that doesn't mean you have to sit in the first row to participate. He bounded up and down stairs during the show, going to the top aisles on both sides to get volunteers, in addition to using volunteers down lower. For the last illusion, which uses drivers' licenses, everyone can pony up and yours might be chosen when he's on stage.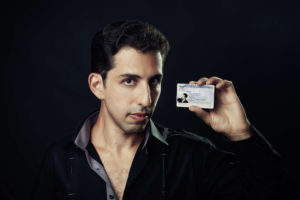 He performs around 10 different illusions, which doesn't sound like very many, but they were not quick hits. They often involved getting audience members up on stage or him going back and forth between audience members. None disappointed.
Spoiler alert – don't read this next section if you want to be surprised at the show. His illusions included:
-drawing a leaf (and later a rose) on a sketch pad, and it came to life and came off the page.
-having audience members pick a drawing that he reproduced without seeing what they picked. That might be old hat to some, but for one of them, his brush painted it hands-free.
-he made an apple move in the air between bowls, and clinging to his finger at times
-He had three audience members sit on stage, while he was blindfolded (with duct tape over his eyes). He previously had the three members choose tea, wine or water, and then they moved seats so they wouldn't be in the same position. He found the right bottles and poured them into the right glasses, (without touching the glasses) and then served them to the right people.
-He did a card trick where two audience members wrote on a card and they tore the corner off it, and then it moved from on stage (in one audience member's hands) to the card holder/deck another audience member (directly in front of me) was holding.
-He did a card trick where a card an audience member signed was transported into an empty water bottle.
-Perhaps the most astonishing illusions involved photographs. He showed photos (and had an audience member up there with him) and then he rubbed them together to have the person on the photo transfer to another photo – sometimes in the same position, sometimes standing in a different way (like sideways). He did this several different ways. And sometimes you could see things MOVE on the photo. See it here.
-Following this was the drivers' license illusion, where he took audience members' licenses and rubbed faces off, and rubbed one face onto another license. And then had an audience member read off one dead celebrity name that others in the audience had written down earlier, and made that face appear on the license (and then blink). In the New York, New Jersey area, he had plenty of fodder for jokes about the smiling or unsmiling faces on the licenses. And he took full advantage.
Is Vitaly appropriate for kids?
This review of Vitaly off Broadway says YES! It's a show for all ages. There is no inappropriate language or subject matter. Even my jaded teen was impressed, starting from the very beginning of the show. We saw young kids in the audience as well as older adults.
Review of Vitaly off Broadway – If you go:
Accessibility: The theater is not handicap accessible. It's an old building with no elevator. There are stairs leading up to the second floor and stairs to get to the bathroom. The Westside Theater's website has more detailed information. For that reason, if someone isn't able to climb stairs, the show may be out of reach.
Vitaly show length: The show is less than two hours, with a short intermission.
When: He's doing the traditional 8 shows per week, including a Saturday and Sunday matinee. Shows go through September.
Tickets: You can get Vitaly an Evening of Wonder tickets on the website, as well as through discount Broadway ticket sites. The theater is intimate.
Theater: Vitaly an Evening of Wonders is at the Westside Theater, on 43rd street between 9th and 10th Avenues (407 W. 43rd).
Disclosure: We two review tickets to review the show. All opinions and writing are my own.