It's been about 15 years since I saw the Blue Man Group, at a theater in Chicago. I remember the drums and I remember the toilet paper. And I remember changing into my skirt in the front seat of the car ride from Wisconsin to Chicago. And I recalled that the Blue Men's faces and hands were painted blue. That may have been true. Or perhaps they had some kind of rubbery skin covering like they do now.
—Want to win tickets? Details at the bottom.—-
Well, now I have kids. And Blue Man Group has been performing for 23 years at the same Astor Place Theater in New York City, plus a year at another NYC location, and a year performing as a street act. They  have five permanent shows across the country (Chicago, Miami, Las Vegas, Orlando, Boston), plus a touring group, plus a Norwegan ship show.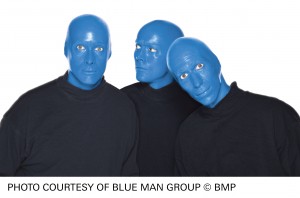 I know that not everyone who is blue looks the same, but I could not figure out how they could tell each other apart. They're around the same size, all wearing the same thing, all covered in their blue skin. And they don't talk. Or smile. Or laugh.
In any case, my family went to check it out (we received tickets to facilitate a review).  For your sake don't be late. I don't want to ruin any surprises, but I hope that someone else is late.
You know the show is going to have some humor, when watching the LED digital screen before the show starts, and it has admonitions like "don't share government secrets," "don't post pictures of your meal," and "avoid sexting your constituency."
————————————————
[ad name="Google Adsense"]
————————————————
I won't reveal too much for those who haven't seen the show before, but the Blue Man Group does a lot of drumming (and at times there is very loud live musical accompaniment). But it's not just drumming. In the beginning, they drum while squirting paint onto the drum, eventually creating splatter paint artwork. They drum in creative ways.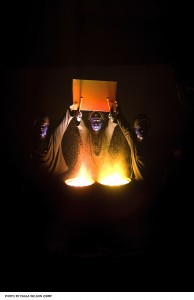 The show is a series of different vignettes, all nonspoken. Some involve the audience. Most are very funny. And many use a sophomoric type of humor that my kids LOVED. Like Blue Men stuffing cereal into their mouths and all over their faces. The kids love that kind of thing!
Another element they incorporate is technology, both in explanatory screens and in the use of the GiPad, which really was shaped more like a phone (see below).
Even though they used the word sexting once, the show was very family friendly. There was some adult humor, but it flies over the kids' head and nothing was graphic.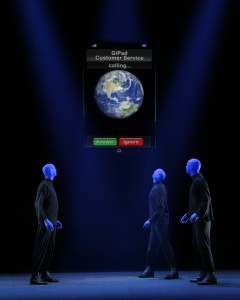 While there were many highlights, the kids' favorite part involved paper at the end. Again, I don't want to spoil anything, but it's audience participation and a big TP fight. And no virgin trees were harmed from this activity (so said the LED screen in the beginning – it's all recycled paper).
Was the show good for the kids? Hell yeah. They loved it, and the adults among us (okay there were just 2 of us) appreciated it too. It's a well oiled machine of a show that's clever, funny and changing with the times.
Seating:
At 299 seats, it's an intimate feeling space, especially since the bottom level is pretty narrow (the top is too, I just didn't go up there).
The first five rows are the splash zone, so to speak. You pay more for those tickets and it's possible you'll get paint on you, or something.
We were happy with our orchestra row N seats. The Blue Men climb and walk through the audience, even going up to the second level for participation. And yes, you might be one of those recruited for a scene. Be a good sport if you are – the audience is counting on you!
The bigger issue is who is sitting in front of you! I had a tall guy in front of me, making it harder to see at times. The Girl Scout troop across from us had a similar issue. In addition to getting boosters for the girls, the staff move their tall guy up a few rows.
Some tips and info:
-wear white because at one point they use fluorescent lights and you'll glow.
-the show has no intermission – so use the bathroom before you go. There are only 2 stalls in the ladies; room – yes, there was a line! The show runs 90-105 minutes.
-stay after the show to get photos with a Blue Man or the musicians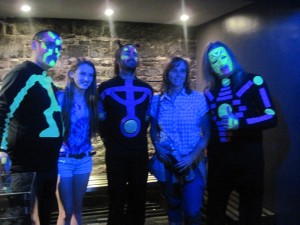 -there are strobe lights. If that's an issue, tell the house staff and they'll get you before the strobe lights go on (they're only toward the end)
-there is some reading involved at times, but even if your child can't read, he/show won't miss anything
-kids under 5 are not allowed at the New York, Boston or Chicago shows. For Las Vegas and Orlando, they recommend the show for kids 3+, and you might be able to bring a younger lap child in.
–There are about 100 active Blue Men in the country, all training in New York. And though you only see three during the show, there are actually five full time in New York.
-If you want to get someone's name on the LED screen during the show, you need to contact BMG at least 48 hours in advance. Details here.
Contest: (The contest is now over. Congratulations to Sharon, and thank you everyone who entered for the jokes!)
Okay, before I get to ticket information, do you want to win 4 tickets to a Blue Man Group show? The tickets expire 9/30/14 and must be used for a Sunday to Thursday performance. If you want to win, enter a comment with your email address (so I can contact you!) and a joke that isn't lewd. The contest ends on June 19 – in one week. I'll email you if you win. If you don't answer with 24 hours, I'll email someone else.
Blue Man Group Tickets: 
Retail tickets are: $72-106, here.
In terms of discounted Blue Man Group tickets, here are some options:
You can often get discounted Goldstar Blue Man Group tickets for $55.60 plus fees. Click here for those. You'll have to sign up with Goldstar to see available information.
Blue Man Group itself offers some discounts – see them here.
BroadwayBox.com offers discounts (I use them for theater tickets), at $71-80 at posting.
AAA offers a 25% discount to members in NJ, CT, MA and RI using code AAA at Ticketmaster or when booked directly with BMG.
There are slew of others if you google it.
Special Blue Man Group tickets:
If you're with a group, check in about group discounts. They also offer packages for special occasions, which do cost more but they give you VIP perks.