Waitress the musical was not high on my list to see in terms of Broadway shows. But I went for my annual writer's group show night during a conference, and that was the show selected. My goal was not only to hopefully enjoy the show but answer this question for the blog: is Waitress appropriate for kids? I did no reading about the show beforehand, though I knew Sara Bareilles was playing the lead and that she had written the lyrics. I knew it had something to do with pie. That's it.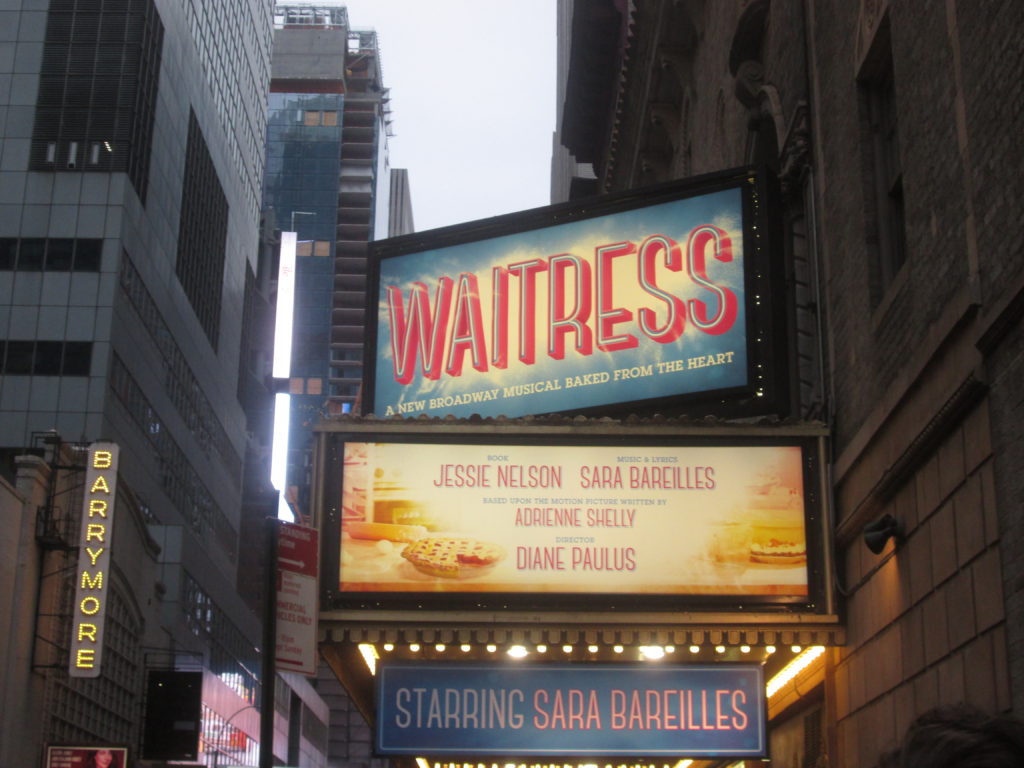 That pie smell wafted by the second we walked into the show. What a cute set-up. It smelled good, and we passed by a dessert stand. Inside the theater, the women selling snacks and drinks were wearing diner uniforms. The screen looked like a lattice cherry pie. It had the possibility of being too cutesy. But it wasn't.
The plot of Waitress the musical
The Waitress musical is about Jenna, a small town young lady who is unhappily married and working as a baker and waitress in a diner. Her pies are amazing and her life is not. Very early on we learn that Jenna is pregnant by her husband, an abusive man she does not love. Her closest friends are her two fellow waitresses, the awkward and seemingly uneducated (but history-loving) Dawn, and the sassy black lady (really), Becky. They try to encourage Jenna to get out of this marriage and are her biggest supporters. The main cast is rounded out by Cal, the diner's surly cook/manager, owner Joe (old, curmudgeonly), Earl (the unlikeable husband), Ogie (Dawn's boyfriend) and Dr. Pomatter, Jenna's youthful, neurotic and utterly adorable Ob/Gyn.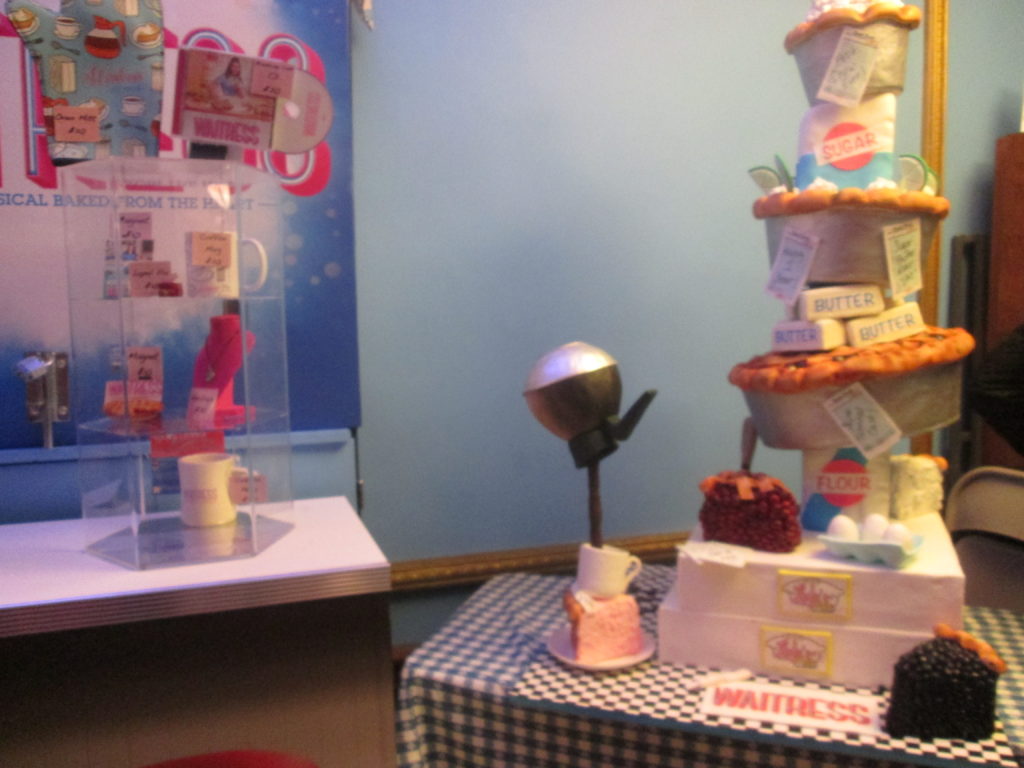 Jenna continues the pregnancy and tries to figure out how she can save up some money to enter a pie-making contest, so if she wins, she'll have the funds she needs to leave Earl. And then she begins an affair with her doctor, which is so so wrong but you can't help cheering for them, even though you know he's married to a resident in town (Jenna's husband is a jerk, so that makes it easier) and they're a very unlikely couple.
The pie theme is carried throughout the show, with pies getting names that not so subtly depict what's going on. Pies called "my eggs deceived me pie," "sit on your ass pie," "dipshit pie" and "afternoon delight pie." There were many more.
The characters
In the Waitress musical, while the characters were larger than life and a bit of a caricature, they were a lot of fun and well done. The crowd favorite was Ogie, Dawn's late in the show boyfriend. I don't want to spoil things for those who haven't seen it, but what a riot that man is. Hats off to you, Christopher Fitzgerald, for a great job. Also, Nurse Norma. So fun!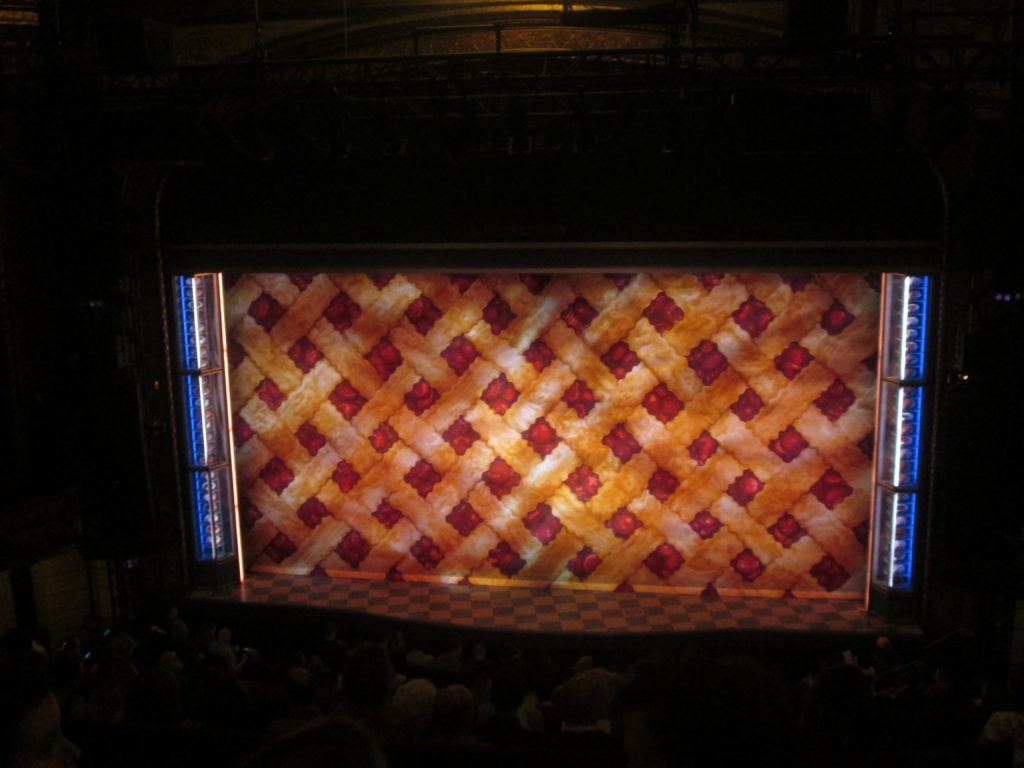 Staging
Let me say that I loved the pie display cases on the stage. You know when you go into a diner and they have that glass cake with pies and cakes on dessert stands, and it's encased in glass and the desserts are turning constantly? They had one on each side of the stage and it went floor to ceiling – like 3 stories high. It was awesome.
I liked that the band was often onstage as well. They came out on a platform, and were part of the diner scene. They were there and you noticed them, but no one called attention to them. There were even pies on the grand piano.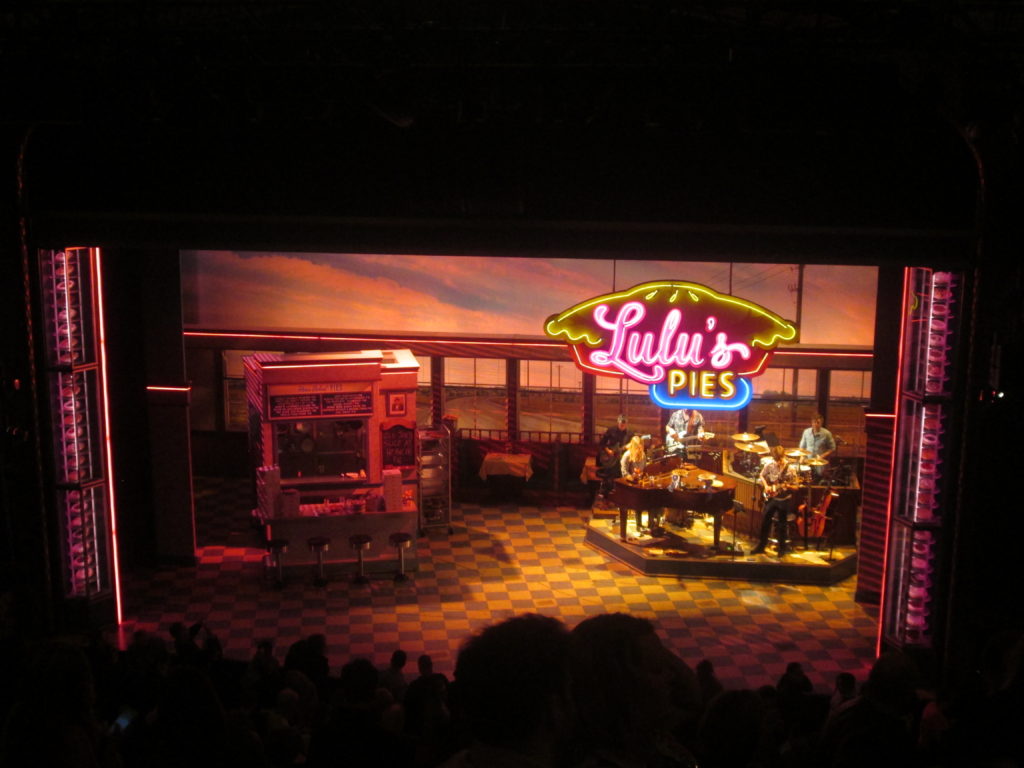 Is Waitress musical appropriate for kids?
Is Waitress appropriate for a 12 year old? Someone younger? In a word, no. Waitress is not appropriate for kids. I thought that by intermission but REALLY thought that after the show ended. What age is Waitress the musical suitable for? A teen (15-18) could be okay with it, but I wouldn't take anyone younger. Why? Lots of bad language (ass, dipshit, fuck, shit). Abusive husband. Sexual acts depicted (in a funny way, but still kind of graphic). Cheating on a spouse. Is Waitress the musical family-friendly? No. Not appropriate. Don't bring your kids. If you do, I warned you.
But you should go see it. It's a fun show that was a lot more serious than I expected. And I was so happy the next week to hear She Used to be Mine during my barre class. Is it a show I'll remember forever and ever? No. But I really enjoyed it.
If you go to Waitress the musical
Discount tickets: You can look for discount tickets sites and ways to get discount Broadway tickets on our Broadway page. Though the show had been open awhile, we were unable to get discount Waitress tickets on a Thursday night in April.
Waitress is at the Brooks Atkinson Theater (256 W. 47th Street at 8th Ave).