I've been seeing a lot of Broadway shows lately. It's good to be back! So the big question is, are these Broadway shows good for kids?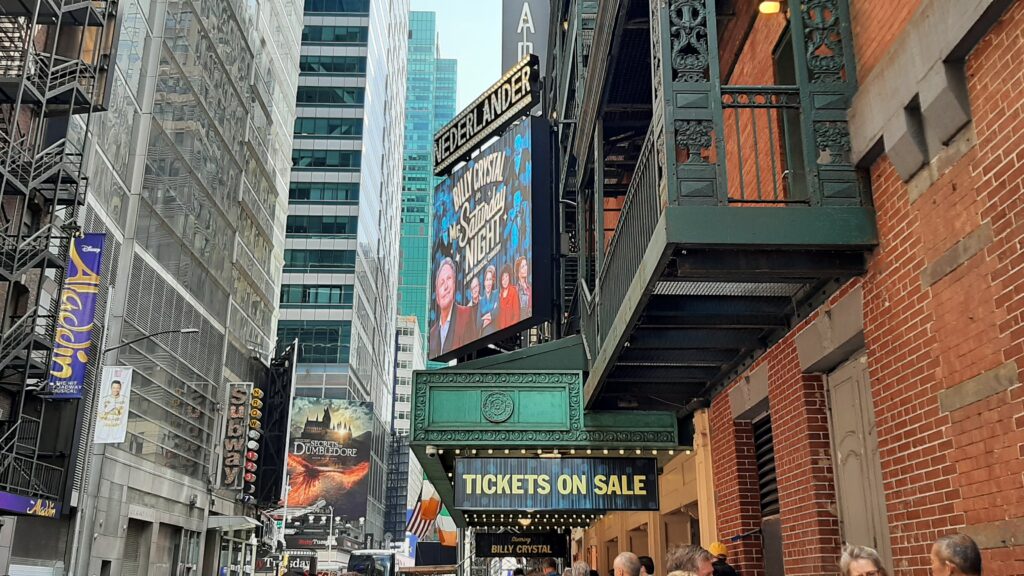 Is Mr. Saturday Night on Broadway good for kids?
Is Girl from the North Country good for kids?
Is Birthday Candles good for kids?
Is American Buffalo good for kids?
Is Mr. Saturday Night on Broadway good for kids?
I haven't seen the movie that Mr. Saturday Night on Broadway was based on, but it was good to see Billy Crystal perform in person. Also his brother in the show was also his brother in the movie, David Paymer. He's a character actor that ironically we saw an old movie later that week (Crazy People – it was funny). Mr. Saturday Night is about an aging comedian who is mistakenly declared dead during an award show. He tries to revitalize his career, and the show is about his attempts to do that, along with his relationship with others. He's a selfish kind of guy, so that gets in the way of his relationship with his brother and his daughter. One note, Mr. Saturday Night on Broadway is a musical. It should not be a musical. Most people in the show can't sing that well. Shoshana Bean can sing well – she was awesome and got a Tony nomination for her role (best-featured actress in a musical), perhaps because she could sing so well. Everyone else should not be singing on Broadway. The songs added very little to the show, aside from making it longer and making us wonder why they were there. #awkward
The highlight of Mr. Saturday Night on Broadway was seeing Billy Crystal perform. Also listening to Shoshana Bean sing. Lovely! The show made us laugh. A lot. It was very very funny. In a Catskills/Borscht Belt kind of way. We took our parents to the show and it was very much the type of humor that Jewish grandparents love. To be honest, the adults (myself, spouse and sister/husband) thought it was hilarious too. Not as funny for the college kids or for those younger, though. They didn't really understand a lot of the humor.
So is Mr. Saturday Night on Broadway good for kids? No. Don't bring them. In addition to not understanding the humor, there is some inappropriate language.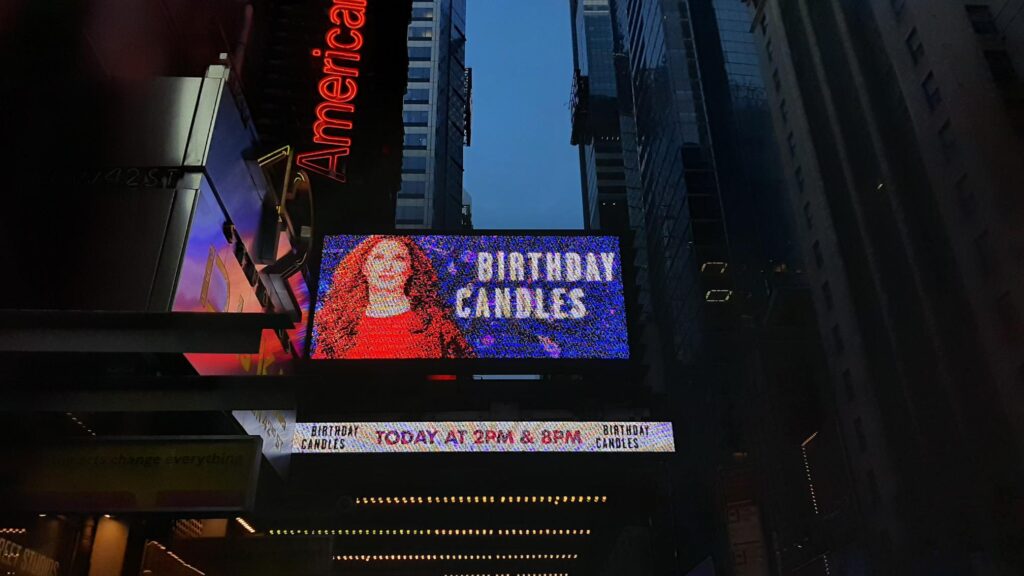 Is Birthday Candles on Broadway good for kids?
I did not have high expectations for Birthday Candles, and for some reason thought it would be a lighthearted romp, in spite of being about someone aging and reviewing their life at birthdays along the journey. Boy was I wrong. Performed in one act with no intermission, with Debra Messing on the stage the entire time, the show spanned about 80 years. And Messing played the role of Earnestine (I know, the name…) from age 17 to 97 (or so, not sure exactly how old she was at the end, but she was very old). She did this while just changing her hair with a hairband on stage, adding a sweater, stooping over, changing her voice, etc. Not super convincing for 17, but very convincing for all the rest of the years.
The show followed Earnestine through many birthdays and milestones. Through kids and marriage and marital problems and kid problems and family problems and health issues, and many many goldfish (that latter part was awesome). It was funny and emotional and several people I was with cried more than once. Yeah, so did I. For a 90-minute show, it seemed to go on much longer, though not in a bad way. I thought they were going to run out of things that would happen once Earnestine was elderly. Not so! While it was an emotional show and I was very sad at the end, I thought it was a great performance.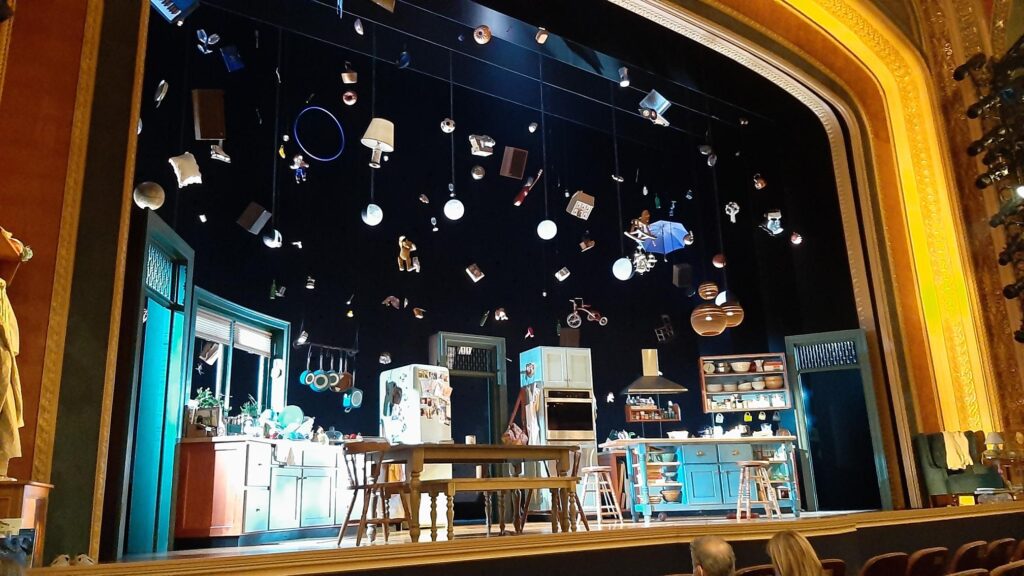 Is Birthday Candles on Broadway good for kids? No. Don't take them. Kids will not find it interesting to follow someone through their life. A lot of adult things happen that they either won't get or won't hold their attention. There's not a lot of "action" in the show – just life happening. Also, some language is not good for younger kids. Go for date night instead. It's a limited run, so go soon. It plays through May 29, 2022.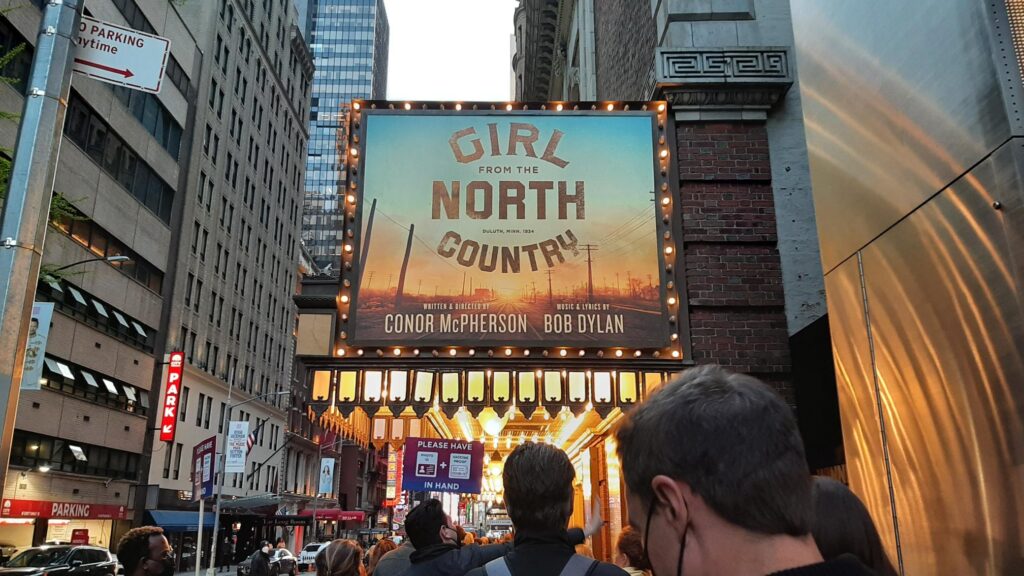 Is Girl From the North Country good for kids?
I managed to get tickets to Girl From the North Country on opening night. Hooray! I knew little about the show, other than it was Bob Dylan lyrics and a musical. I'm not a Bob Dylan fan (I don't hate him).
The show is about people living in Duluth, MN in 1934. While focused on an inn/boarding house, it includes the intersecting stories of people who either live in the area or are coming by to stay. The family that runs it is a white mother/father and their Black daughter, who I believe is around 18. We wondered if it was just creative casting, but the story actually includes the daughter being Black through interracial adoption, though it doesn't really address what it was like to raise a Black daughter in the Midwest at that time.
Spoiler alerts: The dad also has a Black mistress who lives there too. The mom has mental illness, and they do take care of her, but she's not fully cognizant. I won't go into the stories of the others in the show, but they have all kinds of problems, which add interest and heart to the show.
We're back – no more spoilers. As already mentioned, the songs are Dylan, but they don't sound like typical Dylan, so if you hate his voice, you'll be fine at the musical. The singing is beautiful and the story flows. It is not my favorite musical ever, but I did enjoy it, and it was well-acted and sung. The set was interesting too.
Is Girl From the North Country good for kids? No. The show has some adult themes, including (again, spoiler alert) mental health issues, unwed pregnancy, adultery, murder, and some bad words. Yeah, it's a lot! I'm sure I'm missing something here too. It's on Broadway currently through June 19, 2022.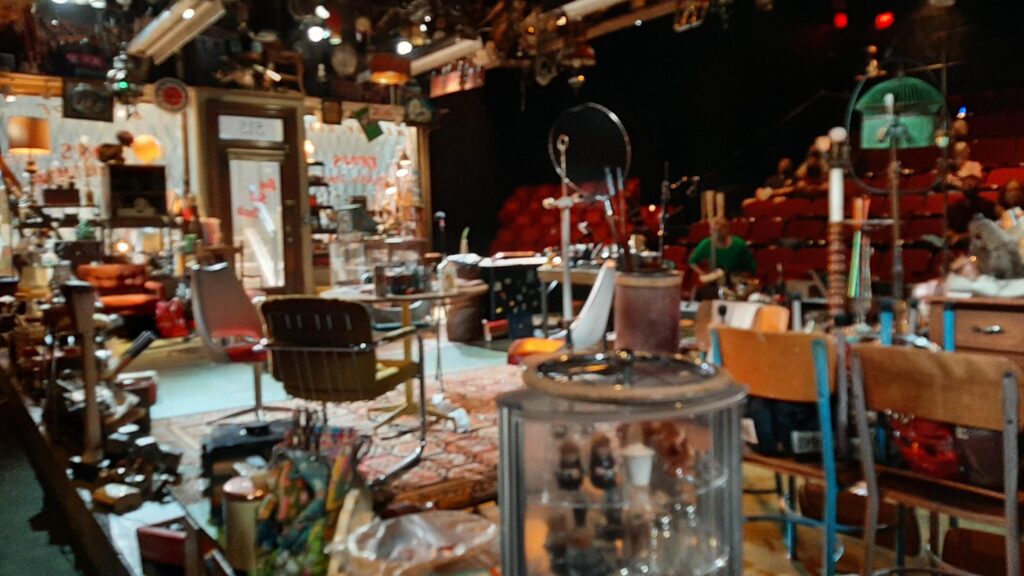 Is American Buffalo good for kids?
American Buffalo is a revival, and a David Mamet play. Mamet has been making news lately because of his political opinions. So maybe ignore the news for a while if you don't hold conservative views. We had first-row seats at this Circle in the Square theater performance. Any seat there would be good, as it's a small theater with a thrust stage and seating on three sides. The stage is very cluttered, but we realized that we were at eye level with the stage (versus many theaters, looking up). And anything that could be in our view was actually clear, like a trinket case. Very clever!
It was a treat to see Laurence Fishburne, Sam Rockwell and Darren Criss perform up close.
This drama is about "three small-time hustlers who want a bigger cut of the American dream," as the show says, a "classic play about loyalty and greed." American Buffalo refers to a nickel, that is at the heart of the drama. It was funny at times, definitely dramatic, and a writer's play.
Is American Buffalo good for kids? Definitely not. Very inappropriate language and themes, and I think it would be hard for kids to follow.
In spite of these Broadway shows not being a good fit for kids, there are ones to choose from. Check our Broadway for Kids page for some of those.