I'll be honest that Finding Neverland on Broadway was initially not a show I wanted to see. Why? It's about JM Barrie's journey in writing Peter Pan. And I'm not a fan of Peter Pan. But I wanted to see one of the boys who plays a Davies brother (Alex Dreier) as I'm friends with his parents from our college days. And I went to see Billy Elliot when Alex was cast in the show, but he wasn't performing that night (the kid actors take turns and you're never quite sure who will on stage that night). The other reason was that I was doing an annual theater night with my writer friends during a conference. We took a vote as to what show to see, and Finding Neverland was at the top of everyone's list.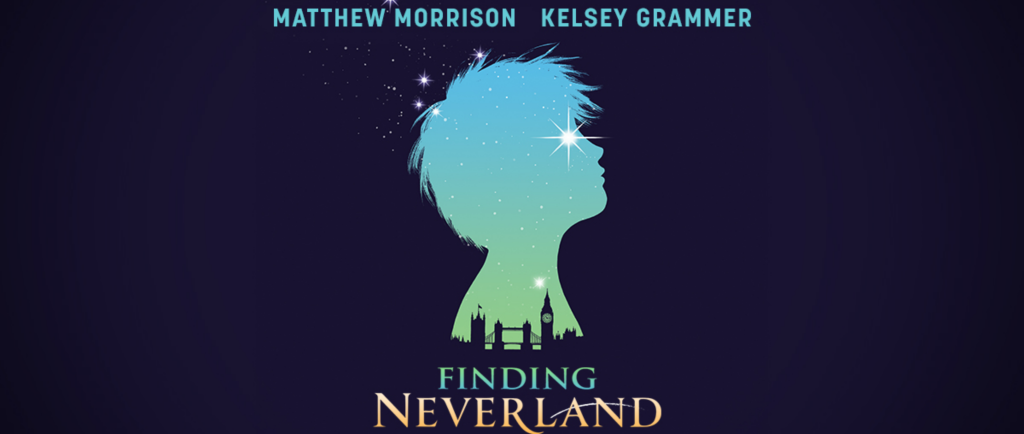 I'm so glad I went. The 20 or so in our group walked away raving about it. And we were all shocked that Finding Neverland didn't get a single Tony nomination, because it was fabulous. It did win several audience choice awards from Broadway.com, including favorite new musical, favorite leading actor, favorite onstage pair and favorite new song.
The plot
Finding Neverland focuses on author JM Barrie, a playwright who has lost his touch and is in a downward spiral professionally. While he's trying to come up with a new concept, he meets the Davies boys and their widowed mother. He has no kids of his own and he builds a special relationship with them, and with their mother. Through their playfulness and story telling, he comes up with a fantasy that is Neverland and the Peter Pan story (here's a hint – one of the Davies boys is named Peter).
What worked?
I loved the music, which was moving. The staging was beautiful. We were wowed a number of times, including during the scenes involving a dream sequence on the pirate boat, with ropes brought from the edge of the stage up to the top, and pirates climbing up. This is the scene they'll perform live at the Tony Awards.
The spark of Tinkerbell, several times throughout the show, was magical. Even (spoiler alert!) Sylvia Davies' death was magical, with fans blowing on stage, taking her dress up and away in a cascade of glitter. It was beautiful (and our whole row was crying).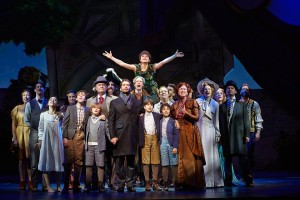 The show had some funny lines, many of them by producer Charles Frohman (Kelsey Grammer), including one obvious nod to his days on Cheers. One funny one from the man who hated kids was "children are like souffles, pointless until raised."
We loved the dinner party scene with a raucous musical number that had the actors dancing on the table.
[ad name="Google Adsense-1″]
The acting
Many probably go to the show to see Matthew Morrison who plays JM Barrie, and Kelsey Grammer, who plays the producer. They did a great job with both the singing and the acting, as did the rest of the cast. The guy who played the butler was hilarious. We were amazed with the four boys who played the Davies brothers (we saw Aidan Gemme, Christopher Paul Richards, Sawyer Nunes and Alex Dreier). They had a lot of stage time including their own songs, and they were true pros. Having a son around the same age, it makes me appreciate even more what they are doing because I can't imagine my kid being able to do anything close to this.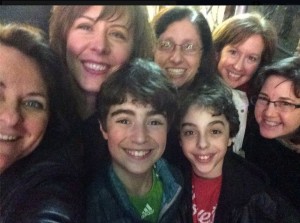 What didn't work?
The Peter Pan character was totally creepy. I hated the audience yelling that they believed in Tinkerbell at the end. Hated it.
Is Finding Neverland appropriate for kids?
Yes, Finding Neverland is a good show to take the kids, with a couple of reservations. In the show, the Davies kids lose their father (before the show starts), and in the end they (spoiler alert!) lose their mother too. While this was handled appropriately, with no graphic death scenes, for some kids this might be disturbing, especially if they start worrying about it happening to them. There are some scenes where the boys show their emotions about losing their father and fear of losing their mother.
Another concern (spoiler alert!) is the implication that JM Barrie is cheating on his wife and falling in love with someone else. The marriage is not a happy one and I don't think it could be any clearer that they're a bad match. While there is no physical cheating, there is emotional cheating, and it's part of the plot. The other concern is that there are a few scenes with Captain Hook that might be a little scary. One friend thinks I'm overblowing this and that kids wouldn't be scared, but there's some loud noises, a storm scene and a scary Captain Hook.
There are some good messages for the kids, including the main one from Barrie to write your own story instead of doing what others want and expect from you.
Where: Finding Neverland is at the Lunt-Fontanne Theater, 205 W. 46th Street.
Tickets: See our Broadway tickets for kids page for how to get regular and discount Finding Neverland tickets