I've been to a lot of Broadway theaters, but the Gershwin Theater is really made for audiences. Some theaters don't allow you in before the show, resulting in the long lines you see when walking down the streets around Times Square. Patrons stand out in line, resulting in a rush for the restrooms, rush to get in the door, and concerns about being late even though they are already holding their tickets. So I was thrilled that not only were we allowed in early, but that there was plenty of space and things to do and see before the show (and no line at Will Call 30 minutes before).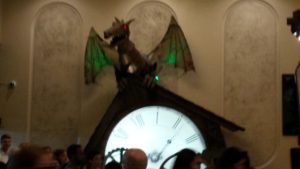 Get there early so you have time to look around. The theater has large lobby areas upstairs, and grand staircases. You can see maps of Oz as you go up the initial escalator or staircases.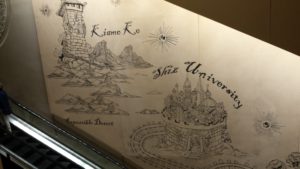 You can get your picture taken in front of a green screen while wearing costumes. The photographer then adds in Glinda (or Galinda, depending) and Elphaba on your sides. Photos are $19.99 with a paper frame, and $29.99 with a metal one.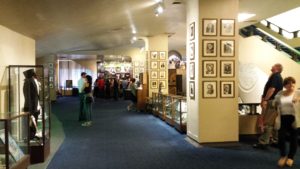 Of course they have show merchandise (quite an assortment, ranging from stuffed monkeys to dresses with the show logo – an odd dress to wear, I'd say). As for drinks, you can get custom creations like the Glinda Daquiri or Elphaba Apple frozen drinks for $7, or get them "bewitched" (liquorfied?) for $19. You can get the Ozmopolitan or Flying Monkey Punch for a princely sum. Given the long lines for bathrooms, I've never quite understood the appeal of buying alcohol to drink during a show.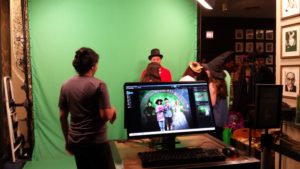 You can also see the original Elphaba dress, next to a Project Runway version of the Glinda dress. While wandering through the lobby you can see theater history with costumes, playbills and items worn during various shows (like Joel Grey's gloves from Cabaret), as well as actor photos.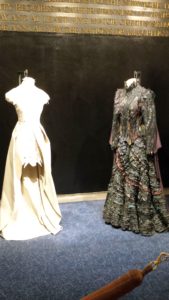 The Gershwin Theater is huge (1,900 seats) and spacious, which means you don't actually have to stand up to let every person by you in the row. There's actual space between your knees and the seat in front of you.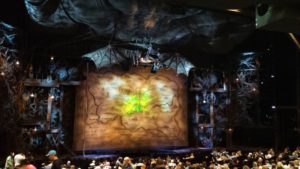 Now the show. It's been out for so long (Broadway premiere in 2003), I won't dwell on the theatrical details or the storyline, other than to say I saw it last (on tour) probably nine years ago. I'd forgotten most of the plot aside from the college roommate theme. Now the show reminds me of Legally Blonde meets Frozen meets Harry Potter meets The Hunger Games (Oz = District 1). The show doesn't disappoint in its singing, dancing, stagecraft or songs. And it's funny.
Is Wicked appropriate for kids?
Yes, though I'd probably wait until the child is maybe 8. It's probably helpful if the child knows the story ahead of time. Also, parts might be scary for young kids. There's no bad words or sexual content.
There are some great moral messages in the show for kids (and adults too), like:
-it's not nice to make fun of people who are different
-just because your skin is a different color doesn't mean you are less of a person
-it pays to be kind to people and get to know them – you never know what their story is
-everyone has unique abilities
-Do the right thing. Even though Elphaba is seen as wicked, she's actually a good person who is fighting for animal rights and not to give into those using power for evil purposes.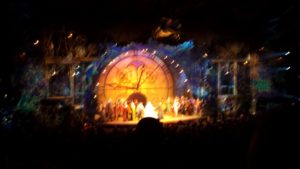 The Staging
As befits a show of this type in a theater this grand, the staging is spectacular. One of the highlights is when Elphaba realizes her powers and rises into the sky to fly, singing the well-known song Defying Gravity. It's an excellent number to close the first act and really is a highlight of the show.
Details about Wicked: the show runs about 2 hours 30 minutes, with a 15 minute intermissions.
Discount tickets for Wicked: Discount tickets are hard to come by. That said, we got tickets through Specials at Restaurant.com, which had them for $100-109 for certain shows. That was the best price I could find (I've been looking for a long time – and these were weekend tickets in the summer). There are other ways to get discount Broadway tickets – see more details on our Broadway page at the bottom.