My daughter and I continued our Superbowl Sunday tradition – of going to a Broadway show. This year it was It's Only a Play, and I fretted a little over whether it was going to be appropriate for my 13 year old. My Zumba, instructor who saw it the weekend before (but after I got tickets) shook her head no and said, "language!" Well if that was it, then I was hopefully okay. More on that later.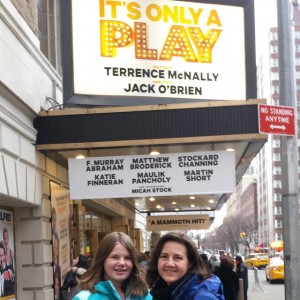 The plot: A group involved with a Broadway play production gather at the producer's house for an opening night party, awaiting reviews. The group includes the wealthy producer, the playwright, the playwright's male best friend who turned down the lead role, the female lead, the director, a critic and the hired coat boy. The play is set in the producer's upstairs bedroom, while the party goes on behind the scenes.
While you don't have to be a frequent theater goer to enjoy the play, it really helps a lot if you are. There are many in jokes (and I'm sure I missed some). This is a comedy, and it succeeds in that – it is hilariously funny. The show is self-referential, with nothing sacred. As the characters are busy complaining on stage that Broadway shows now stick in a celebrity to get audience members ("Hello Elephant Man!" one character calls, referring to Bradley Cooper's stint in the show down the street), this show is full of well known faces that are bringing in the crowds. The show within a show's playwright talks about how Broadway is looking for the new American play and playwright. The characters decry the continual revival (and revival of revivals) of plays. And yet, here is a revival of sorts.
In this production, the show awaiting review, The Good Egg, may close after its first night due to horrid reviews. Terrence McNally's original version of this play, Broadway, Broadway, closed after its premiere in Philadelphia in 1978. The planned Broadway opening never happened. It made it to off-off-Broadway in 1982, and off-Broadway in 1986. And then it opened on Broadway in October, 2014.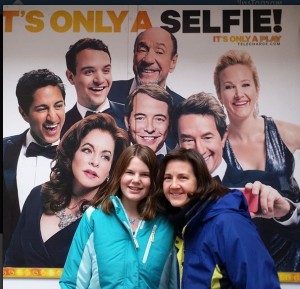 The show was originally set to run from October through January 4th, 2015. It's done well, and they extended it to March, changing theaters in January and changing out some cast members: Nathan Lane, Rupert Grint and Megan Mullally. In their places: Martin Short, Maulik Pauncholy and Katie Finneran. Remaining throughout: F Murray Abraham, Matthew Broderick, Stockard Channing and Broadway newcomer Micah Stock. The show has again been extended, through June 7, with Martin Short leaving on March 29 (replacement is Nathan Lane!). From reading their bios, it seems that almost every actor has appeared in the Good Wife. I think it's time I start watching that show!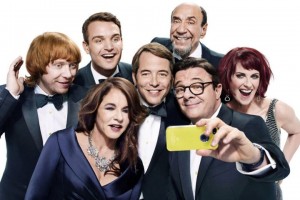 With the Broadway staging, It's Only a Play has been updated. It's obvious as there are so many current references. I don't want to spoil the jokes and humor, but the laughs kept coming. I can't even think what my favorite scene was, but it might have been the reading of the NYT review. The script was quick and witty, and the acting excellent. The characters were not deeply developed, and felt a bit like caricatures, but this was a comedy. The one downside is I though the second half went on too long. I kept thinking they were at the end, and then they'd start up on something else. I think that could have been trimmed a bit.
Is It's Only a Play appropriate for kids?
This is not the first play I'd choose to take my kids to, but I think it depends on your kids. The show recommends taking kids older than 12. There are a few spoilers below.
Let's start with language. One of the characters, Virginia Noyes (played by Stockard Channing) has a filthy mouth, though she's not in all the scenes. Those she's in, she is often cursing. I'll add that what she says is nothing my kids haven't heard before, and it's usually a four letter word repeated over and over again. One of the other characters uses the "k" word, and it rhymes with lunt. I'll leave it at that (it's a joke from the play).
As for sexual activity, there's one insinuation and hand gesture of something dirty when the character is called "Wacker" instead of his real name "Wicker." And one comment about a character being willing to "f" another for a good review.
————————————————
[ad name="Google Adsense"]
————————————————
One of the characters uses drugs on stage several times and talks about other drug use (and is on parole for murder). The other characters drink during the show, but don't get drunk. Drinking is not an issue in this show.
The other reason it may not be appropriate for kids is that the subject matter is more sophisticated than many kids would get. They still may find it funny, as there are lots of physical gags and many of the theater jokes are part of general culture. My 13 year old has seen a fair number of Broadway shows. She seemed to understood a lot of the humor, and she really loved the show. That said, she was a bit clueless about how amazing the cast was, though she knew Martin Short's work. And she was disappointed that Rupert Grint wasn't in our version. Then again, there were some jokes to that effect in the show – about how no one knew who the playwright's best friend was, and how excited the coat boy got hearing about more current stars.
Also, the show is not big and splashy in terms of the set and action. The set is beautiful, but it doesn't change and the show is heavy in dialogue. If your child would be better in a show with lots of lights and snazzy staging (or with a musical), then this isn't it. It's only a play, after all.
Where: Bernard Jacobs Theater (45th between Broadway and 8th)
Tickets: It's Only a Play. For information on how to get discounted Broadway tickets, read our guide here.