The American Natural History Museum is so immense you just can't see it in one visit. Or two. Or three. So here are 7.5 ways to explore it with your kids!
1. PICK AN EXHIBIT
Whether you choose a special exhibit or a permanent one, pick one and explore it in depth. Given the high cost of visiting the museum, newcomers to the museum might want to stick with the standard holdings unless there's an exhibit you REALLY want to see. The special exhibits are add-ons, i.e. they cost extra.
Add-ons:
–Space movies
–special exhibitions
–Butterflies – (open part of the year, now through May 27, 2013)
–Our Global Kitchen (open through August, 2013)
–IMAX movies
For permanent exhibits, don't miss the Milstein Hall of Ocean Life (that's where the big whale is), Fossil Hall (with the dinosaurs), the Grand Gallery (the beautiful 77th Street lobby), or the gemstones.
2. OVERNIGHT
Kids 8-12 and their parents can sleep over, possibly underneath the 94 foot long blue whale. As part of the evening program, you'll use flashlights to explore the museum, finishing up with an IMAX movie. It costs $99-129 a person, and is for kids 7-13 and their parents.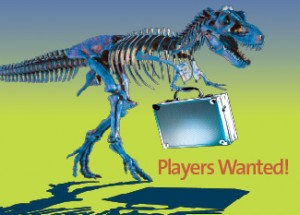 3.  SCAVENGER HUNT
This cell phone-based scavenger hunt takes you through five sections of the museum, where you'll solve problems and learn new things.
4. GAMES
Before (or after) your visit, let the kids play on the website – the Natural History Museum has a special kids' section, Ology.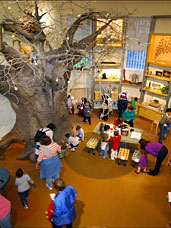 5. DISCOVERY ROOM
The kids aren't allowed to touch many things in the museum, like the dinosaur bones, but in the Discovery Room kids 5-12 can look at artifacts, solve puzzles and do scientific challenges. Look for animals in the two-story reproduction of an African baobab tree. Make your own life-size skeleton of a 14 foot reptile. Track earthquakes. While the Discovery Room is free, you do need to reserve a 40 minute time-slot at the entrance to the Discovery Room. It's open various hours – check here for times.
6. TAKE A TOUR
If you or your kids are up for a tour, there are plenty to choose from. Learn about the highlights, a spotlight tour, or one in a foreign language.

7. APPS
Do your own tour with an American Museum of Natural History app. Choose a tour, do a fossil treasure hunt, or just get directions (trust me, that will come in handy).
7.5  WORKSHOP or CAMP
If you're local or visiting for an extended time, sign your child up for an Adventures in Science workshop or camp. From frogs to astrophysics, your kid won't get bored. Classes range from kindergarten through 7th grade level. Cost is $60-450 depending on the program. (I only counted this as one-half, because you don't take the class with your child)
What's your favorite way to see the museum?
DISCOUNTS to the American Museum of Natural History 
-If you're looking for discounts to the American Museum of Natural History, consider a CityPass if you'll be able to take advantage of the other attractions as well.
-If you're planning to do a lot of the special exhibits, you can get an "all-inclusive" ticket which saves money.
-If you're going to go more than twice with the family, it's probably worth buying a membership. We got one through a Groupon deal. Members get free access to special exhibits, so that saves some money too. As a member, you'll also get discounted tickets to the Hayden Planetarium shows, IMAX movies and live animal exhibits.
-Note that the American Museum of Natural History does not honor reciprocity with other museums.
-Your library may have museum passes you can check out like a library book, offering you free admission to the museum.