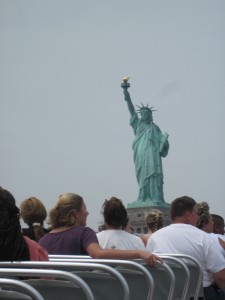 The kids were not overly excited when I told them we were going on a speed boat ride – with a bunch of other people. What fun is it if you don't get to drive the boat yourself? And my husband chalked this one up to another of my crazy ideas.
You know what? The kids had so much fun that they asked to go again during the next visit to Manhattan. And my husband had a grin on his face the whole time. (discount info for Shark Speed Boat Ride at the bottom)
The boat takes off from South Street Seaport at Pier 16. After a few corny jokes (one at New Jersey residents' expense) we took off with 80s tunes blasting ("Jenny, Jenny, who can I turn to?…867-5309). My hair was flying around, and once in awhile we got a big splash in the boat (and on us).
The boat stopped near the Statue of Liberty, allowing us to get some photos, and the crew also took photos for us. We also went under the Brooklyn Bridge and past the World Financial Center. The ride was a lot of fun and a faster paced way to see the NYC than the Circle Line tour we took previously (granted, it was also less informative).
The boat is part of the Circle Line Downtown, not to be confused with the Circle Line 42nd Street (different company), which offers a similar ride on their boat, the Beast.  I haven't taken that one for comparison.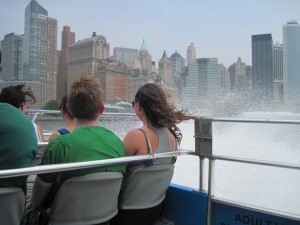 For additional fun, take the free Staten Island Ferry over. And spend some time in the South Street Seaport area.
What: Shark Speedboat Ride
Cost: $23 for adults, $16 for kids, $20 for seniors
When: May – September, weather permitting
Details: You have to be 40" to ride.
Discounts for the Shark:
—Goldstar sometimes offers ticket deals too.
Find Jersey Kids on Facebook!