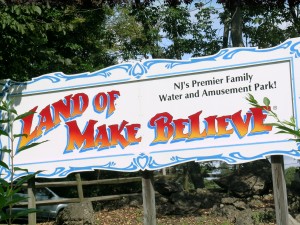 If you're looking for some clean, family fun, and your kids are on the younger side, head to the Land of Make Believe in Hope, New Jersey. They have lots of kiddie rides and a fun water park good for both younger older kids.
The park is quite manageable for families with young kids. It's not too big (but not so small that you'll get bored). The rides are geared toward kids age 6 and younger (preschoolers will be quite happy).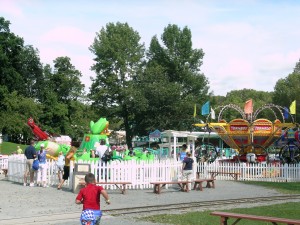 My 8 year old was bored with most rides, and I was surprised that my 6 year old was happy to ride them.
The Rides: Expect everything from a carousel to a small tilt-a-whirl. The mini roller coaster was fun for us – it goes in a loop and is good for the younger set. There probably 15 rides.
Attractions: We didn't check out the arcade, Haunted Halloween House, jump houses or Dog Pound (games). There's also a train circling the park and a hay ride.
The Show (Middle Earth Theater): The park put on a very cute interactive show featuring any kid and adult who wants in. Dori and I were part of it, and we could choose our part. The skit was funny and the kids had a great time dressing up and acting in it. Zack had fun watching. They said they want to do it again next time we go.
————————————————————
[ad name="Google Adsense"]
————————————————————
The water park: For me and my 8 year old, the water park was the highlight of the Land of Make Believe. It's included in the price, but they do charge for lockers (something like $5 for a small).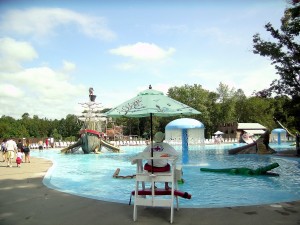 For the younger kids, there's the shallow pool (Pirate's Cove) with fun climbable features like a Pirate ship and some mini animal slides. The lazy river (Blackbeard's Action River) was also fun. Beyond a certain age/size, you have to go in the tube alone – so I couldn't go with my six year old. They do have life jackets, but the river does actually move pretty quickly, making it tough to keep together. There's also a Pirate Fort, which you can climb for better views and to shoot water at people.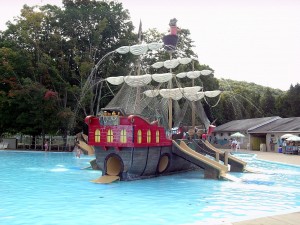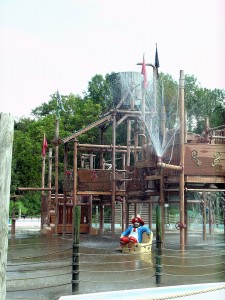 For the older crowd, the water slides were terrific. There are some size and age limitations, so make sure to check that out on the website if that matters to you.
My favorite was the Sidewinder. Zack, who had never done a water slide before, was a champ going down. Rafts hold up to three people, and you go down what looks like a skateboard half-pipe. Very scary, but hugely fun. My heart was pounding at the top, but as soon as we got down, we had to go right back up. We also loved the more traditional water slides. There are two sets of slides. The Cannon Ball and Pirate's Plunge is one set (I forget which one, but one of them sends you down what looks like a drain – you circle over and over until you get sucked down). You're in inner tubes. You can ride one or two at a time. We got a lot of exercise that day climbing up the steps to the slides.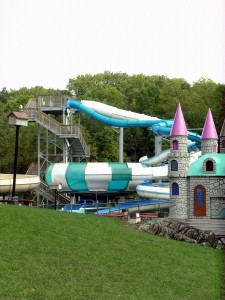 The other set of slides has three choices (you decide when you're up there). You go down one or two at a time, also in inner tubes. You have to try all three to decide which is your favorite. The Black Hole is very dark and fast (and you get sprayed with water overhead at some point).
We were good spending a few hours at the water slides. I started getting a headache from all the motion by the end.
Logistics: You can bring your own food to the park, but no grilling, glass or alcohol. You can only have coolers in the picnic area (but you can always bring them back to the car). They also sell food – the usual amusement park fare. Be prepared that the only way to leave the park is through the gift shop. I played a game with my kids where they had to close their eyes and walk through with my directions. It was fun, but they soon realized they had just walked through a gift shop and didn't see anything. They weren't too pleased with me.
General info: the park is open through Labor Day (including the weekend after Labor Day). Cost is $22 for adults, $24 for kids ages 2-18 (free 24 months and under). The park is all-inclusive in terms of rides, attractions and water p;ark. They don't take credit cards (other than Discover). So bring cash.
Discounts: You can find two-for-one coupons in the Entertainment book and Kids Stuff discount book.