When I headed into New York City for a conference recently, I wanted an adult hotel – since my kids wouldn't be with me. I wanted something boutique. And I always prefer something with free wi-fi and breakfast included.
I got so much more than that at Hotel Elysee . Haven't heard of it? It only has 92 rooms, and it's part of the Library Collection, with four hotels in New York City. The location was perfect for my midtown conference, as the hotel was on 54th Street, between Madison and Park.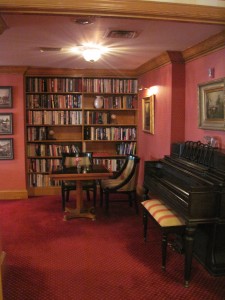 Since my room wasn't ready (I arrived early), someone from the check-in desk suggested I go to the club room on the second floor. That's where they serve breakfast each morning, and have a wine and cheese reception on weekdays. Plus they have coffee and food all day, including whole fruit and a variety of rolls and pastries. As part of the Library Collection, the club room has a little library. I wish I had more time to hang out in there – it was really nice. You can borrow the books and DVDs while you're staying at the hotel (ah, if I only had time to read while there for my conference!).
—————————————-
[ad name="Google Adsense"]
—————————————-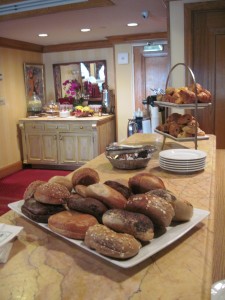 I made sure not to miss the wine and cheese the first night, and from the looks of it, no one else at the hotel did either! They had a selection of white and red wine, as well as sparkling wine. The cheese tray was lovely (plus they had my favorite crackers), plus some vegetables, olives and nuts.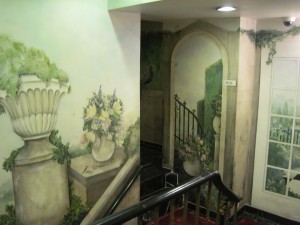 We had an upgraded king size room (I think they felt badly that my room wasn't ready). While my conference friends were staying at hotels where the room barely fit the bed, ours was quite spacious. And it included two complimentary bottles of water and a BAR OF CHOCOLATE. Seriously – what hotel gives away a whole bar of chocolate?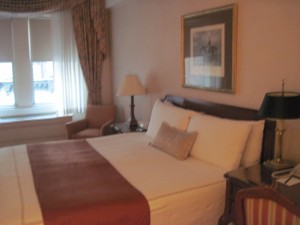 The bathroom was small but adequate. The toiletries were Gilchrist and Soames. The shower head was high enough that my 6'3" husband didn't have to bend down, and the water pressure was excellent.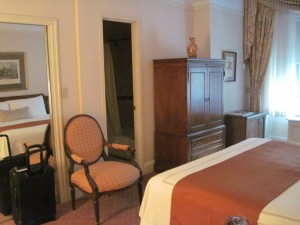 Breakfast was equally good. I'm usually not a fan of cut up fruit bowls because they get soggy, but theirs was delicious and very fresh. In addition to coffee, they'll make you a cappuccino or espresso. They offer hard boiled eggs, dry cereal, yogurt, oatmeal packets and juice. We did not go hungry.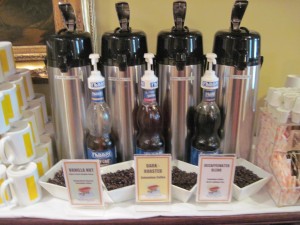 The Monkey Bar (bar and food) is connected to the lobby. It has a lovely bar and cozy tables, but the cocktails were pricey (even by New York standards). Though I wasn't able to take advantage, the hotel offers complimentary passes to the New York Sports Club for workouts.
There were some kids staying there (I saw them at Sunday breakfast), however the hotel markets itself to business travelers and those looking for a romantic stay. The Hotel Giraffe, which I hope to review soon, is more child-friendly.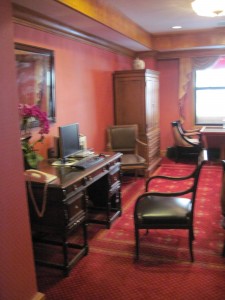 Hotel Pros: free wifi, plus a computer and printer in the club room. Food. All. Day. Long. Excellent service by the front desk staff and the club room staff. Convenient – one block from the E subway line. In-room safe. Water/chocolate in the room. The club room was awesome. Did I mention that already?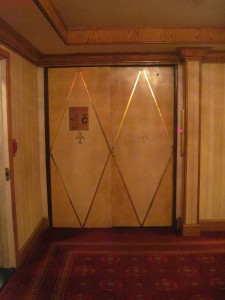 Hotel Cons: okay – I'm sure you're wondering if there were any. Yes. The elevator was slow. The shower water leaked onto the floor (I guess I didn't seal he curtain properly three days in a row – thank goodness for the mat). There was no ceiling fan in the bathroom. Minor stuff.
I wish I could have stayed longer, and that I wasn't trapped at the conference from 8 a.m. to 11 p.m., so I could relax in the club room some more. But I'll be back.