As you saw from my Toronto photo tour yesterday, I was recently in Toronto for the TBEX travel blogger conference. I visited Toronto's Distillery District with a tasting tour and Segway ride. Next time the Segway people might want to have us ride the Segway BEFORE the beer tasting, but there were no accidents so we're all good. Thank you to See Toronto Now and the Segway Ontario's Distillery shop for hosting the great tour.
The Distillery used to produce 250 million gallons of whiskey a year, and has a colorful history starting in 1831, including the company's co-founder (James Worts) throwing himself into a well after his wife dies in childbirth. His milling partner William Gooderham recruits Worts' 13 year old son to help him convert the mill into a whiskey distillery. A distillery that produced lots of whiskey for the Americans during the prohibition.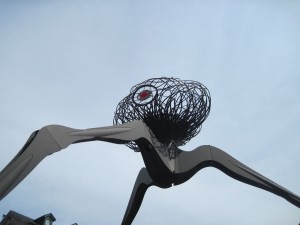 Though the area is now paved as far as the eye can see, it used to be on the water. Garbage thrown into the water was eventually paved over into landfill (kind of like in parts of the San Francisco Bay Area, though they didn't use garbage), and the coastline is now much further away.
————————————————
[ad name="Google Adsense"]
————————————————
The Distillery functioned from 1896-1990, then vacated until  2001. The 13 acre property was bought for $15 million and turned into the shopping/restaurant/culture area it is now. It's popular as a movie set (Tommy Boy and 1700 other films were filmed here), and brides/models are frequently getting photographed here (we saw both while visiting). I'd give you more information, but I was not able to take notes while riding the Segway!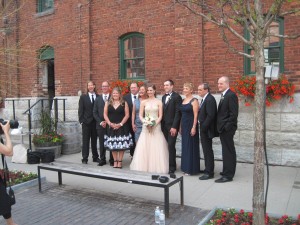 Our first stop was A Taste of Quebec, which offers cheese and some cute pottery items as well, sharing space with a very funky art gallery. The proprietor told us about the various cheeses. Did you know that cheeses are sometimes washed as they age, with water, wine or beer, to promote bacterial growth?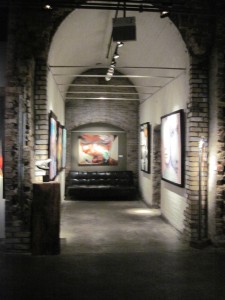 We munched on 7 year old cheddar cheese and learned that "cheddarization" is the process giving the cheese its name (cutting into the curds one way, then the other, and putting it in a special mold to age). We also tried a goat cheese aged two years.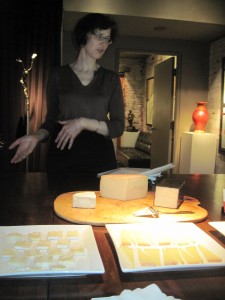 We went to Crescendo, an artisan vinegar and oil store, where we learned about cream vinegars that are only made with aged fruit juice and no additives. They're good on desserts and blue cheese (and straight from the urn as well – yum). The hazelnut oil was divine, and should be tried drizzled as a finish on steaks (5-10 minutes before it's done – you don't want to cook this oil). Their balsamic vinegars, aged two years, are good for marinating fish, because they're more acidic. In addition to sampling the oil and vingears (separately and in combination), they served us a drink with sparkling water (you could also use champagne) and a splash of vingear. Interesting!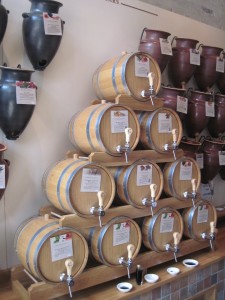 They also sell spices, which you can mix with the oils/vinegars to make tasty dips and pastes.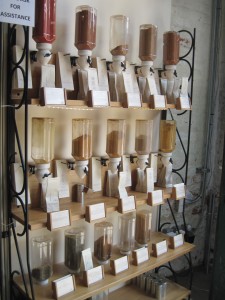 From there we headed to Soma, where the smell of chocolate was divine. They process the beans on site and you could watch them do it. The best thing we tasted was the Mayan hot chocolate, and I regret not buying any. It's not your kids' hot chocolate. It was mixed with ginger, cinnamon, chili, vanilla and orange peel, and was super thick and spicy. They only gave us a tiny bit to try but it turns out I don't think I could drink much more than that – it was that intense.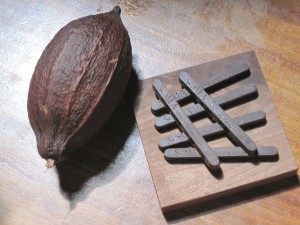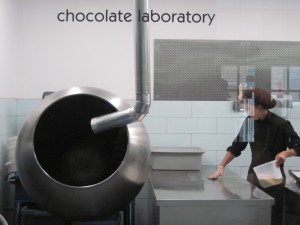 From chocolate, across the street to the Mill Street Brewery, where the beer is made on site. The poor woman working there had cameras in her face the whole time – you can't take bloggers anywhere without cameras being present. Though we didn't get to try it, they had beer schnapps for sale!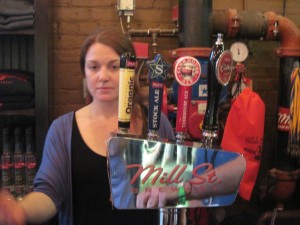 Unfortunately we missed out on seeing a whole bunch of stores, including Bergo, a "gallery" of artfully made household items that my friend The Messy Baker loves.
Finally we went back and got some quick Segway lessons, after signing the scariest consent form I've ever seen. It's not good to give someone a paper to sign saying you're liable for a $6,415 Segway, directly after taking them beer tasting.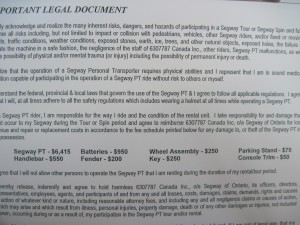 The maximum speed is 6 mph, and if you start going too fast, the machine slows down automatically for you. Kids 12+ can ride on the Segway. It's not hard when you get used to it. The Segway Ontario tour company offers several types of tours, including a ghost tour, Distillery tour, and even walking tours. The food tasting tour I took is one they're still developing that's not yet on the books.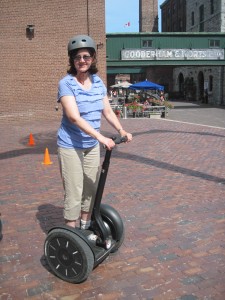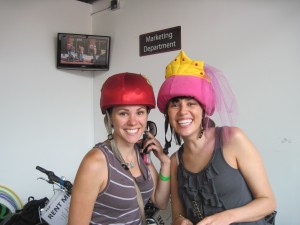 After a 30 minute Segway ride, which was surprisingly tiring on the legs even though it seemed like our legs did nothing but stand on the device, we went sake tasting at Izumi. I'm not a big sake fan (okay, I really don't like it), but found the information quite interesting. Izumi is one of around 10 kuras (sake distilleries) in North America, including 1 in Austin, 1 in Oregon, 5 in California, 1 in Vancouver and 1 coming in Boston.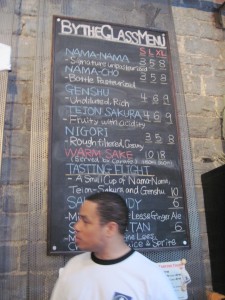 The guide told us that hot sake is usually not fresh, but is twice pasturized and includes brewer's alcohol which changes the flavor. He said there are more than 700 flavor profiles in sake, the most of all alcohols. Beer and wine have 400 flavor profiles. At Izumi, they get the yeast from Japan, rice from California, and water from Northern Ontario. He said that sake does not cause gas, has no sulfites and is gluten free, making it much easier to process than other alcohol.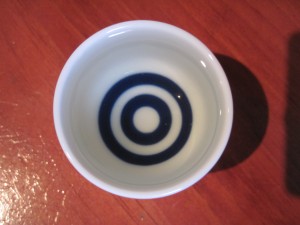 I spoke to a local journalist later who said that the female sake master at Izumi has the most beautiful skin she's ever seen, and it's because her hands are in the mash so much. She said they sell the mash and my journalist friend bought some to try. Her hands were the smoothest they've ever been, but it lightened her skin (and you could see a line) so she stopped.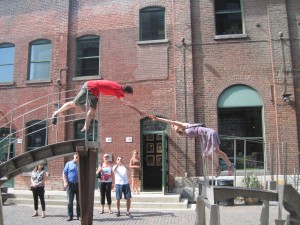 This would be a fun place to take the kids, especially if they don't mind poking into some of the shops. The Soma chocolate shop also sells gelato.